Save the Bees BOM coming soon and Black Friday at Craftsy
I'm as busy as a bee, and part of that is because of the free Save The Bees block of the month that starts this Monday at Jacquelynne Steves The Art of Home.  As a participating blogger, I get to make the blocks before they are released and host giveaways on my blog.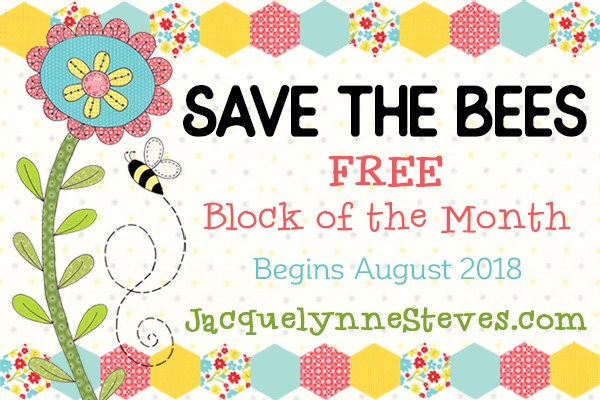 I can't wait to show you my Save The Bees block, so I'll give you a sneak peak at what it looks like.  I'm using a black, gray and white color palette with a splash of yellow thrown in.  I already love this project so much!
I have a secret, new tool that I'm going to share with you that will make your applique blocks sew much easier and quicker to make!  You'll have to wait until Monday to find out what it is.
I know it's not December yet, but today is Black Friday over at Craftsy (affiliate link). They're having a huge sale with up to 70% off Knitting, Crochet, Quilting & Sewing supplies.  This sale continues through August 6, 2018.
I've already been "window shopping" and I found a few things that are worth taking home.  The Magic Pressing Mat is a new and popular tool that I already own, but it's wonderful for pressing blocks and you can't beat this price.  I love my Supreme Slider for making free motion quilting easier, and now is the perfect time to purchase those Karen Kay Buckley Perfect Scissors that are so popular (and loved by yours truly).  You'll find tons of fabric marked down, too!
I hope your weekend is off to a good start.  Make it a creative one!