A pincushion, a WIP and a big thank you
Hi everyone.  I have an easy pincushion and a few works in progress (WIP's) to share with you, but first I want to say a big "THANK YOU" for all of your sweet comments on the birth of my first grandchild.  You guys are amazingly supportive and kind!
I haven't had a chance to reply to each of you yet, but I will be working on that next week. We fly to Austin on Monday to visit little Miss Amelia.  While I'm there, I should have time to catch up on some emails in between snuggles and diapers!
My latest video on The Quilt Show just came out.  I'm showing you a quick and easy pincushion demo.  I used a small picture frame as the base for a pincushion.  It's easy to remove the glass and insert a rectangle of fabric and some polyester stuffing.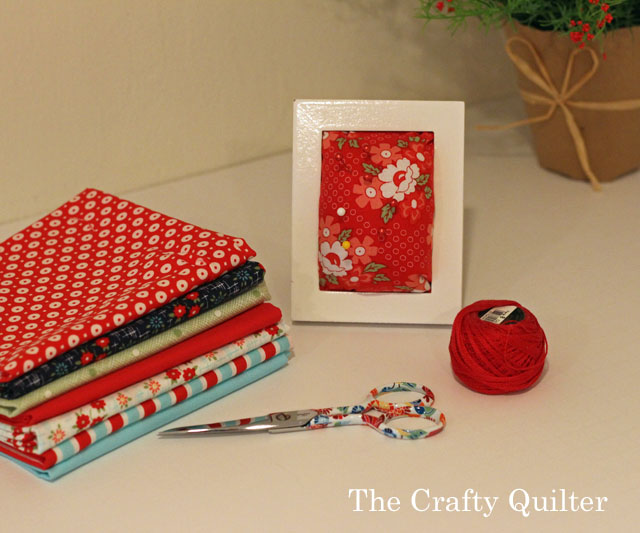 You can watch the video for details of the process, but I'll give you the basic scoop here.  I bought my picture frame at Cost Plus World Market for $1.99.  It has an opening that fits a 2 1/2″ x 3 1/2″ picture.  I cut my fabric into a 5″ x 6″ rectangle.  One handful of stuffing is plenty to put in the center of the fabric.  The hardest part is getting the back of the frame to fit inside the opening with the fabric squeezed in between.  The first time I tried it, it worked like butter.  On camera, it was not cooperating at all.  I started laughing as I was trying to force it into place.  Needless to say, we cut that part out.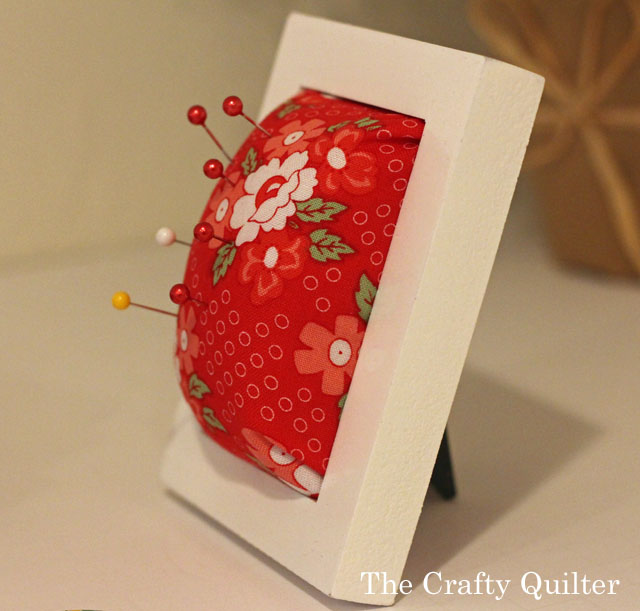 The fabric is secured to the back of the frame with fabric tape.  You could also use regular masking tape or Washi tape.  Deciding on which fabric to use is probably what takes the most time!
You can use the pincushion standing tall or sitting down flat.  It would lay flatter if you removed the "arm" on the back of the picture frame.
You'll soon see me in another video on The Quilt Show, but this time it will be in the BOM classroom.  I'm covering the August instructional video for this year's My Country House Block of the Month.  Are any of you participating?  I couldn't squeeze this one into my schedule this year, but I did make some cute churn dash blocks for the video.
They look like a summer picnic just landed in the middle of a churn dash block!  I love the 9-patch unit in the center.  It's so cute!
The other project I'm working on is for Blank Textiles and I'm having fun using a rainbow of colors for this quilt.  I can't show you pictures just yet, but I think you're going to like it.  I need to get back to the sewing room to get this puppy done.  I hope you're all having a great week!