Soft and striped baby quilt
I finished a soft and striped baby quilt for Amelia so when she comes to visit Grandma and Grandpa, she'll have a special blanket waiting for her.  This is a very quick and easy project to make!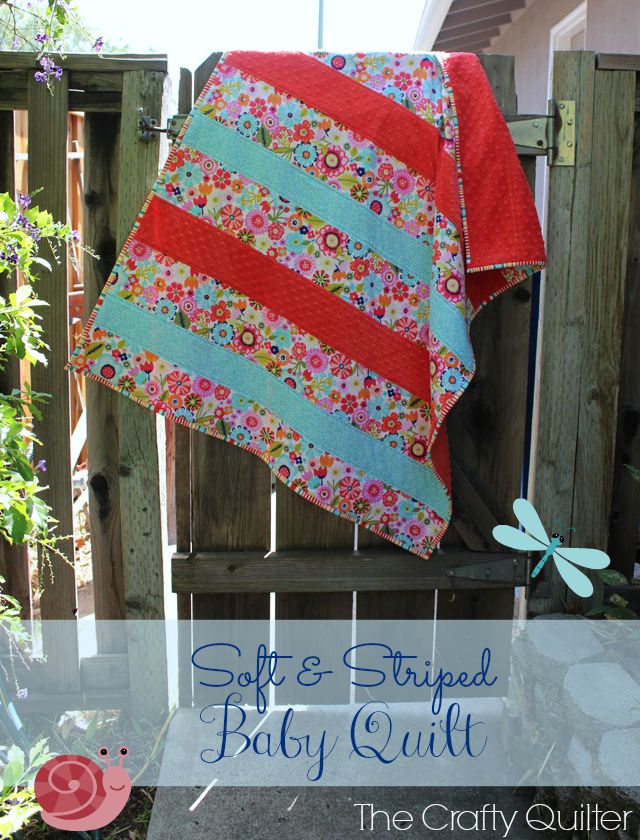 I'm happy to share the instructions and some tips with you.  I used a combination of flannel and minky on the front and the same minky on the back.  I recommend prewashing all of the fabric because of the mix of materials being used (flannels shrink more) and because it's a baby quilt.  I did not use any batting between the layers.  I wanted it to be soft and light with a nice drape (which I achieved).  It's more like a blanket than a quilt.
Materials:
The finished quilt size is 38″ x 47″.  All seam allowances are 1/2″ wide. 
The diagram below shows the dimensions and placement of the strips.  The white strips represent the main floral fabric.
Cutting instructions:
Main Floral:  Cut (6) 6″ x 39″ rectangles
Turquoise:  Cut (3) 4″ x 39″ rectangles
Minky:  Cut (2) 5″ x 39″ rectangles
Assembly instructions:
Stitch the strips together according to the diagram (1/2″ seam allowance).
TIPS:  When working with plush fabrics such as minky (Cuddle), it's wise to use a 1/2″ seam allowance and a walking foot when sewing the seams.  Minky can stretch and it has a high nap which means that it can shift a bit during stitching. Use plenty of pins to hold the fabrics together and a slightly longer stitch length such as 3.0.  It's best to sew with the minky on the bottom which will help stabilize your layers.
Carefully press the seams open.  Minky is made out of polyester and it can melt with high temperatures.  I use a "wool" setting on my iron, and I try to keep the iron on the flannel side of the seam.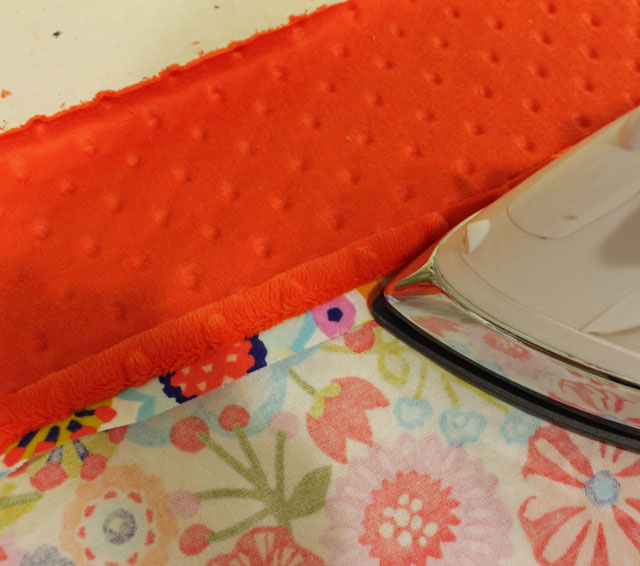 Trim the side edges of your quilt top so they are even and straight.  I trimmed mine so that the width was about 38″.
Layer the backing and quilt top and baste.  Spray basting works really well for this step (see my tutorial here).
I quilted my project with straight lines 1/4″ on each side of all seams.  Make sure your stitch length is still at 3.0 or longer and that you're still using a walking foot.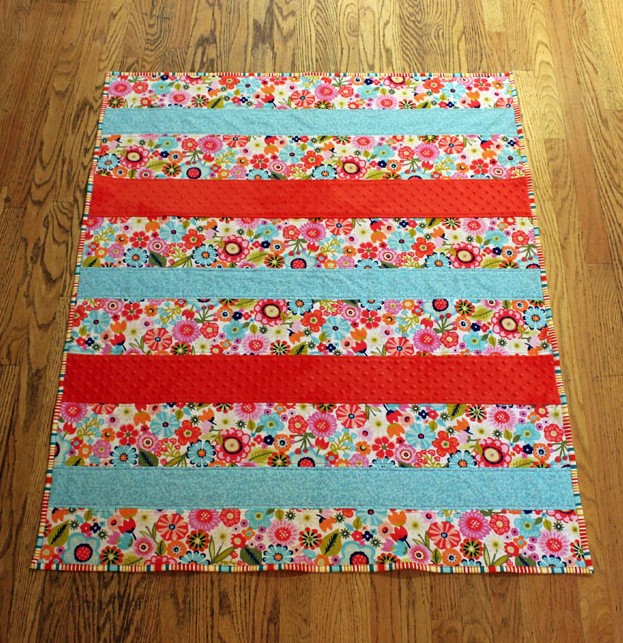 Trim the excess backing fabric and finish the quilt with binding.  I wanted my binding to be completely done by machine.  With that in mind, I began by stitching the binding to the back of the quilt and wrapped it to the front.  Then I edge-stitched next to the fold on the front side.  Easy peasy!
Don't you love striped binding?  It makes the quilt look good from the front or the back!
It's great to finish a quilt in one day (maybe two).  I think baby Amelia is going to like cuddling up with this one.  Hopefully, I'll have pictures to show you soon of this quilt in action!