Sew Thankful Sunday, December 2015
{I love the idea of "paying it forward".  I think the world would be a better place if we could spread some joy and acknowledgement of good deeds done by others.  I try to do that once a month for my Sew Thankful Sunday posts.  I highlight some great content that I've found on other people's blogs that I hope will inspire you and reward the originator by bringing traffic to their site.  If your blog has been mentioned without your consent, please let me know and I will take you off the current list of featured bloggers.}
I don't know about you, but I'm never prepared for this month.  It sneaks up on me every year, and I find myself trying to fit too much into an already busy schedule. However, I have a great list of things to be thankful for with this holiday edition of Sew Thankful Sunday.  You'll find lots of ideas to inspire you for last minute Christmas gift making. Ready or not, it's December!
(Remember, you can click on any of the images in this post and it will open up a new tab to the associated link).
 You'll love this combination of butterflies and Christmas in Nicole Young's Festive Flutter Tree.  This free mini quilt pattern can be found at Lillyella where you'll find plenty of inspiration, patterns and tutorials.  Make sure to check out her recent sewing machine cover/mat tutorial.
.
2.  This Pocket Mending Book tutorial is just in time for the holidays.  It would make the perfect gift for your favorite quilter or make one to keep for yourself. You can find the complete tutorial by Heidi at Fabric Mutt.
3.  The perfect Handmade Holiday Inspirations can be found at Ellison Lane each day for the month of December.  Jennifer has lined up some of her favorite bloggers and designers to share gift ideas, recipes and tutorials just for you.
4.  These Festive Pot Holders would make the perfect gift for your favorite cook.  Anorina at Samelia's Mum shows you how.
5.  Sometimes men are the most difficult to shop for.  Melissa at the PolkaDot Chair has come up with a list of 15 ideas to gift or make for the guys in your life.
6.  This year's holiday gift from the gals at Sew Kind of Wonderful is this free Mini Trees pattern.  It uses their latest product, the Quick Curve Mini Ruler.  This one is going on my Christmas list!
7.  Get ready for 2016 with a new BOM from Amy at Stitchery Dickory Dock.  The Sugar Block Club is returning and this year it's free!  I participated in the original Sugar Block Club and really enjoyed it, so I'll be adding my name to the list.
8.  Pillows are a great way to update your decor for the holidays, so I'm sure you'll want to add this free Snowflake Pillow Pattern from Pat Sloan to your sewing list.  It's so cute, fun and modern!
9.  I think every family should have an advent calendar and you'll love making this one from Finding Home Farms.  It uses their own set of free printable Christmas tags for each day of advent with instructions to make a calendar like the one below.  No sewing involved!
10.  Every Christmas tree needs a tree skirt underneath it.  I love this one from Nancy Zieman.  It's like making a big 40″ Dresden block (with a hole in the middle); perfect for a Christmas Tree Skirt!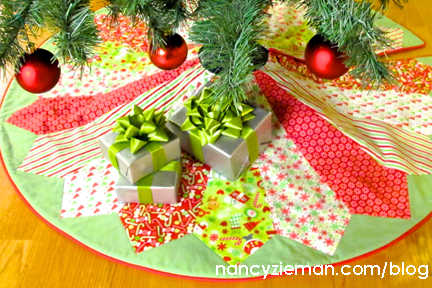 11.  If you enjoy embroidery, then you'll love discovering the fun things happening at Red Brolly.  This month you'll find a free pattern for a Christmas Redwork Ornament.  How sweet is that?
12.  Good things come in small packages and it's certainly true with this Lavender Sachet Tutorial from Charise Creates.  I think these make great gifts any time of year.
13.  Make sure to check out the Stitch 'n Kitchen Christmas Blog Tour at Riley Blake Design's Blog.  All month long, bloggers and designers are sharing a holiday tutorial and favorite recipe.  I've pinned some cute projects and great recipes already!
14.  Last but not least, I'd like to include this list of 10 Ways to Make the Holiday Season More Meaningful from Simple Simon and Company.  It's so easy to get caught up in the shopping and hurried pace of the holidays.  You'll find some great ideas to keep the spirit of Christmas close to your heart.
Well friends, I hope your December is off to a good start and that you find some peace amid the hectic holidays.  A special thank you to all of the bloggers and designers featured today. Your time and talent are much appreciated.  Happy Holidays!