Are you ready for some poinsettia pillows?  In 2013, I kicked off my Christmas Once a Month Series with a Poinsettia Pillow tutorial.  It's a cute little pillow that adds a nice touch to your Christmas decorations.
A few weeks ago, one of my blog followers, Gina, sent me a picture of her Poinsettia Pillow that she had just completed.  I love it when you guys share photos with me!  And I'm sure you're going to love Gina's pillow, too.  That gingham (or plaid?) really sets off the cream poinsettia nicely.
I was so inspired byGina's pillow that I had to make one using a white poinsettia, too.  However, I didn't have any plaid, so I busted out my stash of Winter's Lane by Kate & Birdie Paper Co. for Moda (2013).  I love the way it works with the poinsettia.  I added my own button to the center that I made with a bit of coordinating fabric.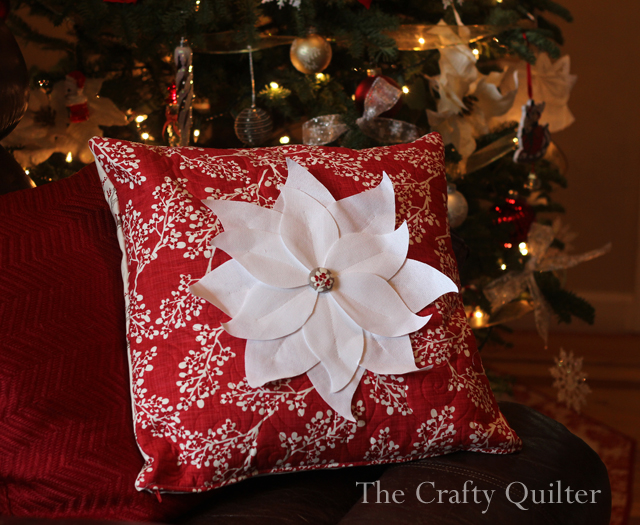 I tried a different material (instead of felt) for the poinsettia and at first it seemed like a win.  It's 22 count Aida Cloth, the stuff that cross stitcher's use.  I thought it would hold up well, but it's already starting to wear along the edges.  And while the white is a beautiful statement, I can see it getting dirty right before my eyes!
Ah, well.  It's still pretty.  I like my pillows to have a zipper, so I added one in the bottom seam.  It's mostly invisible and very practical.
I'm glad the fabric for the pillow back finally found a good home.  It's another favorite piece from the same line.  I always line my fabric for the pillow back with fusible interfacing.  It adds a nice bit of stability to the pillow.
How's your holiday decorating going so far?  All perfect and complete, I hope!  Enjoy your weekend!