New year, new BOM's and baby pics
It's a new year and along with that comes the start of some new BOM's (block of the months).  I have a weakness for BOM's and QAL's (quilt alongs).  I find myself participating in way too many to keep up with.  I know I'm not alone, thank goodness!??
I always enjoy Fat Quarter Shop's QAL's and this year's project is no exception.  The Crossroads Quilt Along is a beautiful quilt with simple piecing.  It's a free program, but donations that will benefit March of Dimes are encouraged.
The Crossroads Quilt Along is a free quilt-along program. From February to August 2016, Fat Quarter Shop will post a free pattern each month to create this beautiful quilt. We encourage you to donate just $5 for the use of each pattern. Each donation will be given to the March of Dimes chapter closest to you.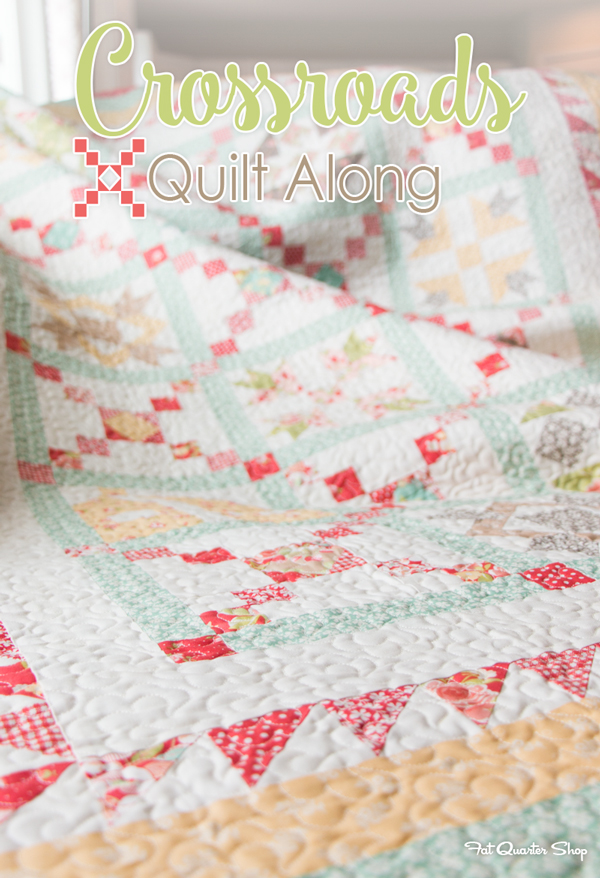 Fat Quarter Shop is using Strawberry Fields Revisited by Fig Tree Quilts for Moda.  They have kits available, and I purchased mine already!
The fabric package is so pretty, I'm afraid to open it!
Speaking of Strawberry Fields, I get to play with the newest Frivol from Moda which includes all of the goodies you see below.  I'll be making a sample of the enclosed pattern for The Granary Quilt Shop.  I love this month's extra surprise which is an adorable strawberry quilt label.
I'm co-teaching this year's BOM program at The Granary.  We're using the book, Farm Girl Vintage, by Lori Holt.  I've got two silo barn blocks finished.  They are so fun to make!
I've also jumped on board with Rebecca Mae Design's 2016 BOM, Dear Daughter, by Sherri Noel.  I couldn't resist the fun, bright colors and text options for this one.  This is not a free program, but I promise you it's worth the price.  I've received the first month's set of instructions and they are really thorough and well done.
The Quilt Show has launched this year's 2016 BOM, Rajah Quilt Revisited.
….sewn by women convicts on board the ship Rajah traveling from England on April 1841 to the penal colony of Van Diemen's Land-now known as Tasmania.  The original quilt measured at approximately 128″ x 128″, but Lessa recreated it in quarter scale with fabrics from her stash.
This is a free BOM pattern for members of The Quilt Show.  It's one of the many benefits of becoming a member.  I'll be helping with some of the monthly videos that go along with this BOM.  We start taping this weekend!
There are more BOM programs that have recently started, and you can find many of them on my Pinterest Board:  BOM's & QAL's 2016.  I'll keep it updated throughout the year as I find more programs to add.  I'll also highlight a few more in February's Sew Thankful Sunday post.
What projects are you working on?  Any new BOM's or QAL's to add to my list?  Leave me a comment and let me know.  I don't want to leave anything out!
On a more personal note, we just returned from a trip to Austin where I had the pleasure of visiting my daughter, her husband and their (almost) 6-month-old baby girl.  Amelia is as sweet and cute as can be.  We couldn't get enough of her.  Seriously.  We have become the spoiling, doting grandparents already, and we love every minute of it.  My iPhone has become more of a camera than anything else, and Amelia has taken over the photo gallery.  See what I mean?
This is an awesome stage of life.  I'm blessed.  Quilting, teaching, grand-parenting and still parenting our own.  That list is not in priority order 😉  Thanks for letting me share it with you!