Splendid sampler blocks, Crossroads progress and March UFO
So far I'm keeping up with the Splendid Sampler Quilt Along.  I've just finished blocks 4 and 5.
I think I'm happiest when I'm piecing blocks.  I love the process – everything from picking out my fabrics to cutting and piecing.  Throw a little applique in there and I'm on the moon!  I added some machine embroidery to the appliqued flowers to give them a little extra punch.  And isn't that heart on the vase so cute?  I got that idea from Amanda, The Patchsmith.  If you want to see some gorgeous blocks, check out her blog.  She's been busy keeping up with the Splendid Sampler AND the Farmer's Wife 1930's Sew Along so there is lots to see there.  If you want more detail on the machine embroidery and applique technique that I used, leave a comment and let me know.  I'll put together a separate post just for that.
I'm joining the Crossroads Quilt Along, sponsored by Fat Quarter Shop.  This QAL benefits the March of Dimes and I'm so happy to participate.  I finished the four house blocks, and now I'm itching for the next set of instructions.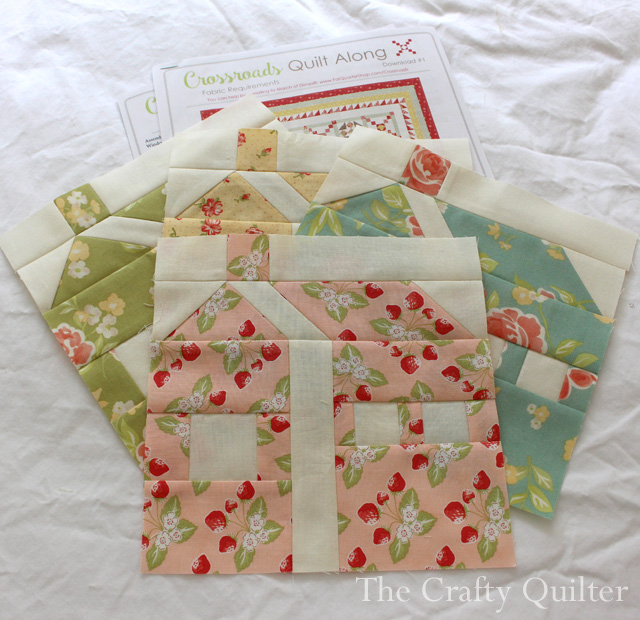 My UFO project for March is to complete a section of the TQS BOM, A-Z for Ewe and Me.  You might remember that I was the BOM "specialist" for The Quilt Show in 2014 and I presented videos for each month's lesson.  I was given a fabric kit of all the material used in the original quilt and each month I made a sample to demonstrate the lesson.  Unfortunately, I didn't put all of the sample pieces together after the taping was done.  It's a big project with a lot of applique, so I've broken it down into 4 sections. Here's what it looks like right now:
The applique still needs to be stitched down in the borders and the last section of the alphabet needs to be sewn together.  This month, I want to get the letters finished.  If I'm ambitious enough, I'll move on to the borders.  This is such a beautiful quilt, and I'm glad that it's "out of the box".   Here's the original quilt, designed and made by Janet Stone.  It's a show stopper (and winner of many).
I hope you're having a good week so far!