Fabric covered bead necklace tutorial
I've found a new way to bring fabric and fashion together with a fabric covered bead necklace.  I'm sure you'll love them, too!
They are so easy to make and really versatile.
Mother's Day is coming up, and this would make a perfect gift for someone special.
This could also be a kid-friendly craft project.
Make gifts for any occasion all year long!
Use up your stash.  And then buy some more!
Great as a teething necklace for new moms and their babies.
I have a free tutorial that shows you how….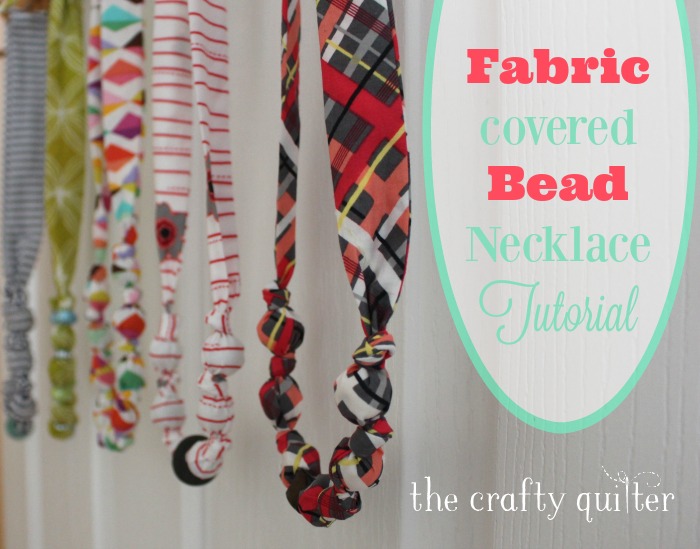 Each necklace is unique and you can make them really simple or get a little fancy with some pretty beads.  The very simplest one is made with marbles and fabric only.  Marbles are inexpensive and perfect for these necklaces.  And you don't feel bad about covering them up!
I've learned these make great teething necklaces, too.  My granddaughter, Amelia, thinks it's wonderful when Mommy wears her fabric bead necklace because she can safely chew on it as much as she wants (as long as Mommy is watching), and it's washable.  Doesn't she make the cutest necklace model?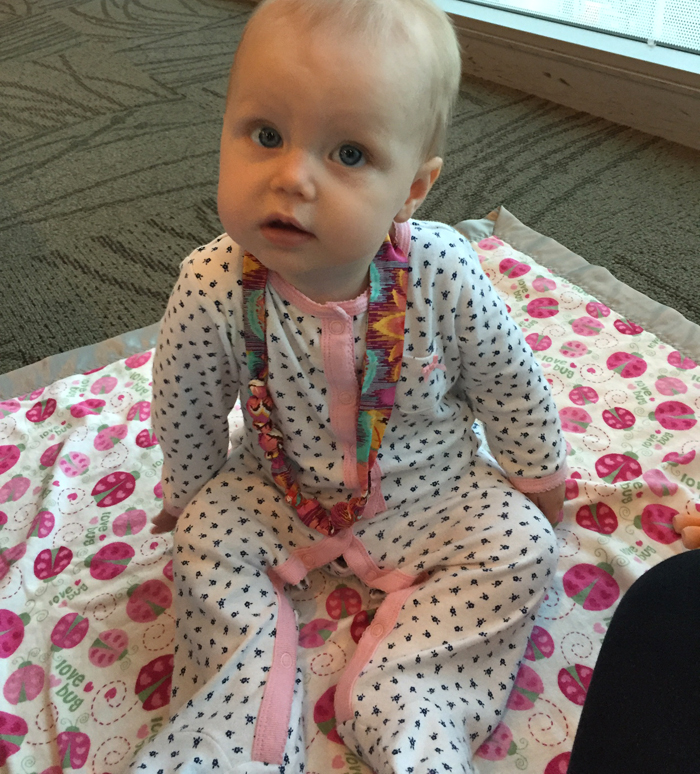 You can dress these necklaces up with one center bead (below left and far right) or add a few more beads and they act as spacers like the green necklace below.  You just need to make sure the beads have a large enough opening for the fabric to fit through.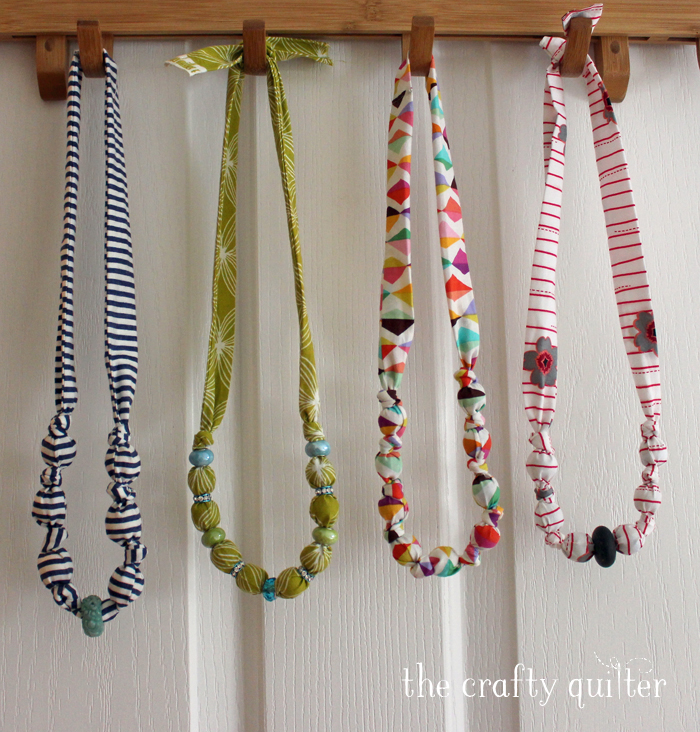 Are you ready to give it a try?  Here's what you need to make a necklace (or two)….
Supplies:
Fabric that is 42-44″ wide.  1/4 yard will make 3 necklaces.
Marbles, the good old fashioned kind.  You need a minimum of 5 per necklace.  You can buy a bag of 50 marbles for $3 at Rite Aid.  You can probably get a better deal at the dollar store.
Wooden beads (optional).  These can be used in place of marbles for a lighter necklace.
Decorative beads (optional).  Look for beads with a large hole in the middle.
Tube turner or Ball Point Bodkin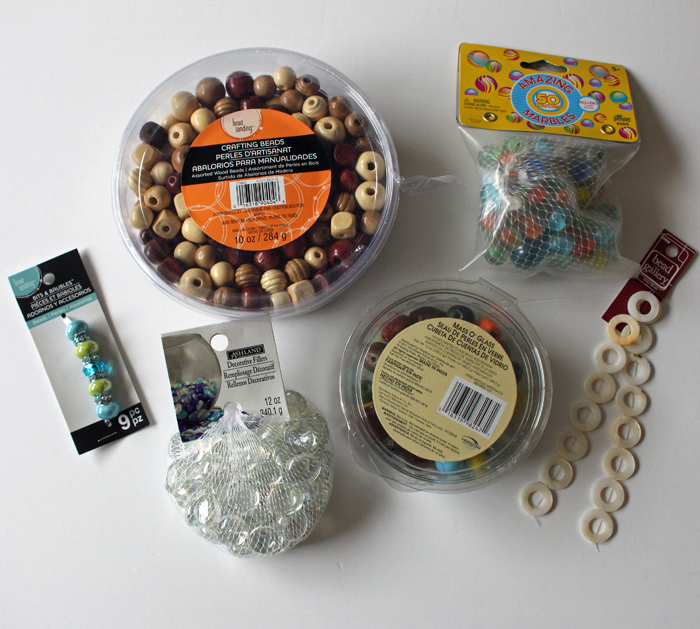 You can use wooden beads instead of marbles and it will make a lighter necklace.  The tub of beads I bought has an assortment of sizes, so you may have to cut your strips to fit a specific size.  I also bought some decorative vase fillers (the clear beads) that would work, but I haven't tried them yet.
Steps:
Cut one strip of fabric for each necklace.  If you're using a standard marble, the width should be 2 1/2″ wide by 42-44″ (width of fabric).  Do NOT trim the selvages.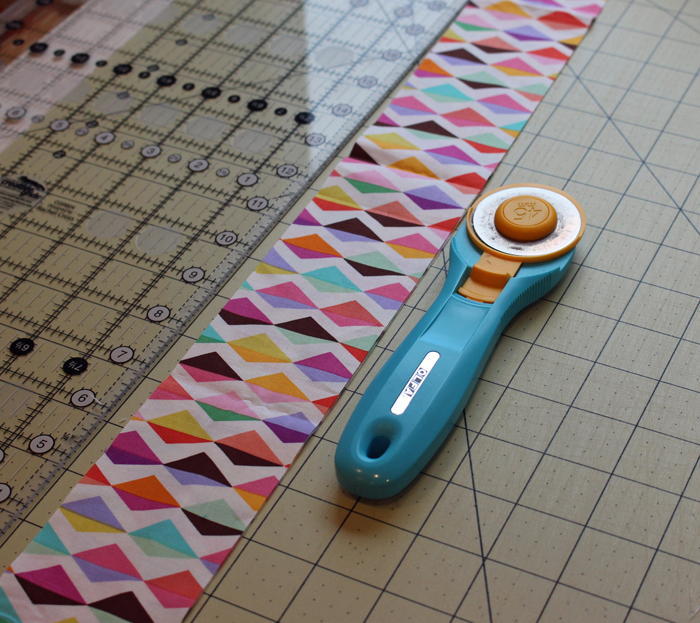 You might want to test the size of your strip first by cutting a shorter piece, such as 6″ x 2 1/2″ and stitch it along the length with a full 1/4″ seam.  The marble (or bead) should just fit into the tube.  At this point, I don't bother turning it right side out, but take into consideration that there will be extra seam allowance inside of the tube.  Make adjustments to your seam allowance or the width of your strip if necessary.
Fold the strip in half along the length, right sides together.  Set your stitch length to 1.8 (about).  Stitch with a 1/4″ seam allowance, creating a tube.  I use a full 1/4″ seam rather than a scant 1/4″ seam for this.  Backstitch at the beginning and end.
Turn the tube right side out.  There are several ways to do this.  You can do it by hand, with a tube turner, or use a Ball Point Bodkin (odd name, right?)  I'm using the Ball Point Bodkin for this tutorial.
I attach a safety pin into the slot at one end of the tool and insert the rounded end into the tube.  Securely attach the safety pin to the selvage.  Slide the rounded end of the tool down into the tube, gathering the fabric as you go.  Eventually the ball-end of the tool will come through the other end of the tube, pulling the fabric right side out as you go along.
Once the tube is completely turned right side out, give it a press.  I like to lightly press the seam open and then move the seam to the edge and press it completely flat.
Find the center of the strip and give it a crease or mark it with a pin.  Insert a marble in one end of the tube and position it at the marked center.  (You could also make a knot to the left of center first and then insert the marble).  Tie a knot on both sides of the marble, getting the knot as close to the marble as possible.
Repeat the above steps, adding marbles to each side of the center marble until you have the desired number.  Remember to create a knot between each marble and after the last marble.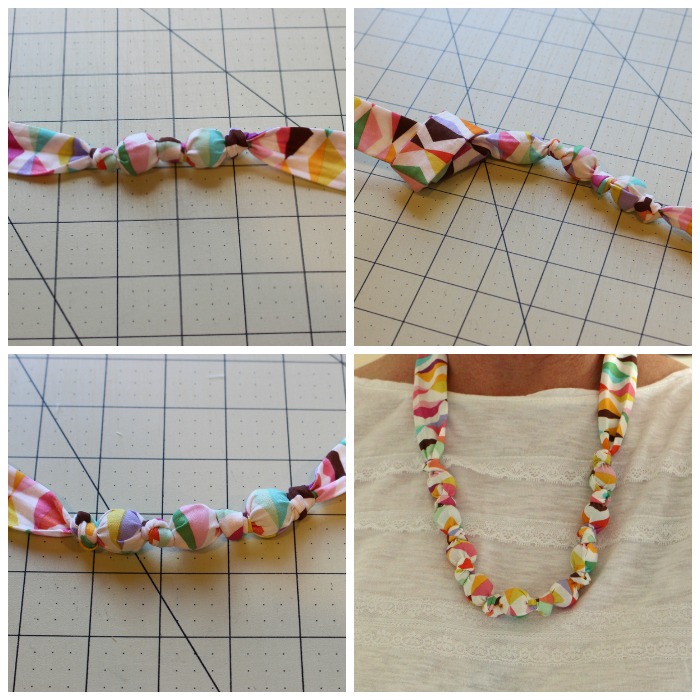 Finish the necklace loop by tying a knot at the ends or by stitching the ends closed.  If you tie a knot, it becomes an adjustable length necklace simply by re-tying it.  I leave the selvages in tact – they're a natural fray preventative.
If you don't care for the knot or if you don't have enough length to make a knot, then you can sew the ends together.  I slipped one end into the other and top-stitched it down.
That's it!  Your necklace is ready to go.  If you want to add some sophistication to the necklace, then find some pretty beads and get creative!  Here's a few that I've made so far.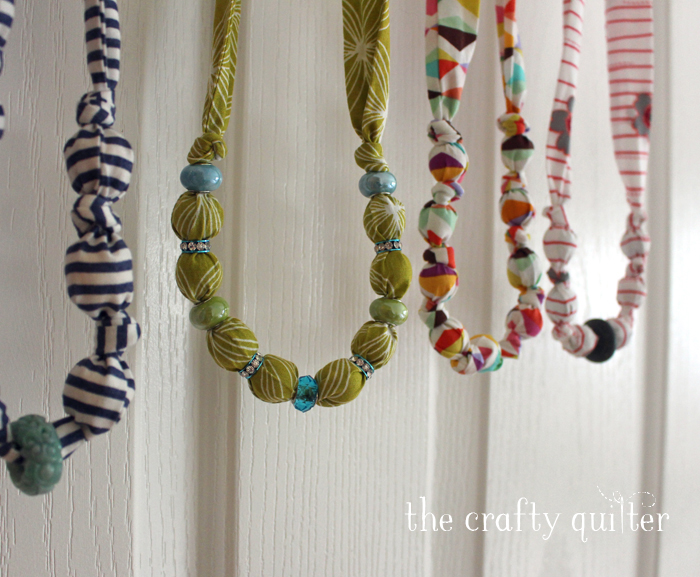 Pardon the selfies.  It's an empty nest and I'm a tax widow (married to a tax man who I never see until April 15 18).  If only Cooper would sit still long enough; he's a much cuter model than me!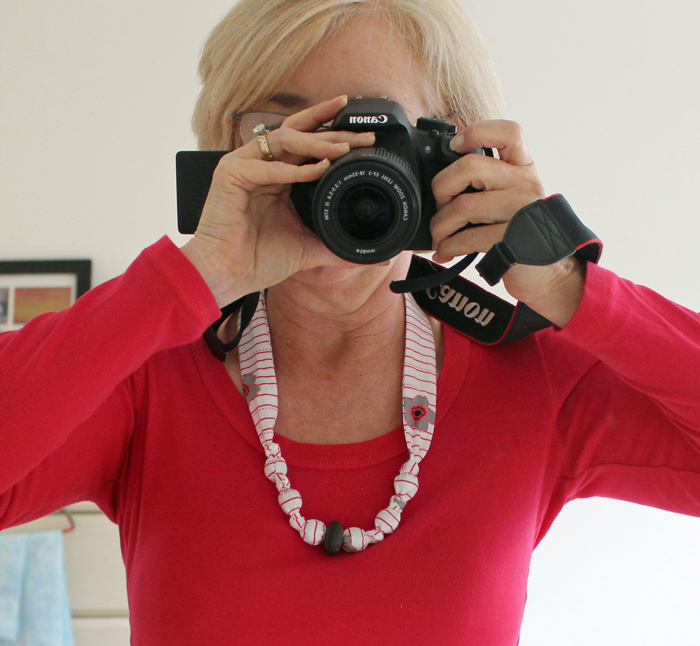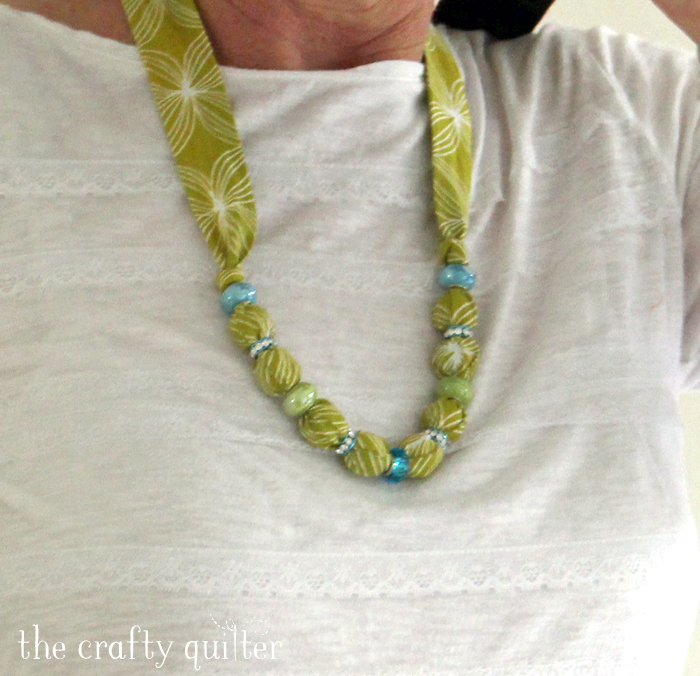 I went to Michaels yesterday, and they have all of their beads 40-50% off this week.  It's a great time to stock up on pretty beads for all of the pretty necklaces you'll be making throughout the year.  (I have no affiliation with Michaels).
I think batik fabric would work really well for this project, too.  I'm beginning to feel like I need a fabric covered bead necklace to go with every outfit!   Perhaps I'd better stop before I begin sounding (and looking) like a crazy fabric lady.  Too late?  I thought so.
Linking up with Sew Fresh Quilts, Quilt Story, Patchwork Times, Free Motion by the River, Quilt Fabrication, Blossom Heart Quilts, Live a Colorful Life, My Quilt Infatuation, Funtastic Friday and Crazy Mom Quilts.
Have a great week and thanks for spending some time with me today!