I think I should start a club for people who have a block of the month (BOM) addiction. Surely I can't be the only one! Today I'm going to tell you why I like love BOM's so much and show you which one's I'm participating in. (You can see a peak of an unpublished BOM I designed in 2017 in the graphic below.)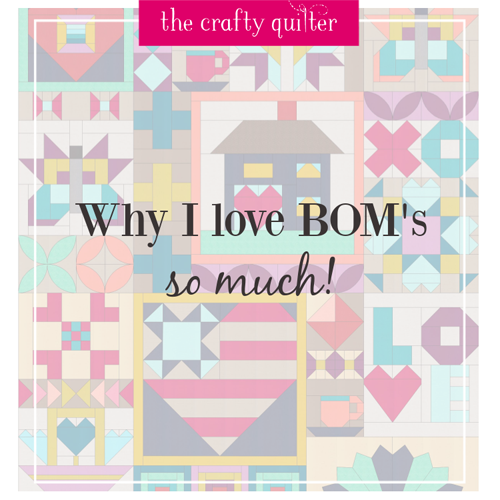 Why BOM's?
I love variety and BOM's usually provide that with a lot of different quilt blocks in one quilt. Some BOM's are sampler quilts and some are more repetitive and planned. I can get bored easily by making the same block 36 times, but that rarely happens with a BOM.
I also like that you make one or more blocks each month. This breaks it down into bite-size pieces and I have something to look forward to each month. Sometimes a BOM can be a BOW, block of the week. These are a little more challenging but equally as fun.
BOM's come in many shapes and sizes. Some are a mystery and some give you all of the details up front. Some include fabric and come as a kit, others are just the monthly pattern. Some are free, most are not. You can find them for specific techniques such as paper piecing, applique, traditional and modern. There really is something for everyone!
You can check out my Pinterest board, BOM's & QAL's 2022, for additional inspiration. Have you been tempted by a BOM?
My current BOM's
Each year I co-teach a BOM at my LQS, The Granary Quilt Shop. This year we chose a Halloween Fig Sampler Quilt by Fig Tree & Co. for our pattern. This doesn't have to be a Halloween quilt because the blocks are all traditional. By changing the fabric colors, it can be any holiday or season you like. I also love this pattern because it has a little bit of applique included. I DO love a touch of applique!
I'm using a fat quarter bundle of Pumpkins & Blossoms by Fig Tree & Co. which does have a vintage Fall vibe to it without being too Halloween-y. Below are my blocks for January and February.
I have always loved anything by Fig Tree. They usually offer a variety of BOM programs at any given time, and I'm always tempted. Last year I caved and signed up for their Strawberry Garden Mystery BOM. As the name implies, it is a mystery program (it's no longer available for sign-ups). I don't normally like mysteries, but this one sounded like it would fit my personality, so to speak. It comes as a kit each month and it uses their Strawberry & Rhubarb fabric collection. I am woefully behind schedule on this one. I have completed the first four months and I just received month #11 in the mail today. I'm determined to keep plugging along on this one. It's really pretty and I love the fabric. Below is month #4 – you should be able to see why I couldn't resist this one!
Sherri McConnell offers a FREE mystery block of the month on her blog, A Quilting Life. The patterns are free to download until the last day of the year, and then they are sold in her pattern shop. When I saw the first block for the Quilting Life 2022 BOM, I thought it was cute and easy enough to make just one a month, and I decided "what the heck"? Famous last words! Sherri includes instructional videos for those that like a more detailed and visual guide for making blocks. I'm using fabric from a bundle of Christmas Morning by Lella Boutique for Moda Fabrics for my blocks and the background fabric is Charcoal Linen Texture by Makower. This will become a Christmas quilt some day!
And finally (yes there is one more), I just finished the first month of the Quilter's Candy Membership BOM. Quilter's Candy is a subscription membership that offers an exclusive monthly quilt pattern, guest speakers, quilt challenges and a new Sampler BOM. The membership opens up several times a year. You can get on the wait list and find out more information here.
This is a gorgeous sampler quilt designed by Elizabeth Chappell, founder of Quilter's Candy. I fell hard when I saw it. I love that it's a sampler, it has a modern feel and there is no mystery involved. Below you can see the first two blocks for this month. I'm using a bundle of Art Gallery Fabric that I purchased from SanDiegoSewn, (an awesome online quilt shop.) I really love everything about this!
---
Past BOM's
I thought it would be fun to share some of the BOM's that I've made in the past. Half of them are not pictured – I can't find the images at this moment. I definitely have quite the collection, just the same! I even have two in my UFO pile that may never see the light of day.
---
I had the pleasure of working for The Quilt Show in 2014 as their "BOM Specialist" for A-Z for Ewe and Me designed by Janet Stone. We recorded monthly videos, and I gave tips for each block. It was so much fun for me (once I got over my stage fright). I was asked to do it again in 2016 for their Rajah Quilt Revisited and I happily said yes. The videos are still available at those links. I think I have The Quilt Show to blame for my BOM addiction. 😉 Be careful, friends, it's a slippery slope!
Also, you can still sign up for my Arrow Stone Quilt Along. I'm excited and honored that so many of you have already joined. There will be giveaways each week and lots of inspiration and motivation to keep you going. More details can be found here.
I hope you're having a great week and that you get some sewing time in. Happy quilting!