Just when I think I'm caught up with the Splendid Sampler quilt blocks, they release a new one!  I finished blocks 17 and 18 and they turned out "spot on".  You know when you measure the block when it's done and it's the exact size it's supposed to be?  Well that happened to me twice!  I reworked the math on block 17 so that my flying geese would be oversized and then I trimmed them down to the exact measurement needed.  I also used my own perfect square in a square technique to get those units perfect as well.  If that's something you're interested in, you'll need to cut the center square of freezer paper 1+ inches.  You'll know what that means if you read the tutorial.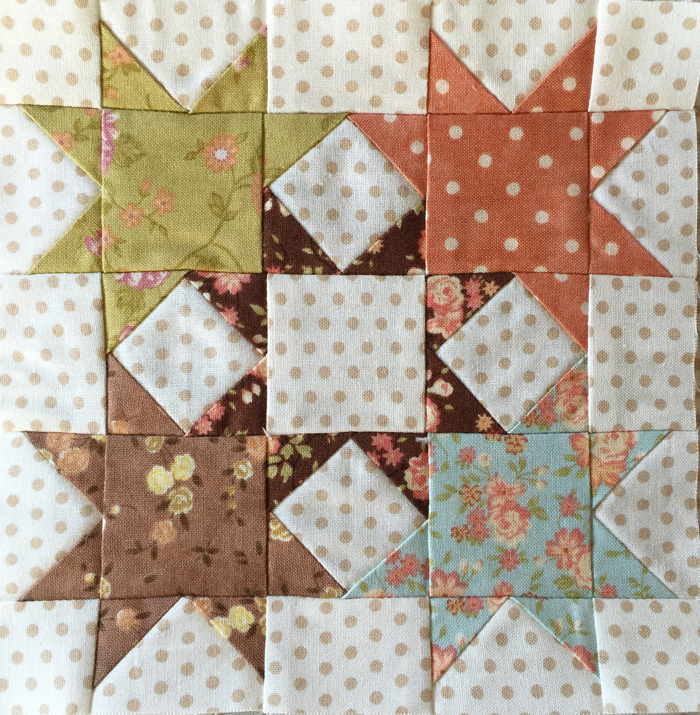 It's nice when they throw in an easier block once in a while such as block #18, Lina's Gift.  I love basket blocks!
With all of my blocks spread out, you can see that I have a thing for gingham.  It's just so sweet!
While at Quilt Con in February, I purchased a bit of blue chambray and some lawn fabric that go together so well.  I found the perfect pattern to make myself a top out of both fabrics.  At first it looked like a maternity top, but I added darts to the front and back and took in the sides a little.  It's still not so flattering and maybe a little too short, but I think it's cute enough to wear.  My first attempt at garment sewing in a long time!
The pattern is called Boho Shirt at Needle in a Fabric Stash.  It's based on the Scout Tee by Grainline Studio (which is included in the Boho Shirt pattern).  I like that it can be made with cotton fabric rather than knit.  And that's just because I haven't learned how to sew with knits (yet).
I was asked to do a demo of English paper piecing (EPP) by machine at our monthly meeting for the Silicon Valley Modern Quilt Guild.  It was a fun night with demonstrations of three different EPP methods.  I've made plenty of hexagons the traditional way (by hand), but I'm just starting to explore machine EPP.  Now I have a few sample flowers made from my hexagons.  They are the perfect size for coasters as you can see below.  And so pretty, too!  Check out the blueberries I found at my local farmer's market; if you haven't tried fresh blueberries, you're in for a real treat.
I made some banana chocolate chip bread using my own recipe.  It's one of my favorite, healthier versions of this quick bread and it tastes so good!
I completed my April UFO quilt top and now it's off to the longarm quilter.  I'll get it back in time to put the binding on before the end of the month.  I forgot to take a picture of the completed top, but I'll show you soon enough.
I'll be leaving town this Thursday and visiting my daughter, Nicole and her husband, John.  They recently moved to a little town outside of Seattle, so this will be my first trip to the Seattle area.  I'm really excited!  When I return I'll have a book review to share with you and some pictures from my trip.
Happy quilting!