A few projects I'm working on and updates
Hello friends! I have some projects to share that I've been working on, but first, I want to say "welcome" to any new visitors. There has been a lot of activity from the Passport to Quilting Event that just ended which means some fresh eyes are reading this blog. Thank you for being here! I have some exciting things planned for this year, so make sure to stay updated by following or subscribing below.
My WIP's
I have many WIP's (works in process), not to mention all the UFO's. Speaking of which, what is the difference between a WIP and a UFO? I consider WIP's to be active projects. They're something that I keep working on a little here and there. Many of mine include block of the month projects.
UFO's, on the other hand, are projects that have been set aside for longer periods of time. They're usually a project that I started and then another project or deadline jumped in front of it. Sometimes, I lose interest in a pattern and I set it aside to be finished later. Often, UFO's become lost or forgotten, which is why a comprehensive UFO list is a good thing to keep up to date. I'll have to do a UFO confessions blog post some time!
So, my most recent WIP is the May blocks for the Halloween Figs Sampler BOM that I'm co-teaching at The Granary Quilt Shop. We're still meeting via Zoom classes, but our next class will be in person! For my quilt, I'm using Fig Tree's Pumpkins & Blossoms fabric collection which has a Fall look to it without screaming Halloween.
Another Fig Tree BOM that I just started (by subscription only and it's full) is the Manchester by the Sea Mystery BOM. This project has a summer vibe to it with some nautical notes as well. Doesn't it sound like I'm describing a fine wine? These blocks were finished for April and now it's time to get started on May.
And finally, I am in the quilting phase of my Spring is for the Birds Wall Hanging. The pattern is just about finished and it will be a free gift to you this month! I'll let you know as soon as it's ready.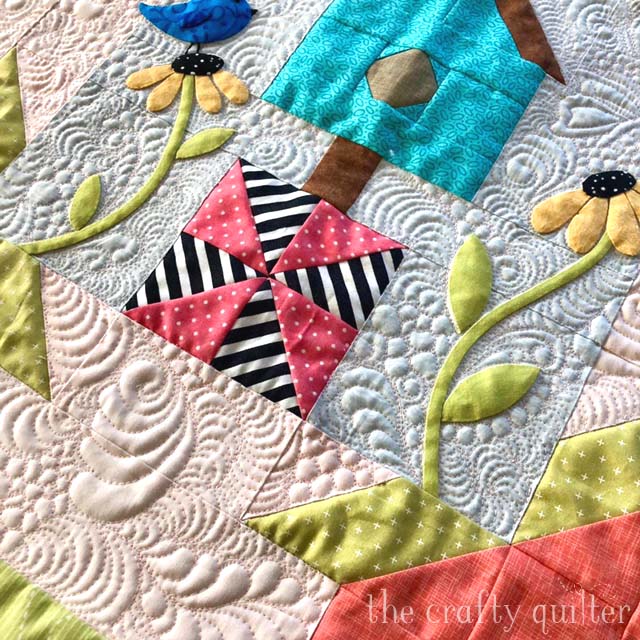 ---
This year has been a challenging one, technologically speaking. Running a blog and online shop is a work in process itself. I've had my share of glitches in 2022, but I've finally switched hosting providers and hired a WordPress specialist to help on the back end. I'll be unveiling an updated website in a few weeks along with a new email platform. You'll be able to hear my sigh of relief when this is all done!
On a personal note, we were supposed to travel to Austin last week to visit our grandkids. We weren't feeling well and thought we had picked up a cold. Mr. Crafty Quilter tested positive for Covid the night before our flight and I tested positive the next day. Fortunately, we found out before we got on the plane so we didn't spread it to others. And we were able to cancel the flight with full credit.
Unfortunately, we didn't get to see our grandkids. We both got hit pretty hard even though we were vaccinated and boosted. I lost a solid week of work, my sense of smell (and taste), and I'm still getting my energy back. But, I'm feeling SO much better than I did last week. It makes you appreciate your health!
Thanks for visiting today. I hope you're enjoying some sunshine and beautiful spring weather!