I Love Home grand prize giveaway
Hi everyone!  I just had to pass along this grand prize giveaway going on at Jacquelynne Steves for the I Love Home Block of the Month.  To enter, you must go to Jacquelynne's blog post and comment there.  You have until Sunday, January 21, 11:59 EST to enter.  The giveaway includes some fantastic prizes worth $200!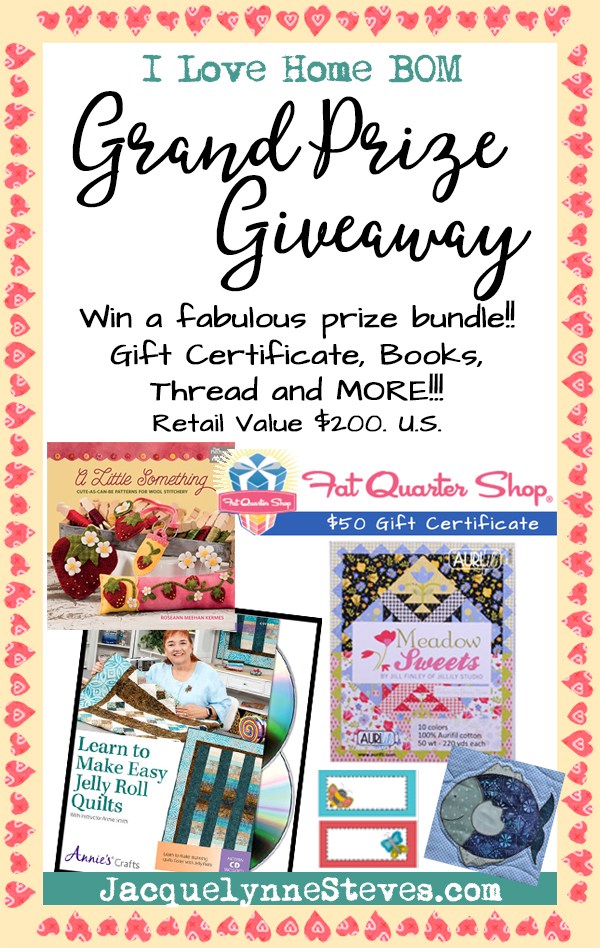 If you're still working on the block of the month, make sure to download the patterns asap!  The pattern links will remain active until January 31, 2018.  You'll also be inspired by the photos of finished quilts that Jacquelynne posted on her blog.  They are all so pretty!  My seasonal mini quilts that I made (instead of one larger quilt) will be rotated throughout the year, so I'll get to enjoy them for a long time.
You can also see a sneak peak at Jacquelynne's next block of the month that I think you're going to love just as much, if not more.  After seeing the quilt, I couldn't say "no" to being a participating blogger again!
Now that the dust has settled from the holidays, you might want to grab a Craftsy Class this weekend while they're all on sale for under $20!  This also would be a great time to check out Craftsy Unlimited.  You get full access to ALL Craftsy classes plus exclusive video content for a monthly fee, and you can try a 7 day free trial for Craftsy Unlimited to see if it's for you.
I'll be back soon with some Valentine's Day sewing inspiration.  Have a great weekend!