Maggie's First Dance, Block 2 and giveaways
We're on to block #2 in the Maggie's First Dance Block of the Month, hosted by Jacqueylynne Steves.  It's not too late to sign up,  just click here for details.
It's also Independence Day for those of you living in the United States, so it's BOM's and fireworks today!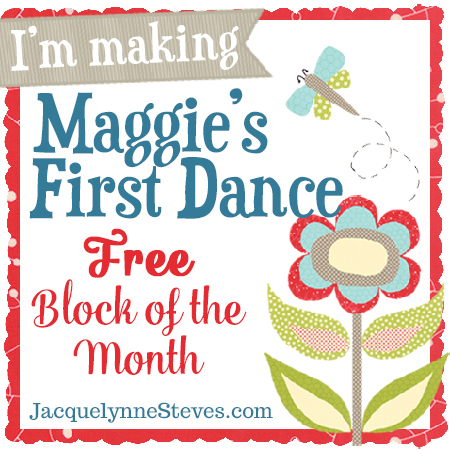 There are two giveaways happening as well, so make sure to read all the way to the end of this post for details.  GIVEAWAY NOW CLOSED.
This month's block was fun to put together, and you're going to love Jacqueylynne's  tip for making perfect flying geese.
The combination of piecing and applique on this BOM makes my heart sing!  I'm using fusible machine applique with Heat n Bond lite by Thermoweb.  You can see in the close up that I used a zig zag stitch around all of the applique shapes, except for the stems.  These were bias stems with turned edges and I like the look of a straight stitch on those.
There are four flying geese in this block, and Jacquelynne has a great technique for getting perfectly sized units.  She over-sizes the two squares by 1/4″ which allows you to trim the top edge and get straight sides all the way around.
When you put the block together, make sure to pay careful attention to the match points.  These match points are created when diagonal seams intersect, creating a straight line.
I already like how well the first two blocks play together.
The nice thing about this BOM is the options you have.  If you don't like applique, you can use a focus fabric instead.  Or maybe you'd like to try embroidery – that's a wonderful way to go!
You'll want to visit all of the featured bloggers to see their beautiful blocks:
Greg at Grey Dogwood Studio
Monique at Farm House Quilts
Julie at The Crafty Quilter (you are here!)
Beth at EvaPaige Quilt Designs
Kim at My Go-Go Life
Jacque at Lily Pad Quilting
Brenda at The Quilting Nook
Other details:
Giveaways:
This month's giveaway is sponsored by Thermoweb!  Their fusible web product, Heat n Bond lite is my favorite brand for fusible applique.  You can also find inspiration at the Therm O Web Blog which is full of tutorials for crafters and quilters.  Thermoweb is giving away an awesome prize package of some of their most popular products for quilters.
This giveaway is open to continental US residents only.  To enter, please tell me where you are from and how the weather is!  You have until July 11 at midnight (California time) to comment.  GIVEAWAY NOW CLOSED.  You can earn more chances to win by commenting on the other participating blogs as well.  We each get to pick one winner!
Here are the giveaway rules:
To enter, leave a comment telling me where you live and how the weather is there.
You must comment by 11:59 pm PST on July 11, 2016.  GIVEAWAY NOW CLOSED
Your email MUST be included in your profile information or in your comment. If I choose your name and I cannot contact you, I will choose another name.
Giveaway is open to Continental US residents only.
Winner will be chosen at random.
The second giveaway is open to everyone and is sponsored by Michele Foster of the Quilting Gallery.  I'm a big fan of Michele's and you can win her Starlight Template and Table Runner pattern by visiting her at her blog.  There will be four winners chosen!
Please visit Quilting Gallery for giveaway details and entry.
Thanks for visiting today!  I hope you're having a safe holiday and a fantastic Monday!
Save