March project and this month's giveaway sponsor
I love picking out my project for each month's UFO & WIP Challenge.  For March, I have chosen two projects to work on (which I might regret when it gets down to the end of the month).
The first one is to sew the binding on my block of the month quilt from 2013 (a Fat Quarter Shop Mystery BOM).  I got this back from the quilter last month and it's time to finish it off with binding.  I stalled for a while because I didn't have enough fabric for the binding, so it's going to be a scrappy binding.  Why not?  Done is better than perfect.
The second project is a mini quilt that I designed four years ago maybe?  I love the simplicity of this one, and the letter "J" is so me.  Ha!  I just need to finish the quilting and add binding.
The giveaway for this month is sponsored by yours truly.  I have been saving this 9-piece fat quarter bundle of Sewing with Singer from Robert Kaufman for just the right occasion, and this month's giveaway is it.  The winner will also receive two patterns in their package:  Franklin Star by The Crafty Quilter Designs and Pot Luck by A Quilting Life Designs.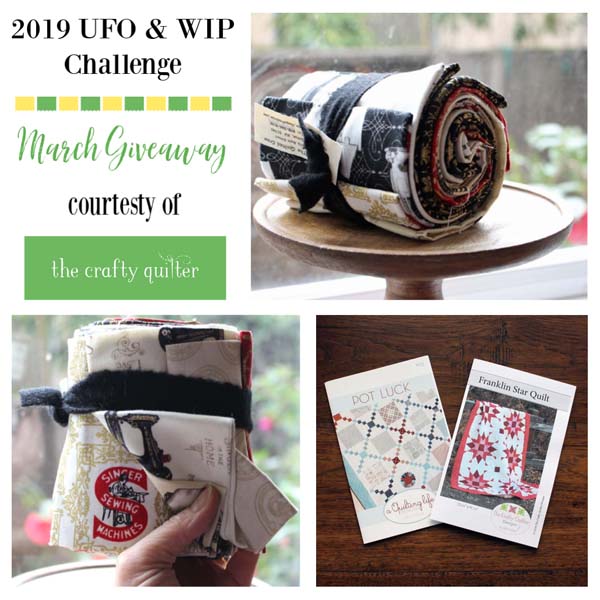 I hope you're feeling encouraged to finish up those UFO's and WIP's.  As one person commented so sweetly, "The world is getting prettier with all of the finished quilts."  I think so, too!