Giveaway winners and Maggie's First Dance Sew Along Day
Happy Friday!  I have a few quick announcements for you.
If you have been participating in Maggie's First Dance block of the month, you'll want to join Jacquelynne Steves for her 3rd annual Sew Along Day this Saturday, September 17, 2016.  It's a great opportunity to get caught up on your blocks and have some fun!  Of course there will be prizes, too!
I will be checking in on the action and hopefully get a few more blocks made, too.  I hope you'll join us!
The winner of September's Maggie's First Dance giveaway is #115, Daniele, who said
"I have a very small sewing room with only a few shelves. The fabric I can't store on the shelves is put in baskets or bags and stored on the floor everywhere in the room. 🙂
Greetings from Luxembourg"
For the giveaway, I asked you to leave a comment telling me where and how you keep your stash.  Thank you everyone for all of the wonderful comments and suggestions you gave me on storing your fabric stash!  I read through every one of them, but I wasn't able to respond to each comment.  I appreciate the time you take to leave a comment and I've gotten some great ideas to inspire me this month as I clean up my sewing room.
I have two winners to announce for the August UFO challenge.  The first winner is #1, DJ, who made this wonderful Sorority T-shirt Quilt.  This is a great way to save memories!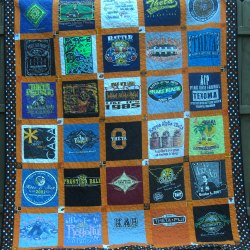 The second winner is #14, Judie, who made this Pink and White and Red All Over quilt.  It's just beautiful – I love feathered stars!
You will each be receiving a bundle of wine-themed fabric, Kimono silk thread, Heat 'n Bond Lite (my favorite), Pieces From My Heart pattern and a prepaid subscription to The Quilt Show.
With colder weather and crafting season ahead, it's time to take advantage of Craftsy's Farewell Summer Clearance! It's your last chance to save on some of Craftsy's most popular supplies — before they sail away.  This month's sale expires Sunday, 9/18 at 11:59pm MT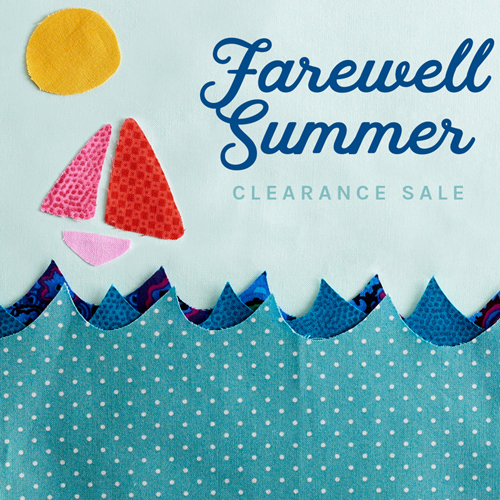 I'll be back tomorrow with lots of information about using stencils for quilting.  I can't wait to share with you!  TGIF!
Save