It's the last day of 2016 and time for our December UFO link up!  Boy, did the year go by fast.  Thanks for making this year's Hello 2016, Goodbye UFO's a success.
This month has been a whirlwind for me, and I just could not get to my planned UFO project.  We are about to begin a big remodel of our house and I've been visiting cabinet makers, flooring dealers, appliance stores, and the list goes on.  Plus preparing for Christmas, having our family together for the holidays and enjoying our granddaughter has been my priority.
However, I did get some sewing time in.  Instead of Christmas stockings this year, I made lunch bags for everyone.  Five to be exact.  I filled them with little goodies and they were a big hit.  I love seeing my adult children get so excited over something I made.  I used a free tutorial from Ayumi at Pink Penguin.  Her tutorial was easy to follow and I love the finished product.  I took a last minute picture of the four bags that are still at the house.  You'll notice that there are two different sizes.  I increased the measurements so they're big enough to handle a square Rubbermaid container and more.
Each one was made using fabric to suit the receiver.  It was a good opportunity to use up some stash and play with fun fabric.  It has a drawstring cover that can be used to keep the contents in place.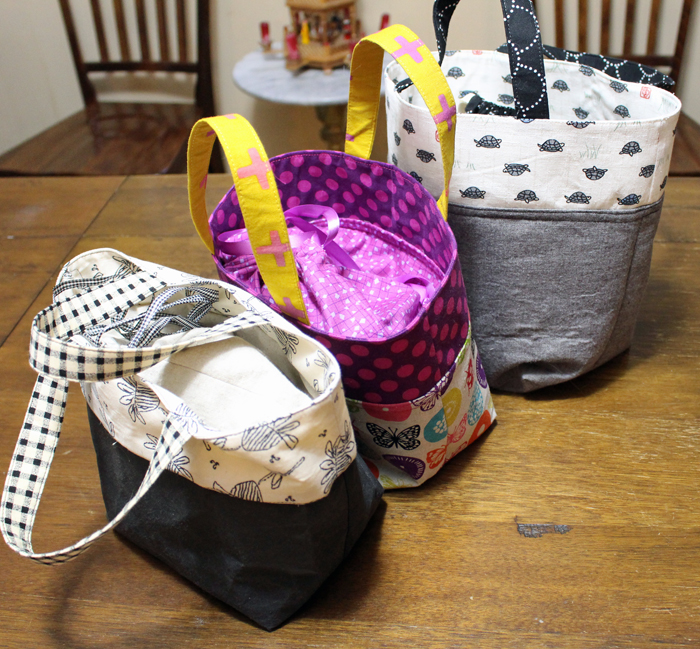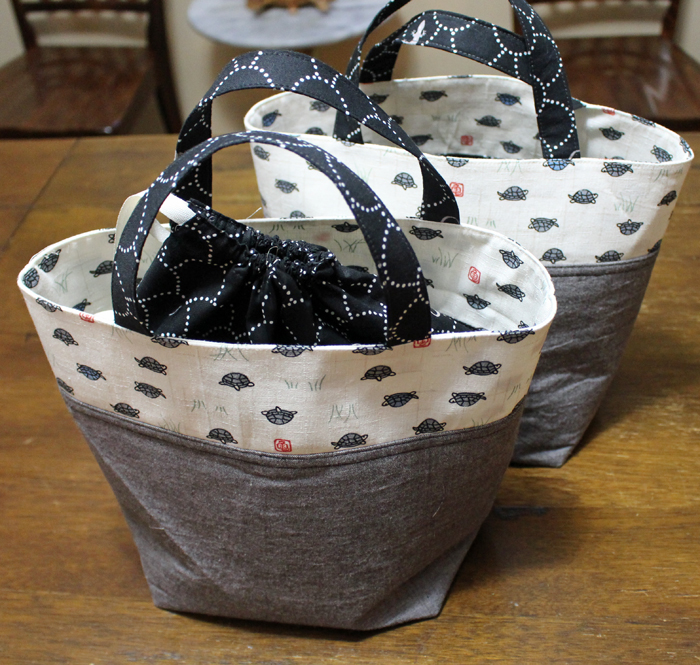 I made all five in about three days time.  By the time I finished the third one, I had the process streamlined and it went pretty fast.  I still need to make one for myself – ha! Famous last words.
December UFO Link Up
It's been so much fun seeing all of your finished projects this year.   I can't wait to see what you've been up to this month.  I'll pick two winners who will each receive a mystery prize package.  Why the mystery?  I can't even get to my sewing room right now, but there is a prize in there somewhere worth about $50!
Link-up Rules:
You may add up to 2 finished projects.
One image per finished project.
Project must be sewing or quilting related.
The link-up will be open until January 7 at midnight, PST.
The giveaway is open to USA or Canada only, however, anyone can join the link-up. If a winner is chosen that is international, then another number will be picked until it meets the criteria.
Winner will be drawn at random on January 8, 2017.
Save
Loading InLinkz ...
Save
Save
Save