Maggie's First Dance, final borders & giveaway
It's finally here!  The last piece of instructions for Maggie's First Dance block of the month is now available.  This month we're putting our blocks together and adding the borders.  Plus we have another amazing giveaway.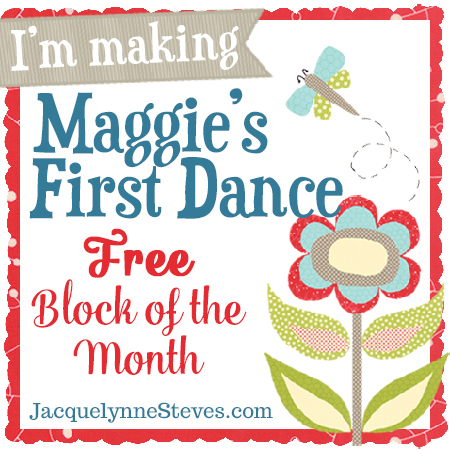 Maggie's First Dance BOM, final instructions
If you're just now joining in, you still have time to sign up and get the instructions for the previous month's blocks here.  Jacquelynne Steves has done another amazing job at keeping us motivated and providing excellent instructions for this BOM.  A big hug and thank you to Jacquelynne!
I'm really excited to show you my completed quilt top, so here it is!
The colors remind me of salt water taffy.  I'm not normally a pink person, but  I have a little 3-year-old niece who will be receiving this quilt and she absolutely loves pink.  The fabric inspiration for this quilt was the text print from AdornIt.  Much of the fabric I used came from their Rhapsody Bop collection.
Remember, when you're adding borders to a quilt, cut them to fit YOUR quilt top.  Measure through the center of the quilt and use that measurement to cut your border strips.  Pin well, and stitch.  This will help keep your quilt square and alleviate wavy borders.
One of my favorite things about being a part of this BOM is seeing the way the other participating bloggers are interpreting this design.  Make sure to check out their blogs and earn more chances to win this month's giveaway.
Greg at Grey Dogwood Studio
Monique at Farm House Quilts
Julie at The Crafty Quilter (you are here!)
Beth at EvaPaige Quilt Designs
Kim at My Go-Go Life
Jacque at Lily Pad Quilting
Brenda at The Quilting Nook
November giveaway
This month's giveaway is sponsored by New Leaf Stitches.  Kari has put together a fabulous prize package that includes a Clearly Perfect Angles Pack.  This handy tool will help you achieve quick and accurate 45° angles on any of your corner triangles or diagonal seams with NO marking!
To enter the giveaway, all you need to do is leave a comment telling me how many sewing machines you own.  (Don't worry, I'll never tell anyone.)  I'll start by saying that I own 5!  Maybe I'll elaborate on that later.  This giveaway is open to everyone, and you can visit the other participating bloggers for more opportunities to win
Here are the giveaway rules:
To enter, leave a comment telling me how many sewing machines you own.
You must comment by 11:59 pm PST on November 14, 2016.

Your email MUST be included in your profile information or in your comment. If I choose your name and I cannot contact you, I will choose another name.
Giveaway is open to all.
Winner will be chosen at random.
Happy Quilting!
Save
Save