BOM's Away – how corny is that?  I must be getting old!  But quilting keeps me young at heart.  I have been busy trying to keep up with my BOM projects.  Here is an update of my progress so far:
Fat Quarter Shop's 2013 Designer Mystery Block of the Month. This program is full and they currently have a waiting list (I believe).  As new spots become open, they will notify you if you're still interested.
This is the finished basket block for the month of June:
Here are a few tips for this block (I was having so much fun making it that I completely forgot to take pictures along the way).
Make all of the half-square triangle units larger and then trim down to size.  So instead of cutting  2 7/8″ squares, I cut mine at 3″.  They need to measure 2 1/2″ unfinished after trimming.
The background (cream) fabric has a right and wrong side that is very hard to differentiate, but there is a slight color difference!  The long rectangle on the right side of the photo above is slightly lighter than the rest – I accidentally sewed it with the wrong side up.  Be careful!
There weren't many pressing instructions, so I took a picture of the back side of my block so that you can see what I did.  Basically, all of the hst's are pressed toward the red.  The only one that was pressed to the white is one of the bottom ones that forms the basket's base.
There are a lot of seams, so make sure that you're using a scant 1/4″ seam allowance and press well!
Bloggers Girl's BOM by Open Gate Quilts.  I finished the last block and I really do like the way they turned out!  I'm making the smaller version with only six blocks.  Here they are all together: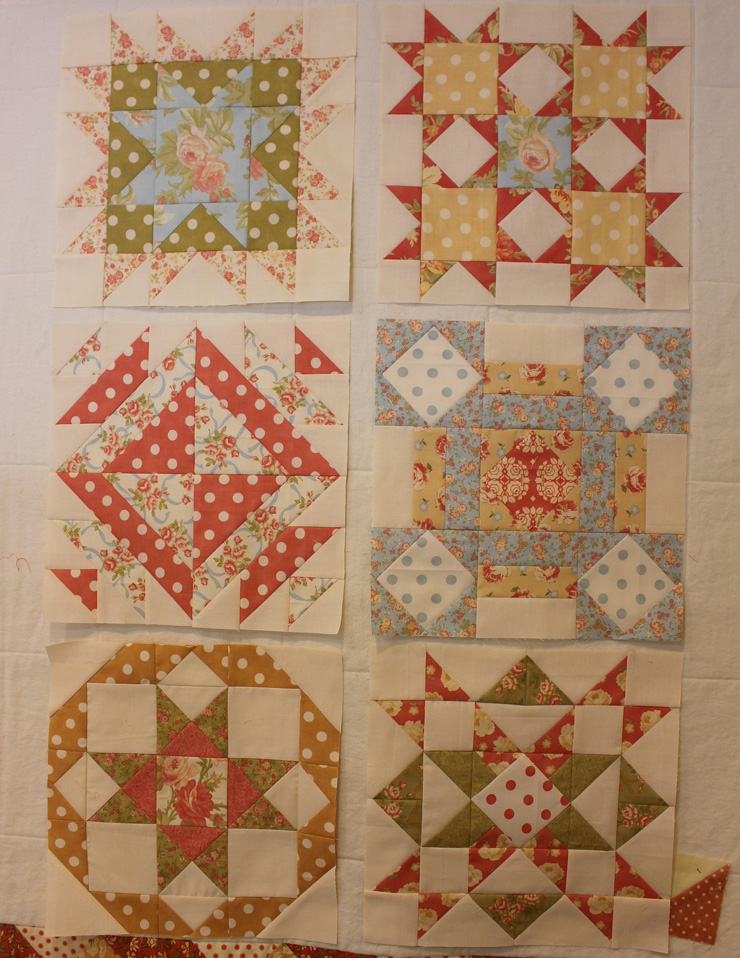 I love the polka dots in each block!  I'm using a fat eighth bundle from Fig Tree Quilts called Breakfast at Tiffany's.
I have them up on my design wall so I can admire them for a while.  My design wall is a large quilt (wall hanging) that has a flannel center square that is quilted with a 3″ grid.  This grid helps me to line block pieces up evenly.
The Sugar Block Club.  The June block is finished and I love it!  I'm having a thing with polka dots lately!
I still need to finish the paper pieced block from April.  I'm sure I'll postpone that one for the last since it will be the hardest for me.  My paper piecing skills are sorely lacking.  Here are the other four blocks:
Sister's 10 Modern BOM with Gen X Quilters.  All caught up with this one.  These are my two blocks for the month of June:
They are such a happy lot when they're all together:
Are any of you addicted to BOM's like I am?  And the many Quilt Alongs going on right now – so hard to resist!  Keeps me busy and out of trouble!