Enchanted Blog Tour and baby quilt
Hi everyone! The Enchanted Blog Tour is going strong! It's my day to show off this beautiful new fabric line, Enchanted, designed by Dodi Poulsen of Two Sisters at Squirrel Hollow for Riley Blake Designs. Make sure to read all the way to the end for information about Dodi's giveaway!!!
Enchanted Blog Tour
There are so many fun and whimsical prints in this fabric collection, I had a hard time choosing just a few. So, I decided to play with ALL of them in this adorable Enchanted Dresden Baby Quilt. There is enough variety in this fabric collection that you can get a real scrappy feel. I designed this quilt using EQ7 and it turned out just the way I had hoped!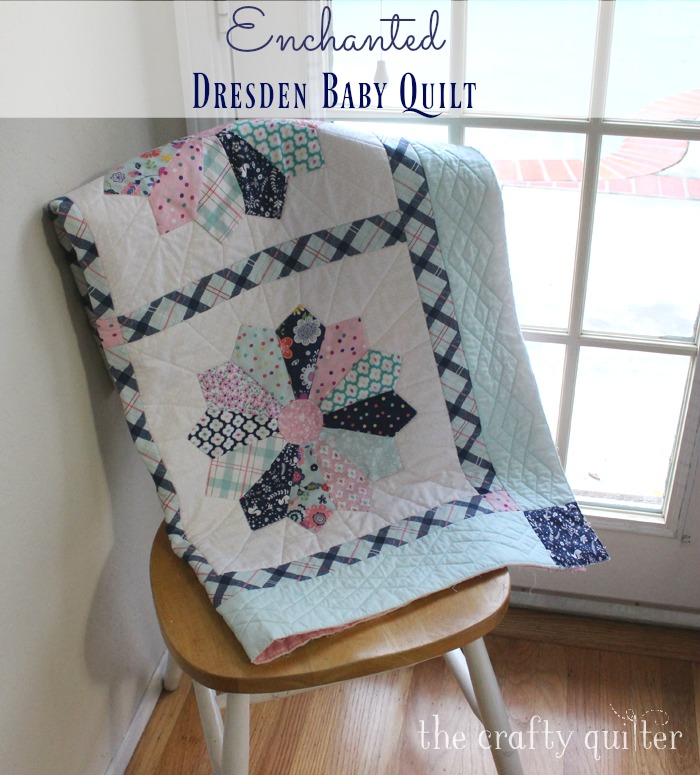 I love Dresden Plate blocks and I've been wanting to make a quilt using them for a long time. This was a great opportunity to create something sweet and cuddly for a baby. It's always nice to have a baby quilt on hand for the next arrival!
UPDATE: You can find my Chunky Dresden Plate Block Tutorial here. Make four of these 16″ blocks and add some sashing and borders to get a baby-size quilt like mine!
My favorite print in the Enchanted line would have to be the plaid. It comes in three color ways and I love the geometric punch it gives. I also love that little squirrel print – it's so darn cute! If you're looking for the perfect solid to go with this collection, you have to try Riley Blake's Confetti Cotton in Bleached Denim. It's a perfect neutral!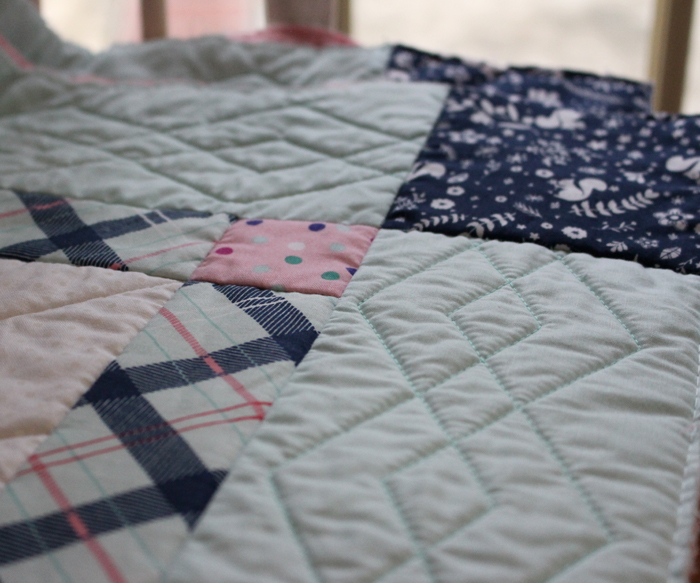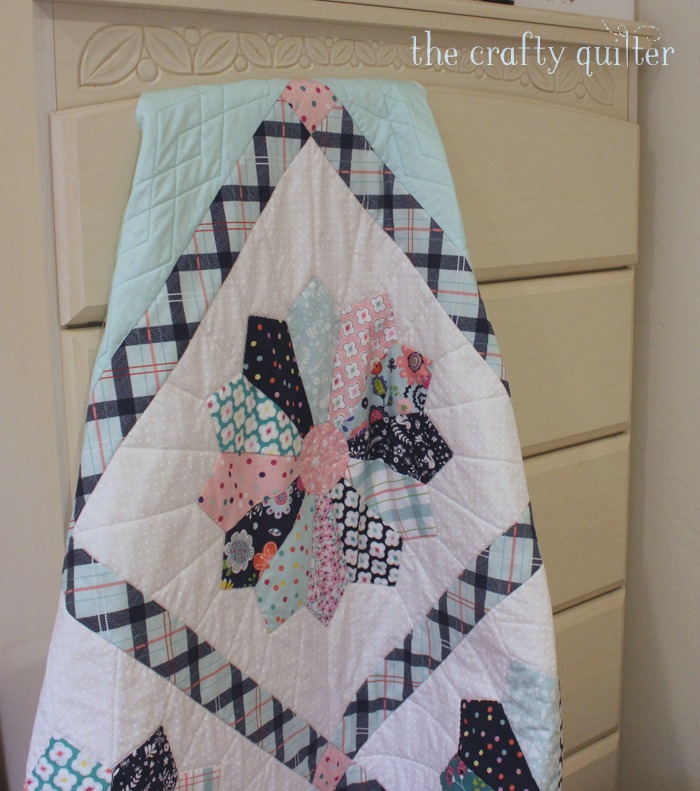 It's been a busy month at my house, and I barely finished this quilt in time. Finished is a loose term in this case. If you look closely, you'll notice there's no binding yet! Plus, I'm going to add more quilting inside of the Dresden fans so they're not so "poofy".
I used stencils to draw the quilting lines for the border and for the center of each Dresden. For more information about using stencils with your quilts, go here.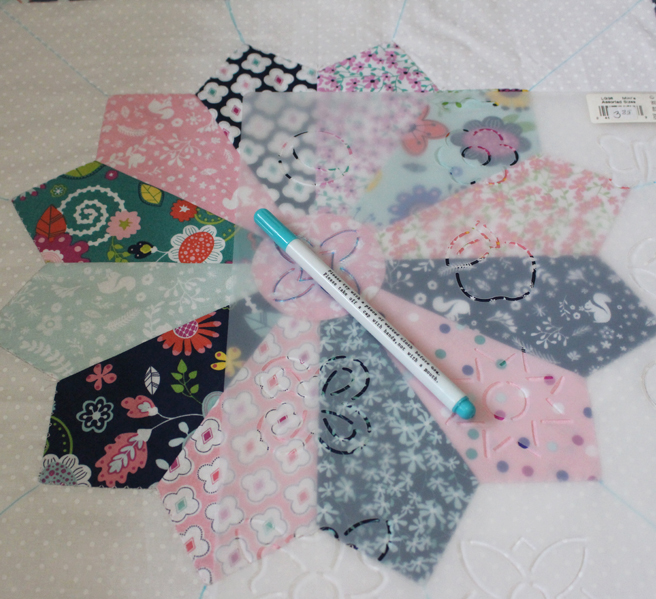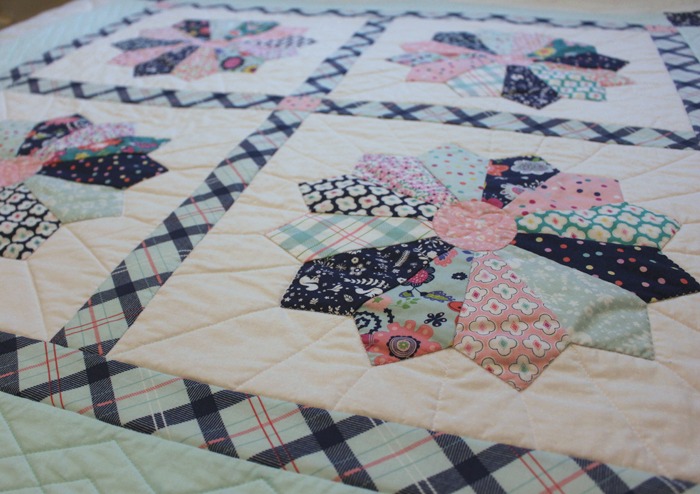 I used pink flannel for the back of this quilt; one of my favorite ways to finish a baby quilt is with flannel. Minky would be a great option, too. You can see the pink shadowing through in the photo below. It doesn't really look that pink under normal lighting.
Are you curious about the Dresden plate block? I'll be back later this week with more information about it and maybe a tutorial of how I made mine!
UPDATE: Check out my tutorial for the Chunky Dresden Plate Block!
Make sure to check out all of the other stops on this Enchanted blog tour!
Blog Tour Schedule
Monday, Jan 23rd – Little Londyn
Tuesday, Jan 24th – Jedi Craft Girl
Wednesday, Jan 25th – Loose Threads
Thursday, Jan 26th – Meags and Me
Friday, Jan 27th – Pretty by Hand
Monday, Jan 30th – Tie Dye Diva
Tuesday, Jan 31st – Two Sisters as Squirrel Hallow
Wednesday, Feb 1st – Striped Swallow Designs
Thursday, Feb 2nd – Izzy and Ivy
Friday, Feb 3rd – Ellis and Higgs
Monday, Feb 6th – Aurifil
Tuesday, Feb 7th – The Crafty Quilter
Wednesday, Feb 8th – Two Sisters at Squirrel Hallow
Thursday, Feb 9th – Jina Barney Designz
Friday, Feb 10th – Riley Blake
Giveaway
You could win a bundle of Enchanted fabric by visiting Dodi's blog, Loose Threads and leaving a comment. One entry per blog post, per day of the Blog Tour, there on Loose Threads. Enter every day to increase your chance of winning!!!
Thank you for visiting The Crafty Quilter today and learning all about Enchanted! I'm so glad that I had the opportunity to work with Dodi Poulsen and Riley Blake Designs. I love their style! Have a great week!
Save
Save
Save
Save
Save
Save