Product review: MicroQuilter, a new thread for invisible machine applique
I just finished a large applique block using a new thread for invisible machine applique. Superior Threads recently released MicroQuilter, a very fine, thin thread made out of polyester and perfect for applique.
This review is not being sponsored, so these words are purely my own opinion and the result of my experience with them. I have always liked Superior Thread products and I appreciate their support of the quilting community. Their newsletter and website is full of information specific to quilting. When I heard about this thread, I wanted to try it out right away.
MicroQuilter is a 100 wt. extra-fine polyester thread designed for invisible machine applique, detail quilting, and stitch in the ditch. It is an extremely fine thread that can be sewn with a very small needle, rendering the thread virtually invisible. MicroQuilter is noticeably strong, especially considering its thin diameter and is the preferred thread for micro stippling and miniatures. MicroQuilter can be used on home machines and longarm machines and is available in 30 colors on 3,000 yd. cones.
The project I'm working on is a block of the month quilt, Portage Lake, designed by Minick & Simpson. I just finished block number 3 and I have some catching up to do. I love the mix of piecing, embroidery and applique in this quilt. And the fabrics are fantastic (The Granary Quilt Shop still has kits available – just saying.)
I'm using an applique method called invisible machine applique. The idea is to make the applique look like it was done by hand, but it was quickly sewn on by machine. You can read about the stitch I used on my machine here. The edges of the applique are turned under with the freezer paper and starch method.
When I sew the edges down by machine, I usually use monofilament thread which is clear and mostly invisible, but it does have a shine to it and it's not always easy to work with (it doesn't play nicely with some sewing machines).
The MicroQuilter thread is a 100 weight thread made out of polyester. It's strong and very fine and you can use a really small needle (60/8) in your sewing machine. A smaller needle means a smaller hole. I was out of that size needle so I used a size 70/10. That's still a small needle. The photos below were taken right after I was done stitching. You can still see the holes very easily. After time and once it's layered, basted, and quilted, the holes will close up and not be nearly as visible.
The thread almost disappears into the fabric but does the job of stitching the applique edges down securely. It goes easily through my machine and I had no problems with it breaking or with tension. That's not to say every sewing machine is going to behave as well as mine did (I'm using a Bernina 770 QE). I used a neutral color bobbin thread called Bottom Line, also by Superior Threads.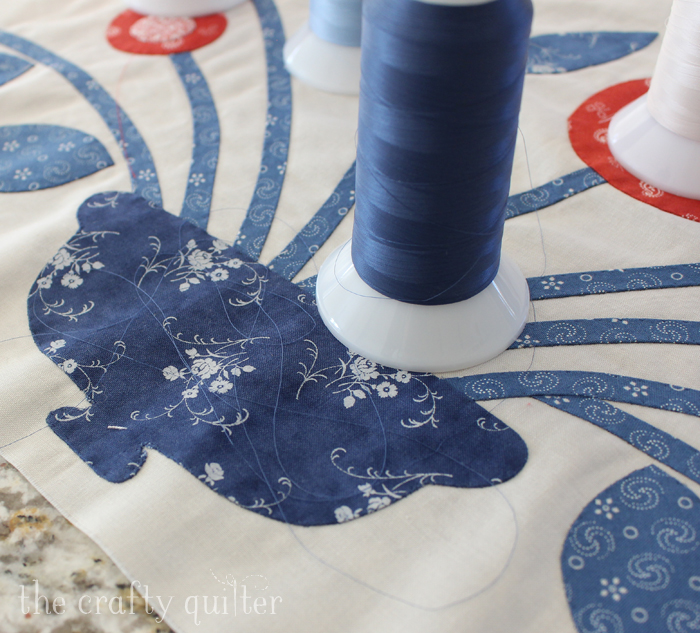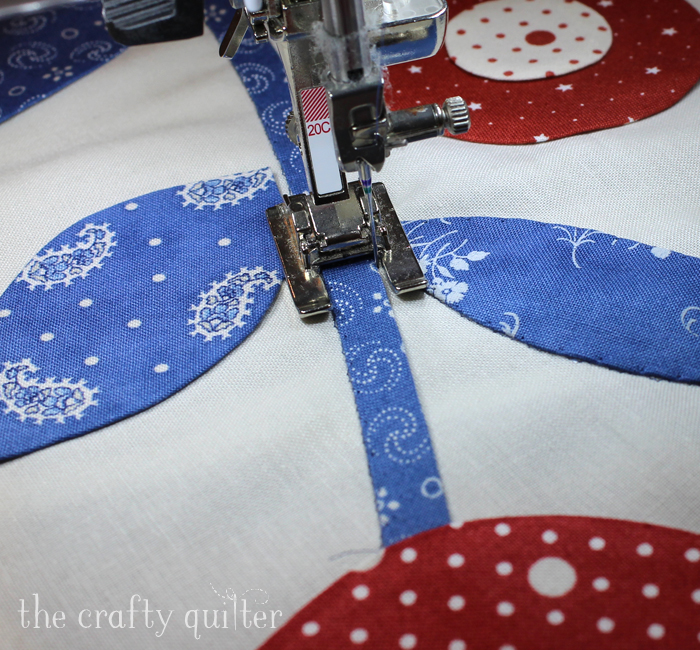 The stitch I'm using is similar to a blind hem stitch, but it's called a vari-overlock stitch. It gives you two straight stitches and then a "V" shaped stitch to the right. The stitch needs to be mirror imaged so that it's biting into the applique shape. The thread is so fine that it's really hard to see and even the straight stitches that lay next to the applique are invisible. The settings on my Bernina are 1.0 wide and 1.7 long.
I found that I didn't need a stabilizer underneath the applique as I usually do when using heavier thread for applique. That's a big time saver right there because I don't have the tedious task of tearing away the stabilizer when I'm done.
The only disadvantage to MicroQuilter thread is that you need a matching color of thread for each applique shape. It doesn't have to be absolutely perfect, but very close. I also wish it came in smaller sized cones and in more colors (which I think they will add in the future). Each cone contains 3,000 yards and costs $11.50 each. I'll probably never get to the end of one cone, and it could get expensive if I have a project with a rainbow of colors. I'm using four colors for the Portage Lake BOM.
This is just one use of the MicroQuilter thread. I can't wait to try it for stitching in the ditch. Just about every project I quilt, I do some stitching in the ditch. I think this thread will be awesome to hide those stitches in the seam. It would also be wonderful for micro stippling or delicate feather stitching as well.
I know many of you have asked for a remodel update and since I was using my unfinished kitchen to stage these photos, I thought I would share a few progress shots. We have partial cabinets and granite counter tops! Floors go in tomorrow.
I'm glad the weather has warmed up and I can open the doors and windows. I've got a busy week ahead and I'll share pictures of my WIP's when I can. See you next time!
& Cooper
Save
Save
Save
Save