Splendid Sampler blocks and a few favorite rulers
Happy Wednesday friends!  After finishing up a few big projects, it's always nice to have something small (and ongoing) to work on such as the Splendid Sampler blocks.  The last block, #100, was published last week and it's one of my favorites.  It was designed by Kate Spain and it's called "Centered".  I love the detailed piecing and how it draws your eye to the center of the block.  I took a picture of the first Splendid Sampler block and the last one together; it makes me happy.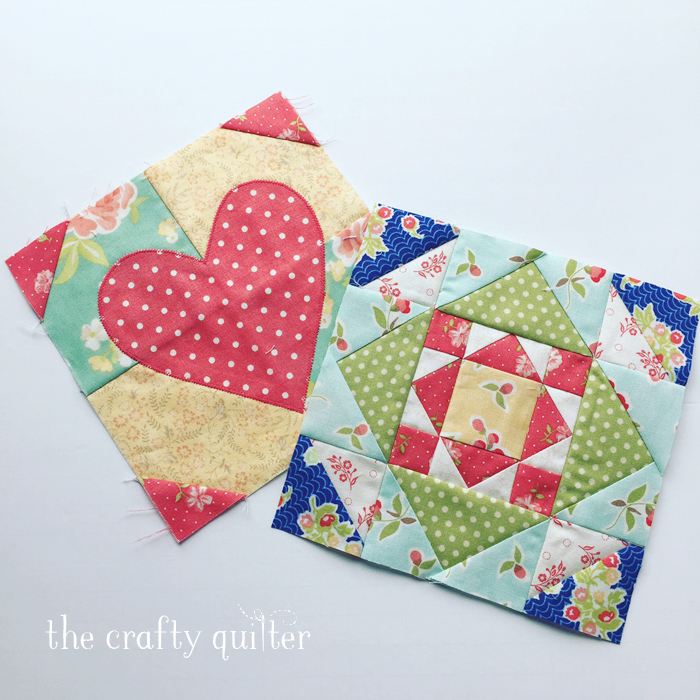 I still have more Splendid blocks to make, but I like having a small ongoing project that I can pick up from time to time to fill in the gaps.    The majority of my finished blocks are shown below.  I've made a few more since then.  It's time to take another group photo!
Are you making the Splendid Sampler blocks, too?  You should take a look at the link up on the main website and see all of the beautiful quilts that are already coming together.  It's an amazing thing.  You can also find out about the upcoming release of The Splendid Sampler: 100 Spectacular Blocks from a Community of Quilters
  which will have all of the patterns and bonus blocks included.
I also finished a block from last year's Sugar Block Club and have put all of the blocks together.  I thought I would share some of my favorite rulers for piecing those tricky units that we run into from time to time.
The pattern for this block included paper piecing which I try to avoid when possible.  So, I used one of my favorite rulers by Quilt in a Day, the Triangle in a Square Ruler.  I love to oversize units like this and then trim them down to perfection.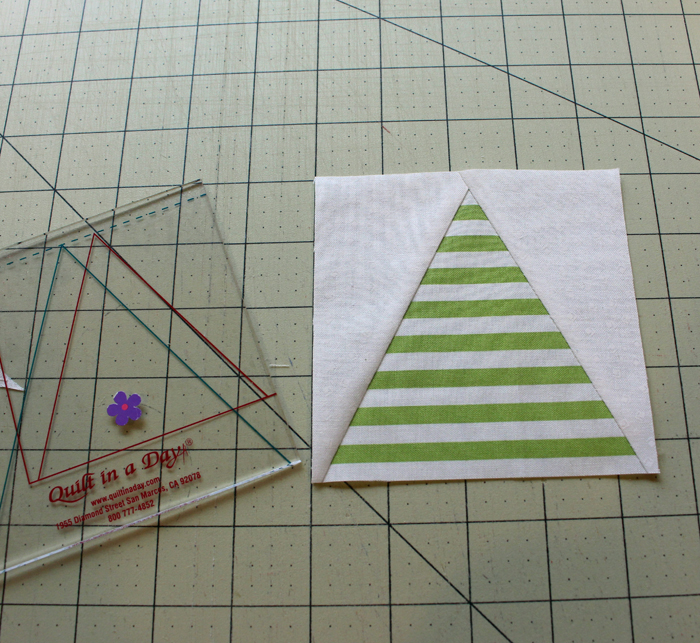 The other unit in this block are flying geese units.  Those were made using two corner squares on a base rectangle.  I have a Bloc Loc ruler for flying geese that I use just to check for size and trim if necessary.  The ruler comes with instructions for oversizing this unit as well, but I didn't think to do that ahead of time.
Instead of making all of the blocks in the Sugar Block sampler, I chose to omit the paper pieced ones.  Instead, I made four of the Dresden blocks and put them in all four corners of the quilt.  I'm staying with the Dresden trend, guys!  The photo below was taken before the two side borders were added, but I had to dodge the rain for the picture.
I put the blocks together with simple sashing and cornerstones that are made up of square-in-a-square units.  I love this Tucker Square2
ruler from Studio 180 Designs.  It makes sewing and trimming these units easy and perfect.  This one ruler allows you to do multiple sizes.
There are many more rulers in my toolbox that I love, but that's enough for one day.  You know there's at least two rulers for everything and I probably have most of them!
I hope you're having a fabulous week!
Save
Save
Save