Friday Finish: a mug rug and a boxy pocket pouch
I have a Friday finish (two actually) to share and neither of them have anything to do with the holidays.  The first finish is from my own tutorial, the Glass Half Full Mug Rug.  I made this for a friend and customer who has been going through some aggressive chemotherapy treatments.  I hope it brightens her day just a bit.
I love the combination of embroidery and applique.  It's such a happy little project!  And you know, mug rugs make the perfect gift no matter what the occasion.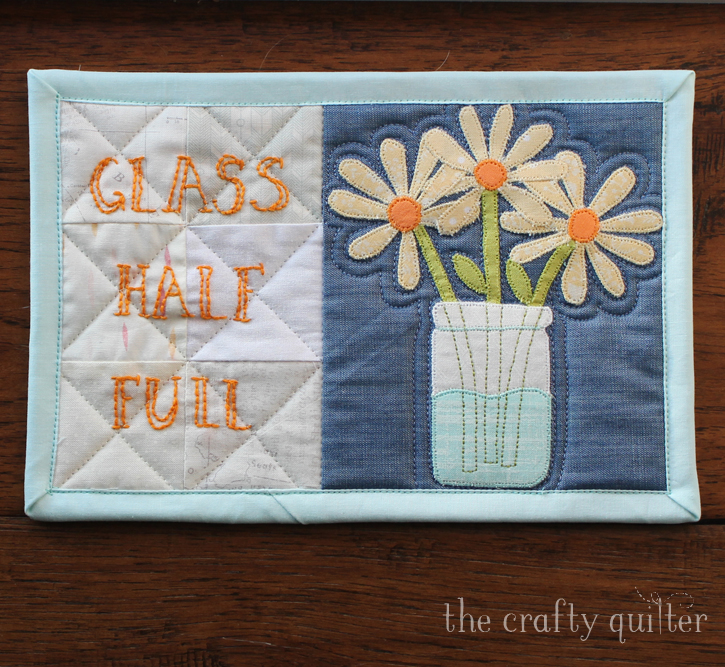 The second finish is this Boxy Pocket Pouch from Aneela Hoey's book, Stitched Sewing Organizers
.  I love this book and there are so many projects I want to make.  This would be a good book to add to your Christmas list.
Making this pouch was not simple, but if you take it one step at a time, it's very doable.  And so worth it in the end.  I should make another one right away while it's still fresh in my mind.  You know what I mean?
I'm still working on a tutorial for some super cute, quilted hearts that will be a quick and easy project for the holidays.  Here's what you have to look forward to:
I'm hitting the road today to visit my folks.  I'll be working on that tutorial as soon as I get back.  Have a great weekend everyone!