I Love Home BOM final month and giveaway!
This is the final month of Jacquelynne Steves' I Love Home BOM (block of the month).  I have been honored to be a participant again this year.  Make sure to visit Jacquelynne's blog for her final wrap up post, and keep reading here to find out about this month's giveaway (now closed).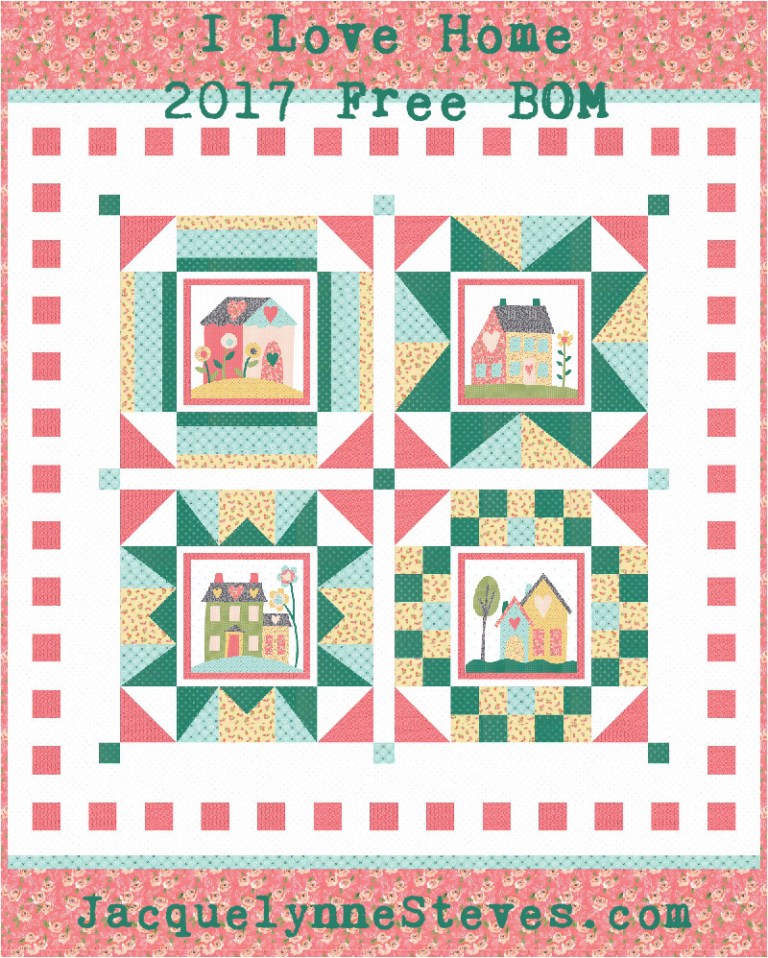 Since I've made each month's block into a seasonal mini quilt, I don't have a final quilt to show you.  However, I DO have a video with some tips on how to add borders (correctly) to a quilt.  It's so important to measure your quilt top and cut your border strips to that measurement before adding them.  We don't want wavy borders, guys!
Let's take a look at my four blocks: Spring, Summer, Fall and Winter.  I love seeing them all together!
I just finished quilting the Summer and Winter quilts.  I still need to put the binding on Winter.  One thing I did with the quilting on both of those was some radiating lines coming from the half rectangles.
I first made some registration marks 1″ apart along the top edge.  Then I drew a line from the center bottom to each mark.  I'm using a Frixion pen which I don't advise for quilting lines – do as I say, not as I do!  The Frixion pen will leave a "ghost" line after ironing away.  It isn't visible on my particular piece, but I've seen it happen on darker fabrics.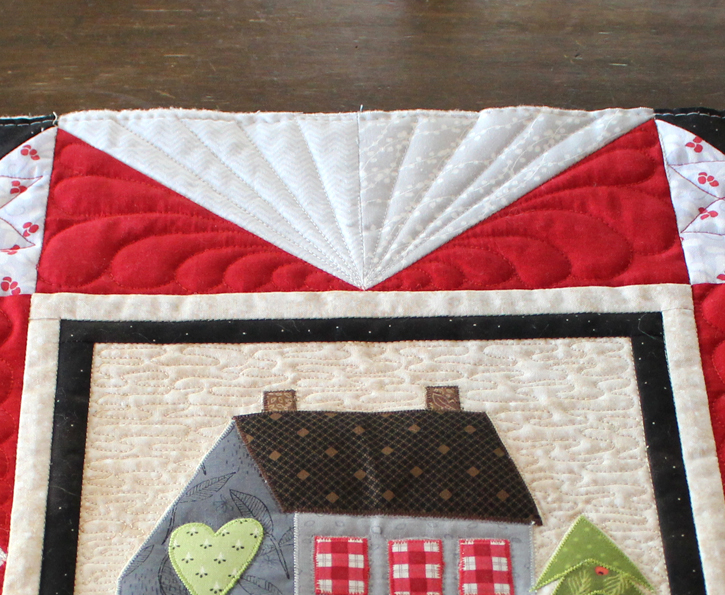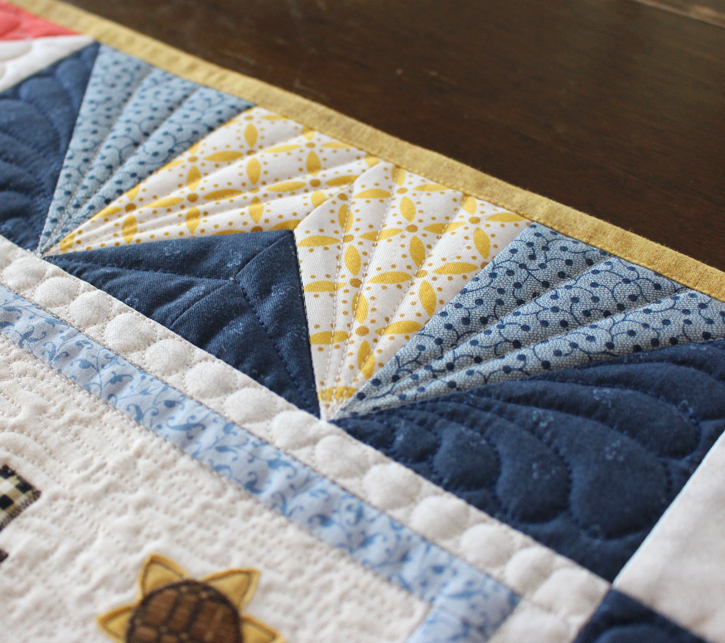 I made some feathers in the other half of the half-rectangles.  These feathers are free hand, and I just figured out how to do them (well) from a video I saw on Instagram.  I can't remember the name of the person's feed, which is driving me crazy.  I'll let you know as soon as it comes to me.
Giveaway
This month's giveaway sponsor is Therm O Web with a $25 gift card to use at their online store.  Personally, I love and use Heat 'n Bond Lite for all of my fusible applique, and Therm O Web's blog is full of ideas and free projects to make.
To enter the giveaway, just leave a comment by December 10 telling me your favorite season (either of my mini quilts or just in general).  I think Fall is my favorite of my seasonal quilts and the season itself.   It's a lovely time of year!  This giveaway is now closed.
Here are the giveaway rules:
To enter, leave a comment telling me your favorite season.
You must comment by 11:59 pm PST on December 10, 2017.  CLOSED

Your email MUST be included in your profile information or in your comment. If I choose your name and I cannot contact you, I will choose another name.
Giveaway is open to US and international readers.
Winner will be chosen at random.
Make sure to be inspired by visiting all of the other featured bloggers and enter their giveaways too.
Make sure to use the hashtag #ILoveHomeQuilt on social media.  Also, check out Jacquelynne's Facebook group page and her I Love Home Pinterest page to see the blocks that everyone else is making.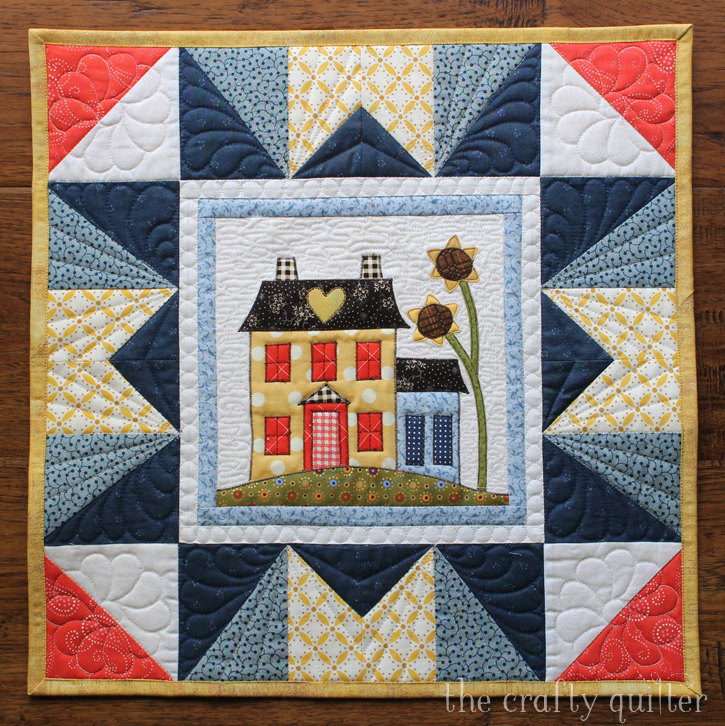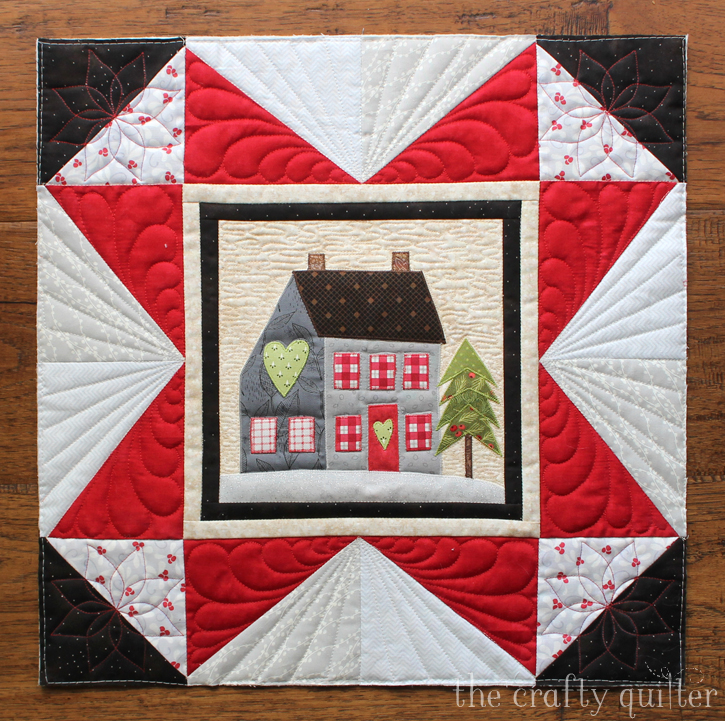 Thanks for joining me today!  It's been a pleasure to share my interpretation of Jacquelynne Steves' I Love Home BOM, and to see everyone else's blocks, too.   Thank you, Jacquelynne, for making this block of the month available to everyone and for organizing all of the giveaways!