Hey everyone!  The Quilted Heart Tutorial is here!  Just two weeks away from Christmas and I have the perfect, quick project for you to make.  These hearts are oozing with charm and a bit of nostalgia with the buttons, ribbon and vintage quilting.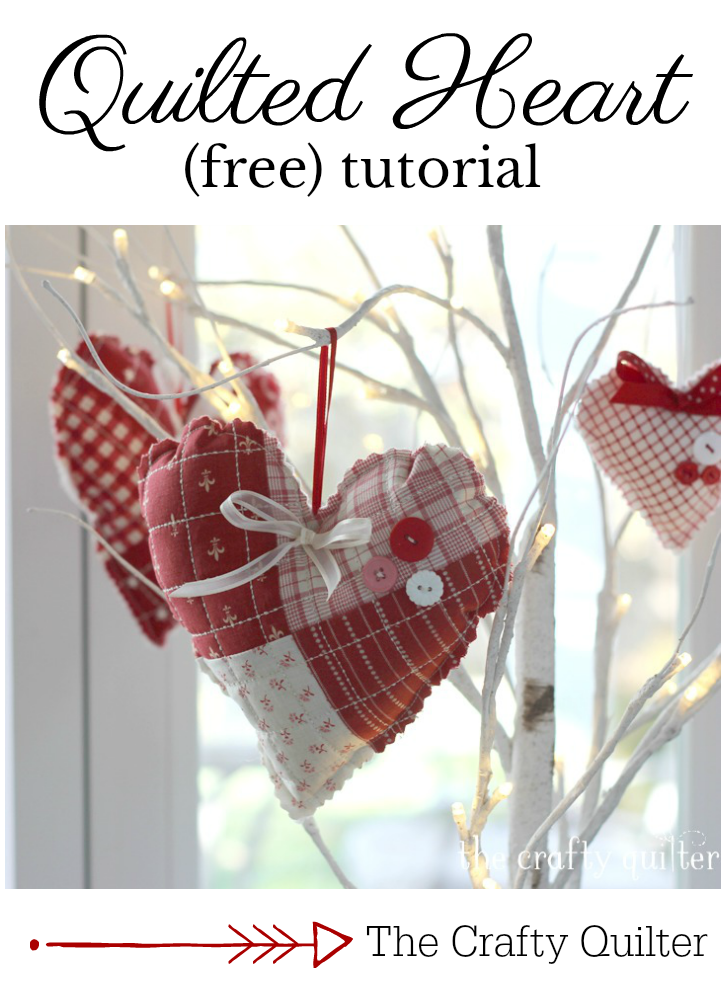 You can make them any size you want by adjusting the size of the heart.  I've included a large and a small size in my tutorial.
Quilted Heart Tutorial
Note:  The instructions are written for the larger heart.
Supplies:
4 coordinating 5″ squares for front
9 1/2″ square for back
10″ (or so) square batting
polyester filling for stuffing
3 buttons
1/4″ – 3/8″ wide ribbon for bow
1/8″ wide ribbon for hanging
pinking shears or rotary cutter with pinking blade
Heart:
Print out the Quilted Heart Template at actual size.  Cut the heart shapes out of paper or make a clear template using template plastic (this will make it easier to position the heart shape).
Make a 4-patch using the 5″ squares.  Use 1/4″ seam allowance.
Baste the 4-patch and the batting together.
Quilt by machine or by hand.  For this example, I used a quilting stitch (#1346) on my Bernina 770.   I marked a 1″ grid first.  I used King Tut thread by Superior Threads for the quilting.  It's slightly heavier (40 wt.) than piecing thread and shows up nicely.  I was aiming for a hand-stitched look.
Using the template from step 1, position the heart shape on the quilted 4-patch.  I like it to be off-center which adds to the charm.  Trace around the heart with a temporary marker of your choice (I used a Frixion pen).
Now sew the three buttons onto an upper lobe of the heart.  Make sure to leave enough room between the buttons and the outside line.
Layer the quilted heart panel and the backing square, wrong sides together.  (You will not be turning this project right side out.)  Pin baste the corners.
Stitch on the drawn line, leaving a 3″ opening for stuffing.  I used a walking foot for this step and shortened my stitch length to 1.8.
Using pinking shears or a rotary cutter with a pinking blade, trim around the stitched heart (about 1/4″ outside the stitching.)
Un-sew the center "V" of the heart just a bit.  You need to create an opening for the hanging ribbon.  Create a loop with the ribbon and insert into the top center of the heart.  Sew the opening closed.
Stuff the heart shape with polyester stuffing.  I didn't stuff my hearts too full.  I used a Purple Thang to push the stuffing into the corners.
Stitch the opening closed.
Make a bow from the ribbon and attach with needle and thread.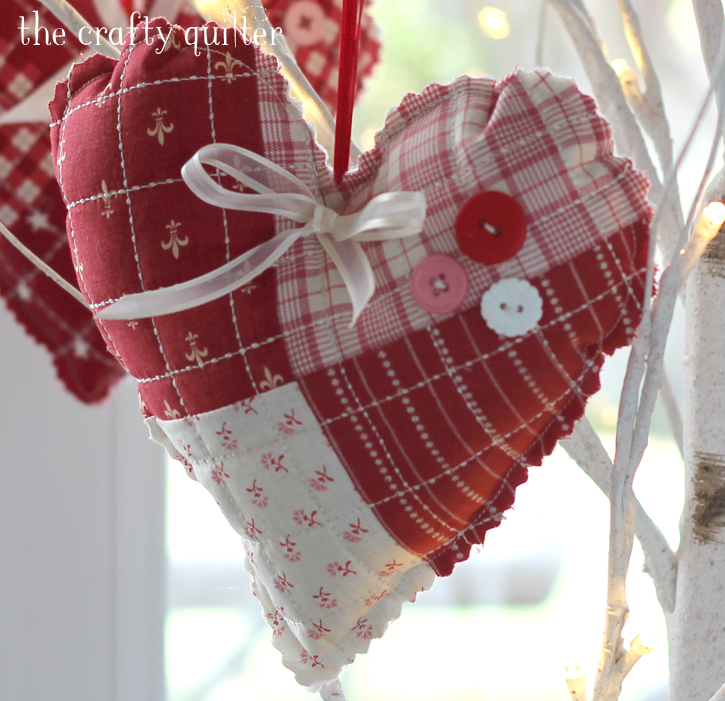 See how easy that was?  Now make lots more!  There are so many ways to change this up.  You can use just two fabrics for the 5″ squares.
If you have a favorite designer, grab those scraps and have at it!  I love Bonnie & Camille fabric, so that had to happen.
Try hand quilting for a more vintage look.  I love this one made with linen and chambray.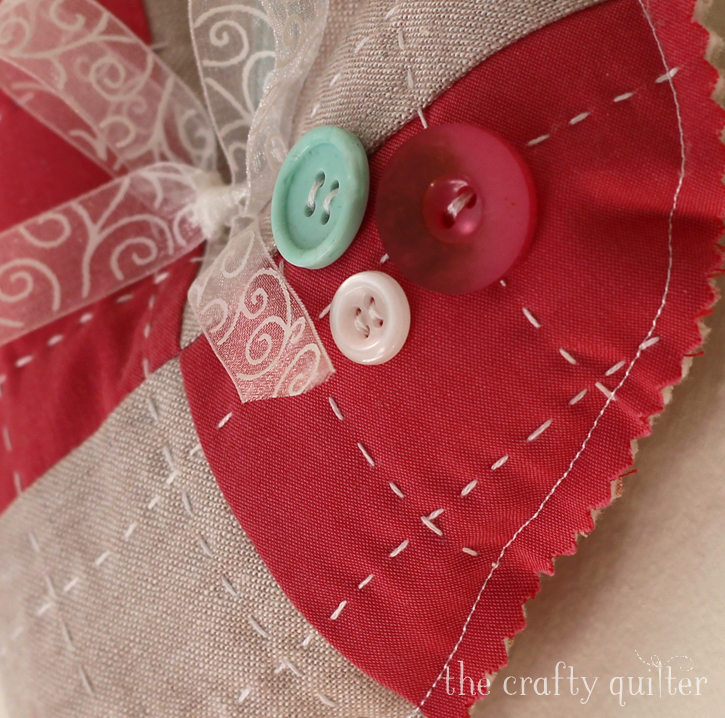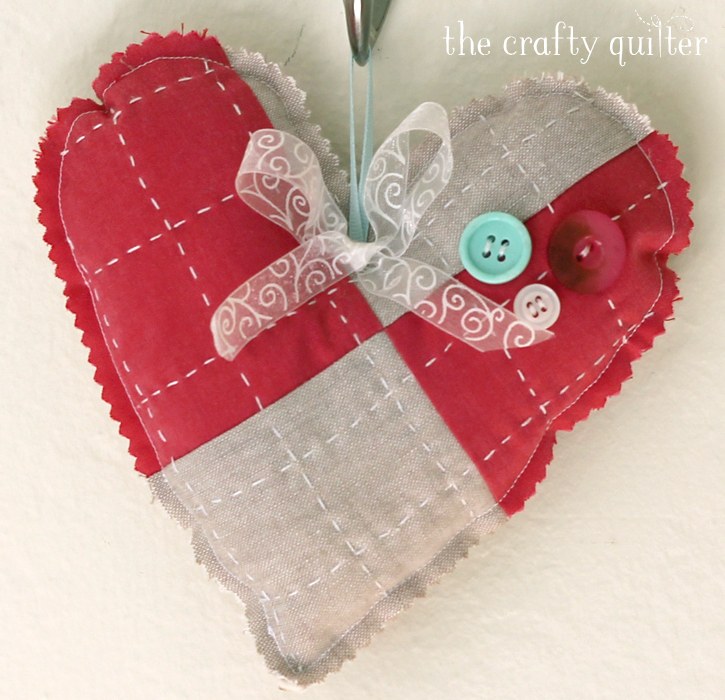 Instead of a 4-patch, sew together two rectangles and add some rick rack along the seam.
The smaller heart would be perfect for your Christmas tree or to add a special touch to a wrapped present.
Make enough to fill a tree with.  And the nice thing is… you'll be all set for Valentine's Day, too!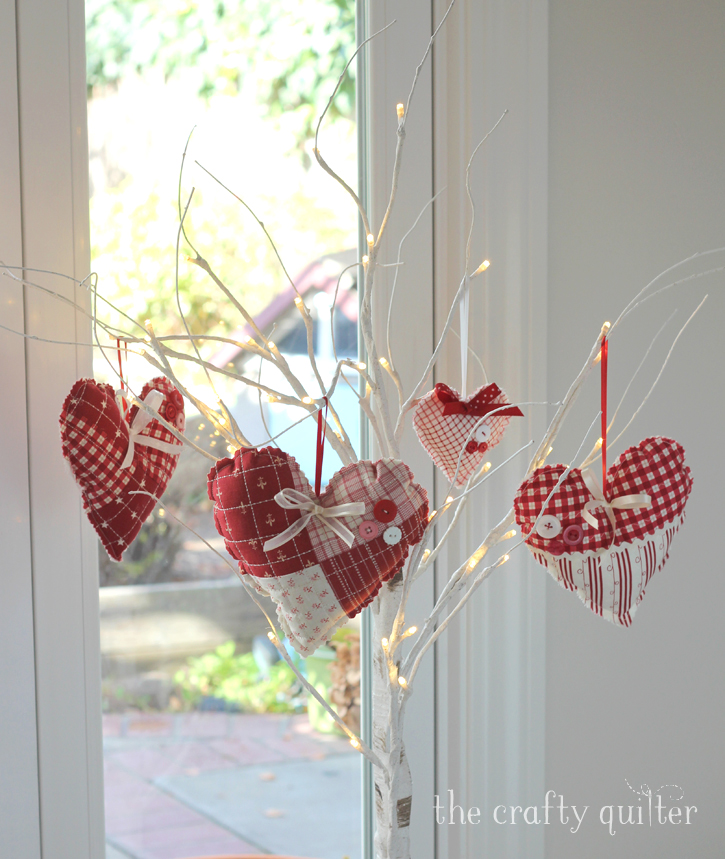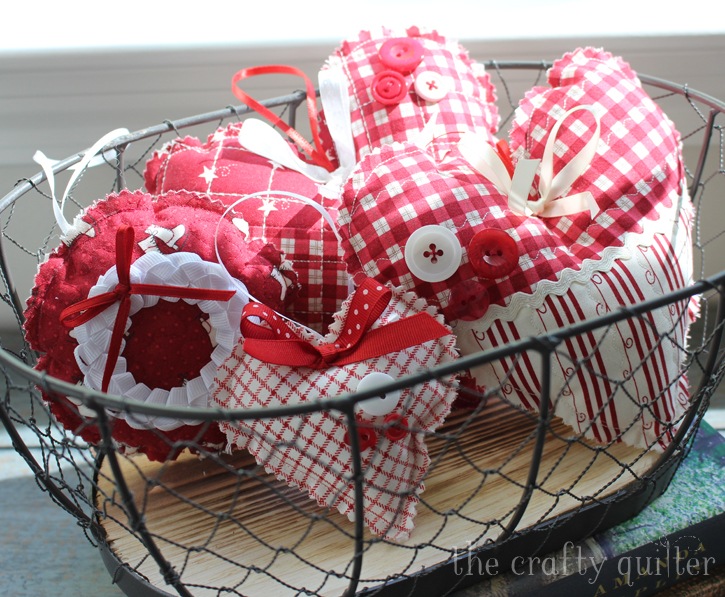 I hope your hearts are overflowing (in all kinds of good ways)!
Linking up with Tips and Tutorials Tuesday at Quilting JetGirl and Needle & Thread Thursday @ My Quilt Infatuation.