Sew Thankful Sunday, December 2017
{I love the idea of "paying it forward". I think the world would be a better place if we could spread some joy and acknowledgement of good deeds done by others. I try to do that once a month for my Sew Thankful Sunday posts. I highlight some great content that I've found on other people's blogs that I hope will inspire you and reward the originator by bringing traffic to their site. If your blog has been mentioned without your consent, please let me know and I will take you off the current list of featured bloggers.}
I wish I could hit the "pause" button for a month!  Time is flying by too quickly, and I'm sure many of you feel it, too.  I hope you take a deep breath and enjoy this list of ideas that celebrate the season of Christmas.

Note:  If you use Pinterest, please pin from the original source and not this blog post. Remember, you can click on any of the images in this post and it will open up a new tab to the associated link.
 I feel like a good place to start is with a little "Peace on Earth" in the form of this Christmas DIY Canvas Banner from Melissa at Polkadot Chair.  She also includes brief instructions to make the cute Holly Berry Garland as seen below.
2.  It might not be a mystery any more, but there's still time to make the Christmas Mystery Quilt at Forth Worth Fabric Studio.  I love the festive colors and perfect size of this one.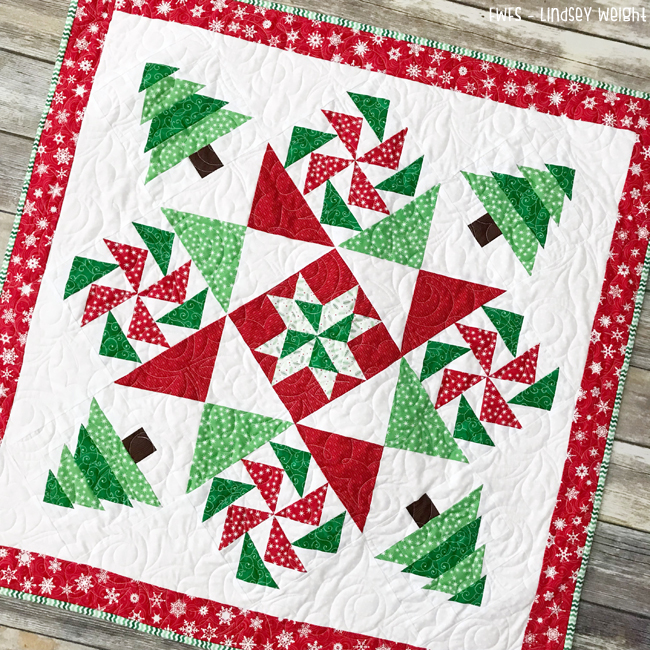 3.  Even if it's not snowing outside, you can make your own snowman with this roundup of 24 Free Snowman Projects to Sew from Jacquelynne Steves.  The hardest part will be deciding which one to make!
4.  I'm always trying to improve my free motion quilting, so I appreciate a good video such as this Kaleidoscope Free Motion tutorial from Christina at A Few Scraps.  She is also an amazing quilter and instructor for Craftsy!
5.  Bring the smell of Christmas to your house with this Winter Simmer Pot recipe from Dawn at Creative Cain Cabin.  Sometimes smelling is believing!
6.  This Petit Christmas Stars Mini Quilt by Messy Jesse will put you in the holiday mood in a hurry!  Simple stars and a beautiful range of reds and pinks make this mini quilt a show stopper.
7.  For lots of ideas in one place, try these 25 Free Holiday Quilt Patterns that Connie at Free Motion by the River has put together.  You'll find a few of my free tutorials included in the mix!
8.  If you enjoy a little handwork, check out this Free Embroidered Snowflake Ornament Pattern from Stephanie at Swoodson Says.  You'll also find a link-up filled with lots of other handmade ornaments to check out!
9.  I've been enjoying the Ornament Along taking place at Mister Domestic and Wefty Needle.  This Quilted Ball Ornament is one of many I've been wanting to try.
10.  Every year, Amy at Diary of a Quilter shares her list of Gifts to Give or Make for Quilters.  This year's list includes some really fun and unique ideas that I would love to make or receive!
Wow, what a great way to start off December!  It is with much appreciation to the bloggers and designers mentioned in this post for sharing their talents and ideas with us.  And a special thanks to all of my readers who continue to make this crafting community grow and thrive!