Summer Fun QAL – getting ready!
Hi friends!  The Summer Fun Quilt Along starts in a little over a week, so it's time to get ready!  The finished quilt measures 30″ x 32″ and it has (mostly) simple piecing along with a little applique (which you can leave out if you'd like).
This wall hanging is perfect for a confident beginner as well as an experienced quilter.  I'll walk you through all of the steps and give you plenty of tips along the way.  There will be an English paper piecing option using hexagons for the sunflowers for those that might be on summer vacation and want a little hand work to take with them.  And, if you don't like applique, you can replace that strip with a plain piece of fabric or another row of pieced blocks.
Let's talk about the fabric requirements.  This is a perfect project to use up scraps.  I love a bright color palette, so I've pulled a rainbow of colors from my stash to start with.  You won't need more than 1/8 yard for anything other than the background fabric, backing and binding.
Supply List
Background (white):  1 yard
Red (checkerboard):  1/8 yard
Aqua dot (pinwheels and wave blocks):  1/8 yard
Remaining fabric can be scraps in a mix of bright colors
Backing:  1 yard
Binding:  1/3 yard
Fusible web paper such as Heat 'n Bond Lite for the applique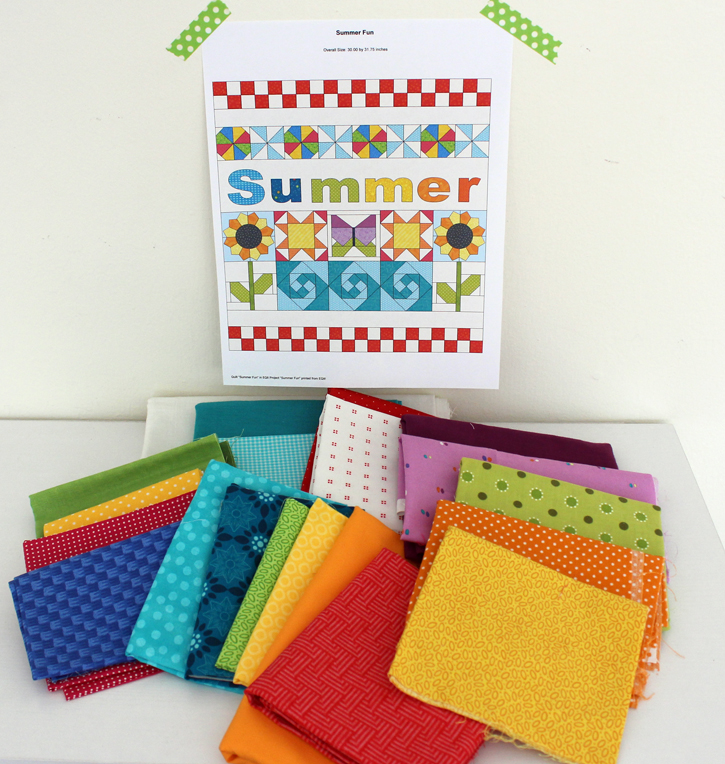 Each week, I will present a free tutorial on my blog for each section of the quilt beginning June 1.  You'll be able to share your finished quilts and have a chance to win some prizes beginning July 6.  Quilts don't need to be quilted and bound, finished tops are fine.   I hope you guys can join me!  Here is the schedule:
June 1:  Checkerboard rows and wave blocks
June 8:  Beach balls and pinwheels
June 15:  Sunflowers and stems
June 22:  Butterfly and sunny stars
June 29:  SUMMER  applique and finishing
July 6:  Linky open
July 20:  Prizes announced
If you're using social media, use the hashtag #summerfunqal.  I'll post pictures of my progress on Instagram so make sure to follow me there.  If you have any questions, leave a comment and I'll get back to you.
Summertime fun is coming soon!