Happy Little Things Month 3 giveaway winner
We have a winner for the Happy Little Things Month 3 giveaway! I asked readers to leave a comment telling me how long you've been quilting. Out of 163 comments, #97 was randomly chosen. That belongs to Phyllis B. who commented, "I started quilting in 1976, 43 years ago, making a blue and white quilt. Ten years later I finally finished it and entered it the county fair and won best in county."
Congratulations, Phyllis! You will be receiving a copy of Sunday Best Quilts by Sherri L. McConnell and Corey Yoder, compliments of Martingale Publishing.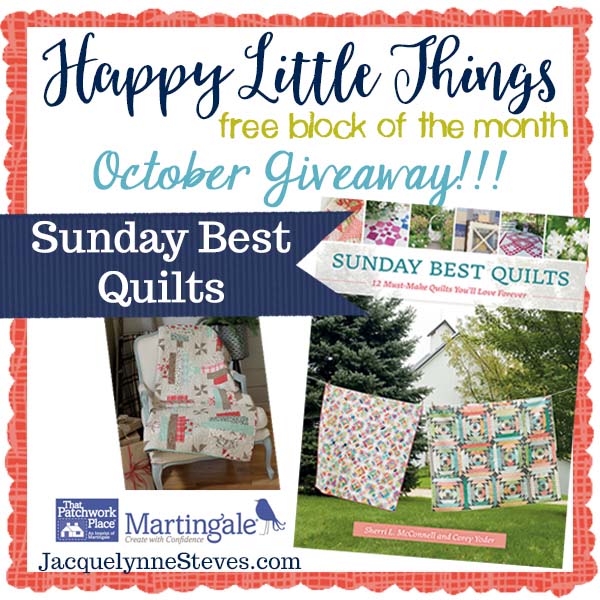 I really enjoyed reading all of the comments in response to the question, How long have you been quilting? The range was from 6 months to 60 years and everything in between! Some of you had short answers and there were also a few stories of how and when it all began. Thank you all for participating in the BOM giveaways. It's a nice way for me to get to know you!
I have been sewing since 7th grade – 45 years! I started quilting 22 years ago at the "nudging" of my older sister who promised that I would love quilting. She was right, as usual!
Tomorrow (Thursday) I will be attending the Pacific International Quilt Festival (PIQF) in Santa Clara, California. It's 20 minutes away from my house, so I go almost every year. The quilts on display are always so inspiring and then there are the vendors who tempt us all.
Have a great day!