Are you ready for Week 6 of the Arrow Stone QAL? We're getting to the fun part of assembling our blocks! I have some great tips for matching diagonal seams and squaring up quilt blocks so keep reading!
If you're just now joining us, all of the past content for the Arrow Stone QAL can be found below:
Arrow Stone QAL Week 6
This week we are going to put all of our units together and assemble our blocks. We will be following the instructions on page 5 of the Arrow Stone pattern. If you haven't already, assemble the Corner Units (page 4) and Center Side Units (page 5).
One thing I want to address is pressing the Center Side Units. It's very bulky at the flying geese intersection. I use a product called Easy Press Pen with Easy Press Solution by Acorn Precision Piecing. I use the applicator on the pen to dab just the intersection needed. Then I press it open. It's different than using steam because the pen saturates just the bulky area, creating a flat seam without distortion. This tip applies to the remaining seams for this block.
You might be able to replicate this process using a cotton swab or small paint brush as an applicator along with liquid starch. The Easy Press Pen is very handy to have, though, and I'm starting to use it more often.
Block Assembly Tips
Before we start sewing the units together, make sure they measure correctly and trim if necessary. It's like a puzzle; the pieces are much easier to fit together when they are the correct size and shape.
I love using design boards to lay out my block pieces. This helps keep everything in order and I can transport it easily from sewing machine to ironing board and back again.
Design boards can be made easily with poster board squares and flannel or batting adhered to one side. I treated myself to these Lori Holt Design Boards from Fat Quarter Shop. I purchased three in different sizes. They are the bomb!
Pin the units together, matching intersections. Please don't skimp on pins – they are necessary to hold everything in place while you stitch.
Matching Diagonal Seams
In my opinion, this is the most difficult part of the quilt. When diagonal seams join other diagonal seams between units and rows, it can be hard to get them to line up just right. For this block, there are TWELVE "match points" as shown in the photo below.
The first thing I do is draw the 1/4″ stitching line on the side of the corner unit – the part that needs to line up with the other diagonal seam. Usually you can see an "X" at the intersection of a flying geese unit or QST, but the corner triangle of the corner unit does not have this "X".
Place the 1/4″ line of any ruler alongside the edge of the unit and draw a line at the intersection. When you pin the corner unit to the center side unit, you'll be able to see exactly where it needs to match.
My favorite method to get diagonal seams to line up is to use a "setting pin". I place this pin straight down through the "X" on the top unit and then through the drawn line intersection of the bottom unit. I keep this pin perpendicular (straight up) and then place a pin on each side of it. Then I remove the setting pin.
I stitch slowly through these intersections and leave the pins in place as long as I can. If you're stitching slow enough, you can even sew over the pins because the sewing machine will have enough time to nudge the pin out of the way. (But every machine is different – so proceed with that idea cautiously).
Using this technique, I have had good success with my diagonal seams matching correctly. There is still room for error, but I can live with it being a hair off. We all have our threshold for tolerance here, so you may need to keep your seam ripper close by.
Remember, if you can't see it from a galloping horse 50 yards away, then don't worry about it! If you put a magnifying glass on every seam in your quilt, you'll be very discouraged. Quilts are not meant to be perfect, they are meant to be treasured.
Another method that some people like to use for aligning seams is glue basting. I didn't try this method for this quilt, but I have used it before and it works well. You can find a detailed description of this technique by Cristy Fincher at Purple Daisies Quilting and A Complete Guide to Glue Basting at Suzy Quilts.
Tips for squaring up blocks
Now that your block is complete, you need to make sure it's square and the correct size. Often this involves just a little trimming around the edges. If you're fortunate enough to have a 15 1/2″ square ruler, this will be an easy process for you!
Be mindful of trimming away too much. If your block is measuring too big, you'll be trimming away the seam allowance which will affect your triangle points along the block's edge. If all of your blocks are consistently the same (too big) then just make sure they are square. Don't trim them down to 15 1/2″; just trim them the same. They will fit together just fine if they're all the same.
Most of us don't have a square ruler large enough for this block, but I've got two ways around this. If you're expecting me to suggest using the lines of the mat, I'm not. I just don't think it's accurate enough.
The first way is to use a square ruler that is larger than half the size of your block (7 3/4″). I'm using a 9 1/2″ square ruler. Place it in the top right corner of the block. Line up the two edges of the ruler that are farthest from the corner along a seam line. You can also line up the diagonal line of the ruler so that it intersects with the corners of the center square as well as the center of the corner unit. You'll see the other major seam lines that align with the ruler lines as well. See the photo below, top-left.
Trim that corner (if needed) and then repeat for the other four corners of the block.
What if you don't have a square ruler that is larger than half the size of your block? That's easy enough with the second method. We're going to make one out of paper.
First we need to make some guidelines on the block. Fold the block in half horizontally and make a crease with your finger at the center and both edges. Repeat this process vertically. Now you should have creases at the block center and each side center.
Next, cut a piece of paper into a 7 3/4″ square (15 1/2″ divided by 2). You can use the lines on your mat for this.
Place the paper square on any corner of the block. Make sure it lines up with the center creases and center side creases.
Tape the paper in place.
Use a ruler and trim along that corner (if needed). Repeat for all four corners.
Now, what if your block isn't big enough? Uh, oh! This has happened to all of us at some point. Here's what I would do.
Measure ALL of your blocks to see if they are similar in size.
If they are all 1/4″ (or whatever number it is for you) too small, then make sure they are all square and as close to the same size as possible.
If you see that only a few blocks are too small, you can tag them with a pin or sticky note. Set them aside. When we sew the blocks together, you'll know these blocks may take a little fudging to fit into the "puzzle".
Looking Ahead
Reminder: I have scheduled a Zoom meeting for Monday, April 4, at 5:30 pm (Pacific Time). You should have received an email from me with the Zoom link. You must be an Arrow Stone QAL participant to join.
We get to make our beautiful Arrow Stone quilt top next week! This is the most fun part for me. I'll have some tips to share about adding borders and my favorite way to baste.
Week 6 Sponsors & Prizes
Our sponsor this week is Shannon Fabrics! They have provided two yards of Luxe Cuddle Fabric for each of THREE lucky winners! (That's what I'll be using for my quilt!) Thank you to Shannon Fabrics for your support!
Giveaway rules:
Post a photo of your completed quilt block on Instagram using the hashtag #arrowstoneqal
Deadline is Saturday, April 9, at midnight (PST).
Your Instagram account must be public (otherwise I won't be able to see it).
Giveaway is open to US residents only due to shipping costs.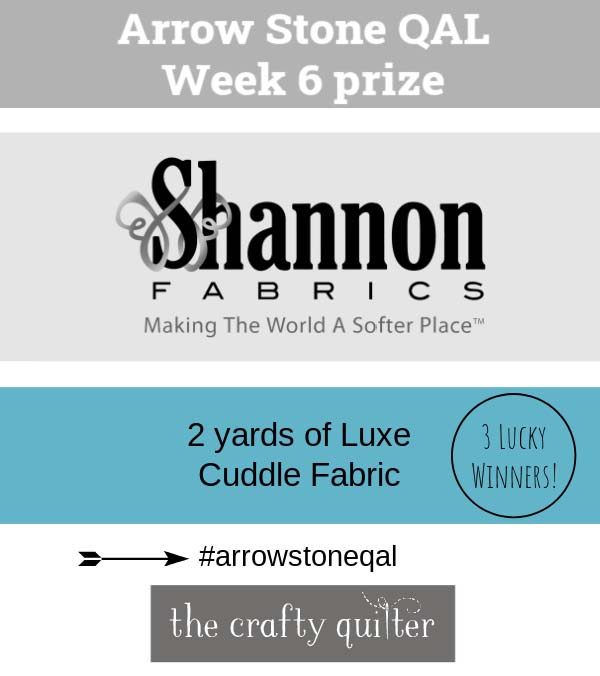 Week 5 Winners
The winner of the Multi-Size Block Trimmer from Purple Hobbies is Lexi Tejeda @joalexistejeda.
The winner of the Gift basket of fabric and notions from The Granary Quilt Shop is Megan Gazard @qoolquilts.
Congratulations to both winners!
If you didn't receive my direct message, please send me an email so I can get you your prize!
Thank you to Purple Hobbies and to The Granary for sponsoring our quilt along!
---
Make sure to follow everyone's progress on Instagram (#arrowstoneqal). During the final week, you'll be able to email me a photo of your completed quilt top to be entered into the final prize drawing! I can't wait!
Have a great week!