Save The Bees BOM month 4 and giveaway
Today I'm sharing the fourth block of Jacquelynne Steves' Save the Bees BOM.  This adorable block is as cute as can BEE and a great way to practice half-rectangle triangles.  Make sure to keep reading to the end of this blog post because there is another great giveaway this month!  Update:  This giveaway is now closed.
If you're participating in this block of the month, you'll be making three different sets of half-rectangle triangle units.  Jacquelynne has included a great video on how to make these units.  I found that by drawing two diagonal lines on each trimming template (freezer paper), I could use it for both sides (mirror image of each other) of the half-rectangle unit (instead of needing two different templates).  This will make sense when you're making them, I promise!
Make sure to cut 1/4″ beyond each edge of the freezer paper template.  This will give you a perfectly sized unit.
For the antennae, I used the Pentel Gel Roller for Fabric as I have in the other blocks.  It's so much faster than hand embroidery.  Because it's permanent, I like to draw my lines with a FriXion pen first.  That way, I can erase any mistakes with an iron before committing to it.  In the photo below you can see another curve that I drew with the FriXion pen which has since disappeared after ironing.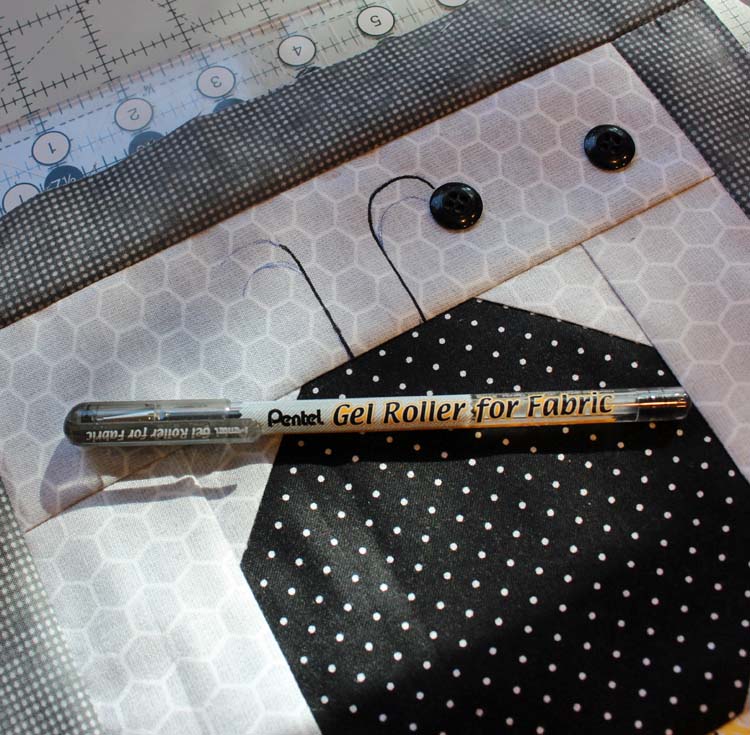 The buttons will get sewn on after the quilting is finished.  Now that all four blocks are made, it's fun to see them together.  I think this is going to be a bee-utiful quilt!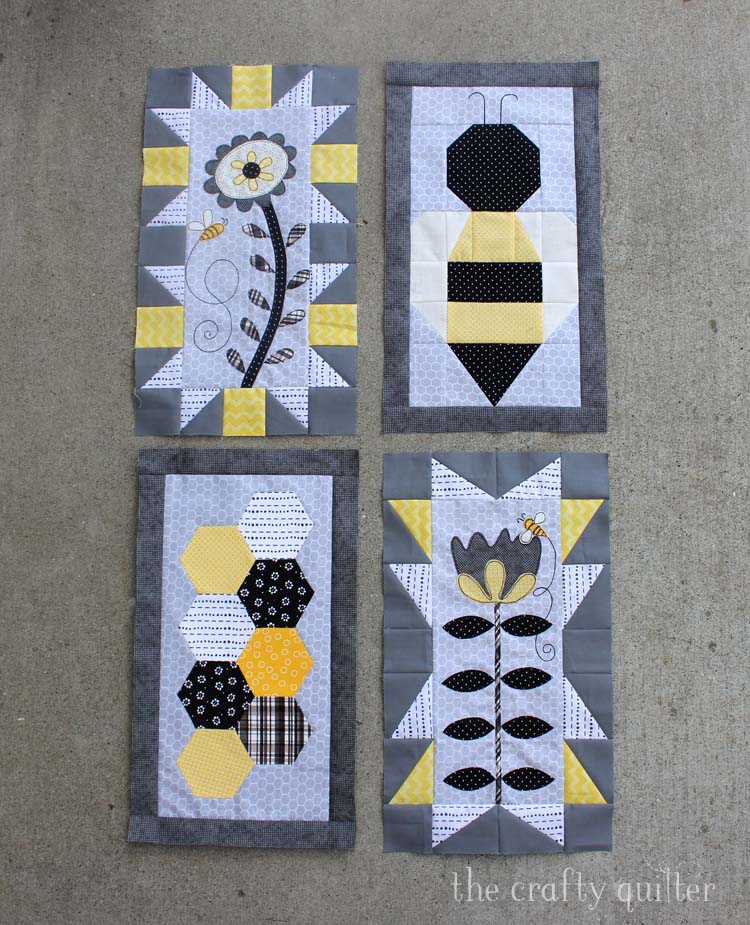 Giveaway
This month's giveaway is sponsored by Olfa.  One lucky winner from each participating blog will receive a prize package of Olfa products.  I use Olfa products every time I sew and I love their quality and consistency.
Update:  This giveaway is now closed. 
For my blog, all you have to do to enter the giveaway is leave a comment by Sunday, November 11, 11:59 pm PST, on THIS blog post (not from my home page) telling me if you have taken an online crafting class.  Did you like it?  Do you prefer online or in person?  I like having both as an option.  I like the flexibility of an online class, but I need the accountability of in-person classes.
I have taken many classes through Craftsy and I highly recommend them.  They are really well done and you can watch them over and over again.  I can also give you a list of other resources for online craft classes if you're interested; just let me know.
To leave a comment, make sure to scroll down to the bottom of this blog post, and look for the rectangle that says "Enter your comment here".  On November 12, I'll randomly pick one winner!
Here are the giveaway rules:
To enter, leave a comment telling me if you have taken an online crafting class.
You must comment by 11:59 pm PST on Sunday, November 11, 2018.  Update:  CLOSED
There is ONE prize per person per month (in other words, the same person cannot win two prizes within the same month.)
Giveaway is open to everyone.
Winner will be chosen at random.
Due to the high volume of comments, I won't be able to reply to you (unless there is a direct question), but I will read each and every one.  Thank you in advance for your participation and for leaving a comment.
You can visit the other participating bloggers and enter their giveaway for another chance to win AND to see what they have done with their block.  Here's a list of the participating bloggers:
Remember that you can can post photos in the FB group  https://www.facebook.com/groups/SewQuiltyFriends.JacquelynneSteves/
Make sure to use #SaveTheBeesQuilt and #SaveTheBeesBOM for social media.
Happy Quilting!