WIP for Wednesday and Craftsy becomes Bluprint
I'm so happy that I actually have a WIP (work in process) for Wednesday to show you!  I finished this quilt top from a 2013 block of the month (Fat Quarter Shop Mystery BOM).  I only needed to add the final border and piece the backing for it.  Now it's off to the longarm quilter!
This quilt came as a kit each month and each row has a different theme.  You'll find baskets, stars, houses and flowers.  Such a happy quilt!
This project is part of my 2019 UFO & WIP challenge.  Last week I announced that I would be finishing my A-Z for Ewe and Me Quilt this month.  That plan got changed when my Bernina 770 ended up in the repair shop.  It needs a new CPU unit (under warranty) and I'm without a machine that can do applique for a week (I have one but it's buried in our POD).  So, plan B was this quilt.  An easy check off of the list, but I'll still need to add the binding when I get it back.
Have you guys made a list of your UFO's and WIP's yet?  Remember you can download and print my blank list here:  2019 UFO & WIP List
You've probably heard the news that Craftsy has been acquired by NBCUniversal and is now rebranded as Bluprint.  I have mixed feelings about this, but I'm trying to be optimistic.  Change is not always easy.  Part of this change affects me directly in that I used Craftsy as a selling platform for my pdf patterns.  Bluprint has decided that it will only provide space to a limited number of patterns and designers, so it has "erased" some of my patterns (both paid and free) based on some algorithm that they deemed reasonable.  I still have 7 patterns available through Blueprint – four free patterns and three paid patterns.  I've heard complaints from other designers who relied upon Craftsy to sell patterns and have lost their shop entirely.
I'm currently working on setting up an Etsy account which is long overdue.  The cost to me will be more, but I'm hoping it will be an easier experience for my customers.  If you have purchased a pattern from me through Craftsy, it should still be available in your pattern library on the new Bluprint website.  If you're having a problem, please email me and let me know.
Current Craftsy members will keep the same user name and password, and can continue to purchase individual classes at Bluprint as well as access fabric, supplies and free content without purchasing the Bluprint subscription. I have a yearly subscription that allows me access to all classes which is really amazing.  It's like Netflix for crafters.  One thing I'm looking forward to with Bluprint is an expanded class offering that includes health and wellness.
I'm still a Craftsy/Bluprint affiliate which means I get a small compensation when you purchase through my Bluprint link (at no additional cost to you).  And on that note, I will shamelessly mention that this is the last day to purchase a Bluprint subscription at their lowest price of $7.99 per month or $79.99 per year.  My current subscription was $120 annually and it was set to renew in March.  I was able to take advantage of the $79.99 price for my renewal.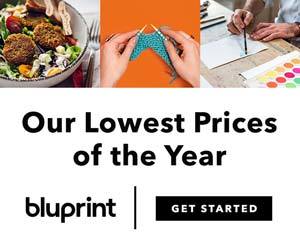 What do you think of the Craftsy/Bluprint change?  Are you a satisfied customer?  I hope that once the dust has settled, we'll find that change is good; that their content and products have more value and quality.  I'm being optimistic for sure!
I hope you're having an amazing week!  Thanks for stopping by.