Sew Thankful Sunday, May 2017
{I love the idea of "paying it forward". I think the world would be a better place if we could spread some joy and acknowledgement of good deeds done by others. I try to do that once a month for my Sew Thankful Sunday posts. I highlight some great content that I've found on other people's blogs that I hope will inspire you and reward the originator by bringing traffic to their site. If your blog has been mentioned without your consent, please let me know and I will take you off the current list of featured bloggers.}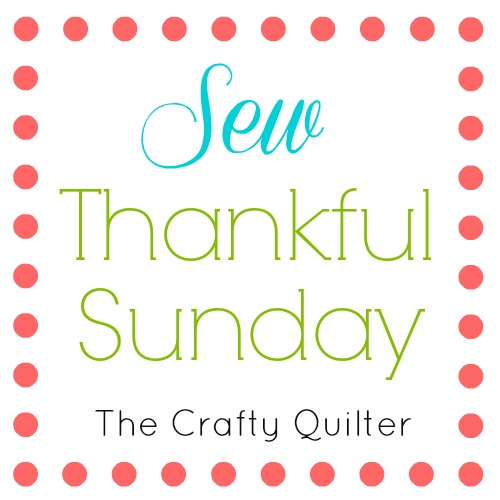 May is the ideal time to make that perfect gift for someone special or just to celebrate the longer days.  You'll find lots of ideas and inspiration in the following list to create something special, whatever it may be.
Note:  If you use Pinterest, please pin from the original source and not this blog post. Remember, you can click on any of the images in this post and it will open up a new tab to the associated link.
 With Mother's Day around the corner, now is the perfect time to play with Liberty fabric, and the girls at A Spoonful of Sugar have come up with a fantastic roundup of Liberty Gifts To Sew.  Liberty fabric is made from high quality cotton lawn in beautiful floral patterns and produced in London.  It's hard to resist!
2.  Speaking of pretty fabric, check out this Berry Boquet Table Topper tutorial from Lindsey at Fort Worth Fabric Studio.  This is a quick project and you can find the fabric bundle at Fort Worth Fabric Studio, too!
3.  Here's a fantastic opportunity to do some charity sewing:  AllFreeSewing is sponsoring the Pillowcase Sew-a-Thon for Operation Christmas Child.  You can help add a special handmade pillowcase to a shoebox gift for a child in need, plus be entered into a grandprize giveaway sponsored by Plaid.  Pillowcase tutorials are available at AllFreeSewing.
4.  If you're short on time, you'll love this beautiful Peony Watercolor Printable for Mother's Day from Krista at The Happy Housie.  Krista generously gives several different quotes and color options for you to customize your gift as well.
5.  Check out Sew Can She to see the latest monthly mini quilt,  Criss Cross, designed by Nadra at Ellis & Higgs.  Clever piecing gives you this lovely design and quick to make project.
6.  Have you dreamed of creating the perfect free motion feather?  Make your dream a reality with this Feather Quilting Tutorial from Amira at The Little Mushroom Cap.  Included is a free printable template to get your practice going.
7.  If you want more free motion inspiration, you'll want to visit Esther at iPatchandQuilt.  She has been sharing a series of free motion quilting samples with a grid base.  There are so many options and she gives you great diagrams, too!
8.  This Worldly Lil Twister Quilt Tutorial from Connie at Free Motion by the River is a great way to use up a charm pack and try a new technique.  You might already have the Lil Twister ruler in your tool bag, so now would be a great time to give it a whirl!
9.  Finding ways to use up your scraps can be a challenge, but this blog hop presented by Jen at Faith and Fabric Design will give you oodles of ideas and inspiration.  Plus she has an adorable tutorial for Crabby quilt blocks that you won't be able to resist.
Are you inspired and ready to start something new?  I know I am!  A big thank you to everyone featured today.  I hope you enjoy this month of May and spread the quilting love!
Save
Save
Save