Sew Thankful Sunday, February 2020
{I love the idea of "paying it forward". I think the world would be a better place if we could spread some joy and acknowledgement of good deeds done by others. I try to do that once a month for my Sew Thankful Sunday posts. I highlight some great content that I've found on other people's blogs that I hope will inspire you and reward the originator by bringing traffic to their site. If your blog has been mentioned without your consent, please let me know and I will take you off the current list of featured bloggers.}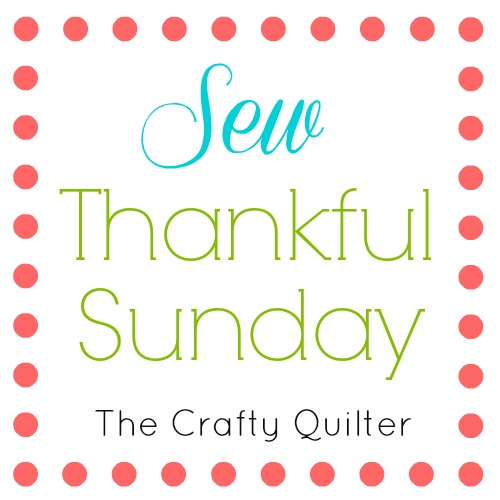 I'm crazy about hearts, so February is always a good excuse to make something with a heart in it. You'll find plenty of heart-shape ideas today along with some great tips to keep you on top of things!
Note: If you use Pinterest, please pin from the original source and not this blog post. Remember, you can click on any of the images in this post and it will open up a new tab to the associated link.
Let's start with this adorable Hugs and Kisses Mini Quilt by Cherry of Cherry Blossoms for We All Sew. This 19″ x 24″ quilt is perfect to use those red and pink scrap bin fabrics!
You'll love making these quilt-as-you-go Valentine Mug Rugs by Amy Chappell for the Polkadot Chair. They are so cute and make great gifts!
Enjoy these 12 Sewing Hacks You Should Know by Helen Spencer for Henry Glass Fabrics. You'll find some great tips and ideas here!
Have you joined the wool pressing mat craze? Check out Lea Anne from Podunk Pretties' Wool Pressing Mat vs. Homemade Pressing Mat to see if you've been missing out!
It's important to keep our tools organized. Here to help you is this Stand Up Pencil and Tool Pouch tutorial by Caroline at Sew Can She. Pretty and practical!
I love how quilters share their favorite tips and ideas. This year you'll find Tips and Tutorials on the 22nd at Kathleen McMusing. She's hosting a linky party each month where bloggers can share links to their tips and tutorials and Kathleen will share her own there as well. Pretty awesome!
Do you need help with fabric color and prints? Then you'll appreciate Fabric 101: Types of Prints by Color from Rebecca at Bryan House Quilts. She has a wealth of information to share!
Check out these Top 5 Free Motion Quilting Essentials by Amira at The Little Mushroom Cap. These will lead you in the right direction for FMQ.
Thanks for visiting today and checking out all of the inspiration. I hope your February is off to a good start! Happy hearts make happy quilters! Or is it happy quilters make happy hearts? I think they're both true!