Sew Thankful Sunday, 10.20.2013
It's time for another Sew Thankful Sunday, where I get to share the work of a few lovely blogs with you.  And of course, I am sew thankful for that!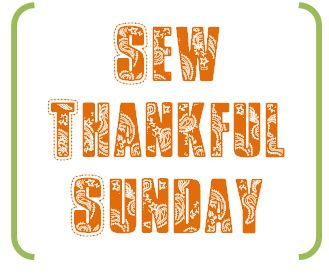 (Remember, you can click on any of the images and it will open up a new tab to the associated link).
1.  Faith from Fresh Lemons Quilts is starting the Lighthouse Quilt Along, and it looks like a fun project!  It starts October 30 with a discussion about color and size options.  I love talking color!
2.  If you're a new quilter, Rachel at Stitched In Color is starting a Penny Patch Beginner's Quilt Along.  It's so nice to see instructions that are geared for the beginning quilter!
3.  Chrissie from Made by ChrissieD has an awesome tutorial for her Autumn's Golden Gown quilt that you really must see!  If you have a jelly roll lying around, this is perfect for you!
4.  I love this Double Tulip Pincushion by Anorina at Samelia's Mum.  She gives you great instructions on making your own using foundation piecing (pattern is included).
4.  Speaking of paper piecing, Cath @ Wombat Quilts has some great tips to share with you!  If you've never tried paper (foundation) piecing, you'll want to read this first!
5.  Elizabeth at Don't Call Me Betsy is having another Lucky Stars BOM for 2014.  Yes, this is paper pieced too!  She's offering a great deal right now on the 2014 club!
I'm so glad you joined me today and thanks to everyone that was featured!
I'll be on vacation next Sunday, so there will be no Sunday post, but I'll be back with more in November.  Wow.