June UFO & WIP prize and my project
I have a great prize package for the June 2019 UFO & WIP Challenge winner. It includes a bundle of 24 ten-inch squares of Ombre Confetti Metallic by V&Co for Moda, a Clearly Perfect Angles template by New Leaf Stitches and a spool of 50 wt. cotton thread by Aurifil. The entire package is valued at $40 and is sponsored by yours truly.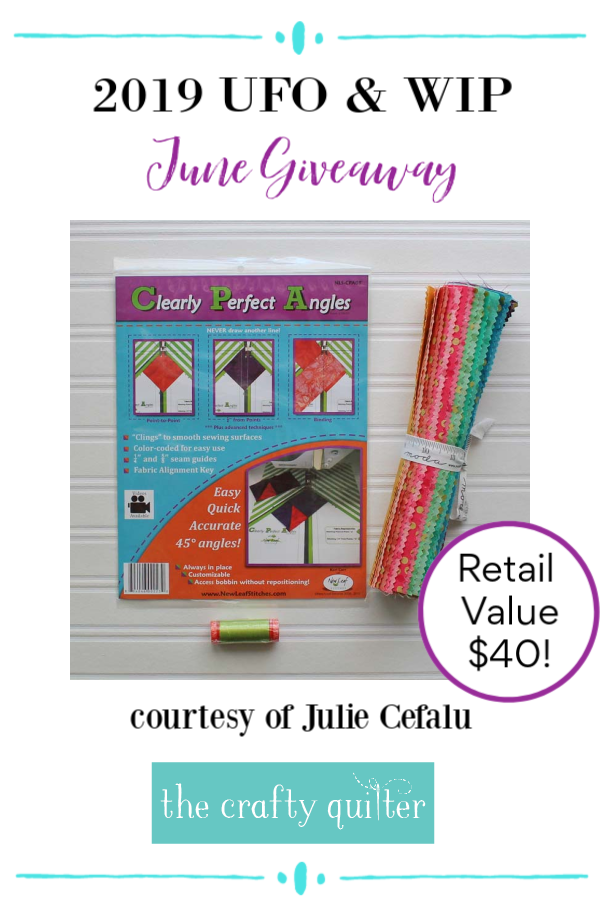 Are you ready to pick a project to finish this month? If you have a numbered list of UFO's or WIP's, and you're picking a project based on the number given by the APQ UFO Challenge, then you'll be working on item #10. That is totally optional, but I like this method of choosing a project because it's a fun surprise each month to find out what you'll be working on.
This month, I'll be finishing my Save The Bees quilt from last year's block of the month with Jacquelynne Steves. Since I'm about to begin this year's free BOM, Happy Little Things, (as a participating blogger) this summer, I thought it was a good time to get the previous BOM quilt finished. I have the blocks sewn together, and need to add the borders, and then baste, quilt and bind it all together. Oh, I'm always beeehind! Ha!
If you're new to my blog, you can find all of the information for the 2019 UFO & WIP Challenge here. I hope you can join me this month as we tackle the unfinished objects (UFO's) and works in progress (WIP's) that might be accumulating in your sewing area.