Getting ready for the Disappearing 9-patch QAL
Let's get a little head start on the Disappearing 9-patch Quilt Along with some fabric guidelines. It doesn't officially start until June 15, but I thought I would give you an idea of how many squares you'll need and some quilt-size options.
We will be using 5″ squares as the base of the 9-patch for this quilt along. I won't be giving instructions or amounts for any other starting square sizes. When all nine 5″ squares are sewn together, you'll have a 14″ (unfinished) 9-patch.
Each 9-patch block will be cut into (4) 6 1/2 " squares (finished). These will then be rearranged and sewn together to create a Disappearing 9-patch block that measures 13″ (finished).
Color placement
Before we go any further, I need to discuss color placement options which will effect the look of each quilt and the type (color) of 5″ squares you'll need. When you cut the 9-patch into four sections, the 5″ squares that are placed in the corners will remain whole. The middle-side squares will get cut in half and the center square will get cut into fourths.
You can create a more "controlled" Disappearing 9-patch block if you keep all of the corner squares a medium to dark color, all of the middle-side squares a light color and all of the center squares a dark color. (You could also switch light and dark for the middle-side and center squares). You can choose a monochromatic color scheme as I have in the mock-up below, or you can use a variety of colors for the corner squares and still maintain the controlled look with the middle-side squares remaining similar in color (as well as the center squares).
You can also sew each 9-patch block together very randomly without regard to color placement. In this case, I DO suggest that your 5″ squares have a range of color values from light to dark, but it doesn't matter where they land in the 9-patch. Pictured below is a partial quilt made up of disappearing 9-patch blocks that were randomly sewn together.
The original 9-patch blocks were made with a color scheme of red, cream and blue and they were randomly sewn together. Within each 9-patch, I tried to get a variety of light, medium and dark color values, but I din't worry about what position they landed in. Below are several examples of my starting 9-patch blocks.
For the quilt along, I've chosen to use two charm packs of Mama's Cottage by April Rosenthal for Moda Fabrics and two charm packs of Bella Solids in white (only one is pictured). I'm going to use a controlled color placement, but I still haven't decided on what color to use for the center squares.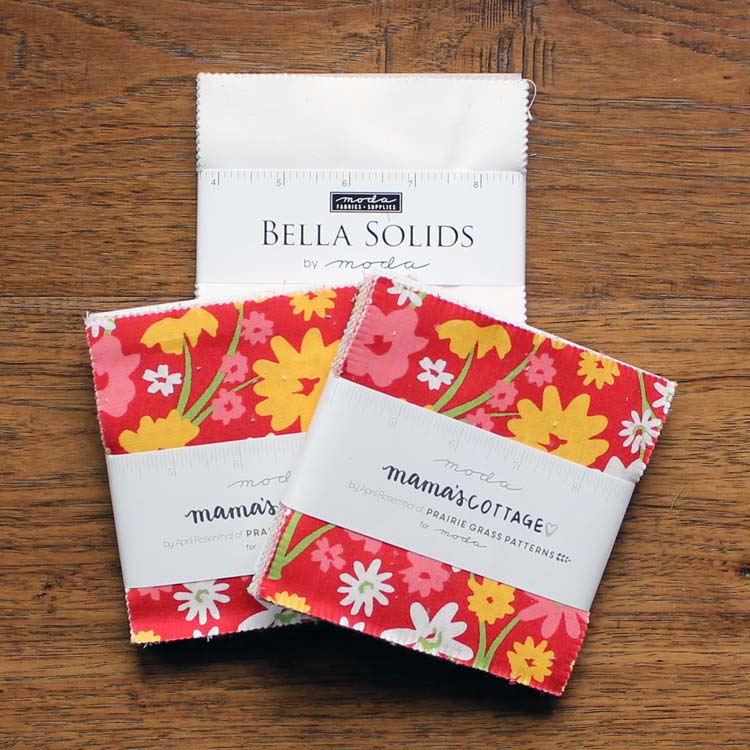 This project works REALLY well with charm packs (pre-cut 5″ squares) or layer cakes (pre-cut 10″ squares). It's also a great way to use up your scraps or fabric stash, and cut your own 5″ squares.
Fabric requirements
Below is a table of different quilt sizes – it does NOT include borders. It only includes the number of 13″ Disappearing 9-patch blocks required along with the number of 5″ squares needed to make that amount. Notice that I've divided the total number of 5″ squares into white, color and center dark categories; use this if you're choosing the controlled color arrangement. If you're choosing a random color placement, then you only need to look at the total number of 5″ squares required.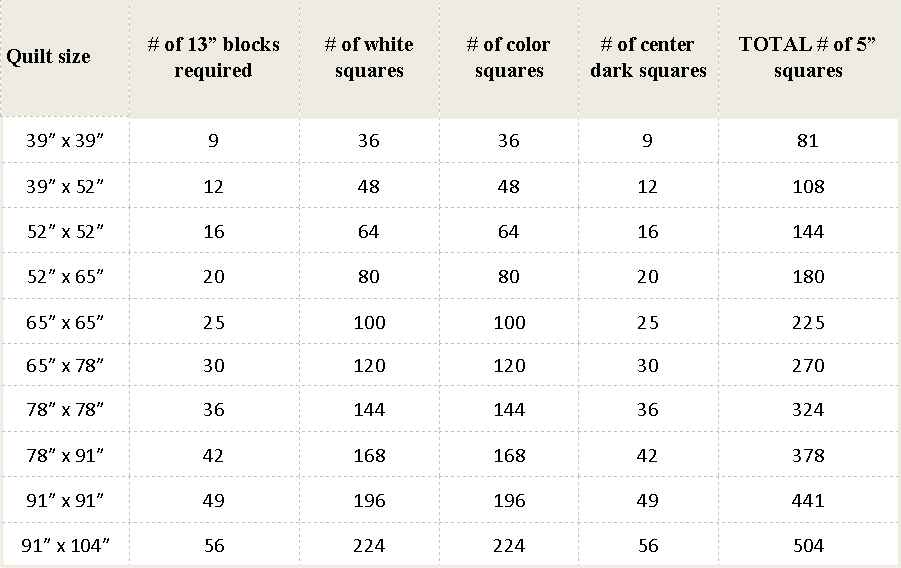 I hope this information is helpful; I know some of you like to plan ahead. Remember, there is no need to sign up for this quilt along. I'll post all of the updates right here so anyone can follow along. Leave a comment if you have any questions. I'll reply as soon as I can.
I hope you're having a great day. Thanks for stopping by!