Hey everyone, it's finally here!  Welcome to the first month of the I Love Home Block of the Month hosted by Jacquelynne Steves!  You can still sign up for this FREE BOM here.  I'll be participating each month along with some other very talented bloggers (see the list towards the end of this post).  I hope you'll be joining us, too!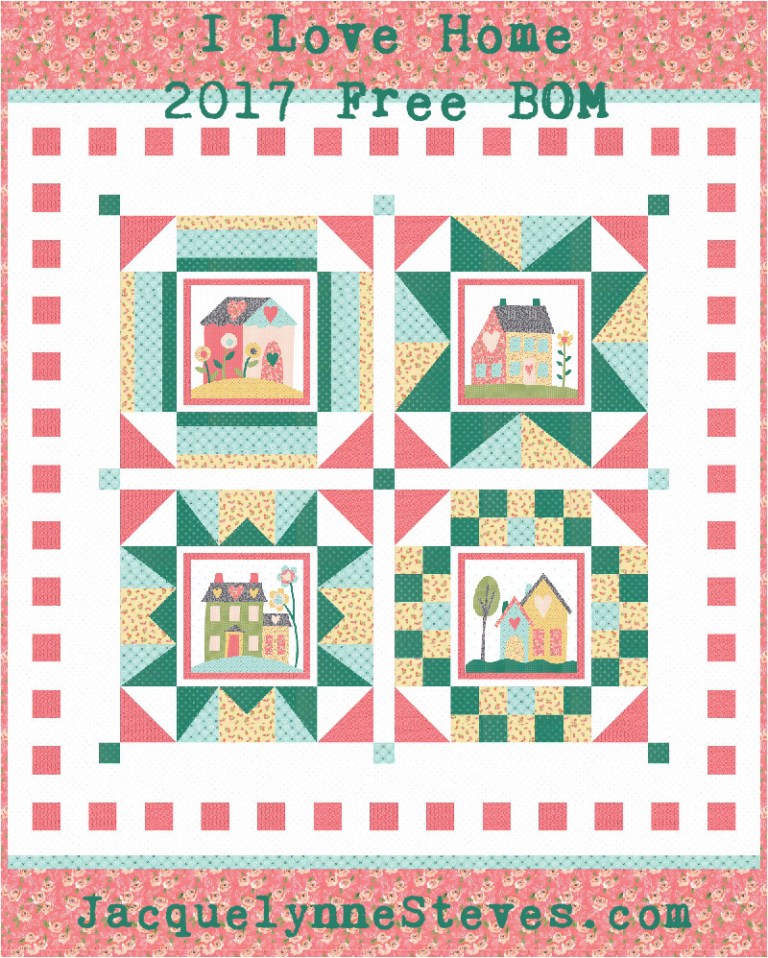 I Love Home BOM, month 1
Each month there will be a giveaway on every participating blog starting today with a giveaway from Aurifil Threads!  Read all the way to the end for more details.  This giveaway is now closed.

If you're new to The Crafty Quilter, welcome!   I hope you enjoy your visit.  This is my third year as a participating blogger for Jacquelynne's free BOM, and it's always fun to see how everyone interprets the design with their own fabric choices and design options.  I will offer tips on how I make each block that may be helpful to you.
This year, I'm making each block into a mini quilt for each season of the year.  Four blocks work out perfectly for the four seasons.  This first block is my Spring edition and I love the cottage feel of this one.  Choosing a similar color palette as Jacquelynne's quilt made my version an easy (fast) quilt to start with.
TIP:  For the piecing of this month's block, I cut the three outer border strips 1/2″ longer and stitched them together.  Then I trimmed them down to the exact length required.  This just gives me a little wiggle room when sewing the strips together, and I don't need to be SO precise with matching the beginning and ending of each seam.
I used a raw edge machine appliqué technique; you can find my full tutorial for that technique here.  It's full of tips and basic information for those that haven't tried machine appliqué before.  One thing I find helpful is to use a stabilizer underneath the applique when stitching the raw edges down.  I love Ricky Tim's Stable Stuff Poly  because I only need to tear it away from the outside of the applique shapes, and I leave it behind the applique to add stability and a tiny bit of lift.  This stabilizer will soften with wear and washing.
I used Aurifil 50 wt. cotton thread in coordinating colors for the applique stitching.  I like the way the cotton thread blends into the fabric and allows the applique shapes to get full attention.
This little house quilt is so sweet and charming.  It's the perfect way to welcome Spring with its flowers and hearts.
Small projects like this are so fun to quilt!  I made "pearls" in the white frame, ribbons in the light peach border and a feathered flower in each corner HST.  The applique background was done with a tight half-moon shape to make the applique pop up.  I'm considering the addition of more quilting inside the house shape.  I don't like the bubble that appeared after my quilting.  That is often due to an uneven amount of quilting throughout the quilt.  Again, I used Aurifil thread, 50 wt. for the quilting.
Giveaway information: (updated – giveaway is now closed)
This month's giveaway is a collection of beautiful thread from Aurifil.  As you can tell, I'm a huge fan of Aurifil thread.  I always use the 50 wt. cotton thread in taupe for piecing – it blends with everything.  I also love their 80wt. cotton thread for hand appliqué and their large color selection of 50 wt. cotton thread is great for machine appliqué.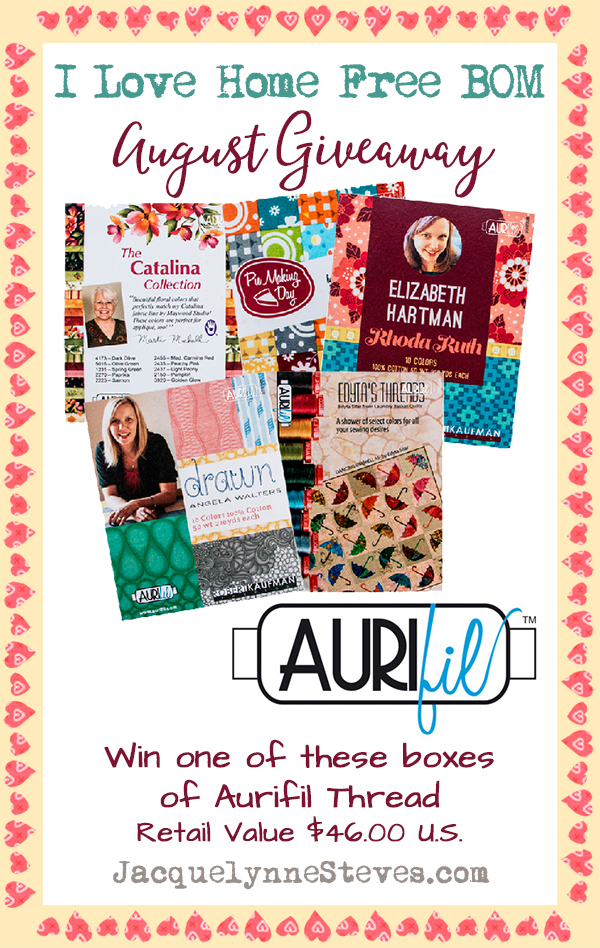 To enter the giveaway, leave a comment telling me your favorite appliqué technique.  Hand appliqué or machine?  Maybe you've never tried it and that's o.k. too!
Here are the giveaway rules:
To enter, leave a comment telling me your favorite appliqué technique.
You must comment by 11:59 pm PST on August 14, 2017. (CLOSED)
Your email MUST be included in your profile information or in your comment. If I choose your name and I cannot contact you, I will choose another name.
Giveaway is open to all.
Winner will be chosen at random.
Make sure to be inspired by visiting all of the other featured bloggers and enter their giveaways too.
Please visit our host, Jacquelynne Steves' blog, for the latest details on the I Love Home BOM.  You can also check out the I Love Home BOM Pinterest board here.  Make sure to use the hashtag #ILoveHomeQuilt for social media.
Thanks for stopping by and happy quilting!
Save
Save