Happy Little Things BOM Block 3 & giveaway
It's time for the Happy Little Things BOM Block 3 hosted by Jacquelynne Steves, AND there's another terrific giveaway! You can still sign up for this free block of the month here, and you can get the latest information from Jacquelynne about today's block here.
Happy Little Things Block 3
This month's block is super cute and it's a little different than the previous two blocks. You'll be making half-rectangle triangles (HRT's) for the star points and there is only one border around the block instead of two.
Just a reminder in case you're just joining me, I'm making all of my blocks miniature sized, so they'll measure 6″ square (finished). I'm providing modified cutting instructions for each block (keep reading below); you'll need to sign up for the BOM to get the rest of the instructions from Jacquelynne. My final layout is also slightly different and it includes the words "Winter Friends" appliqued in the border. This wall hanging will measure 23″ x 31″.
Making half-rectangle triangle units is not hard, but it's very different than making half-square triangles. Jacquelynne has included a great tutorial and video in her instructions, and it's really important that you read/watch it first. Even though I've made these before, I forgot that you need a mirror image of each HRT unit to make a star point. I had to re-make half of them so that the diagonal line was going the other way.
I love seeing all three of my blocks together. They are such a cute little flock!
Mini Version Cutting Instructions
The mini version of this block will finish at 6″ square. All of the assembly instructions are exactly the same as the original. Remember, you still need to sign up for Jacquelynne Steves' block of the month to get the complete directions.
You can download the cutting instructions for the mini version of block #3 here:
Giveaway
This month's giveaway is sponsored by Martingale and they're giving away a copy of Sunday Best Quilts by Sherri L. McConnell and Corey Yoder. This book is full of beautiful quilts from two of my favorite designers!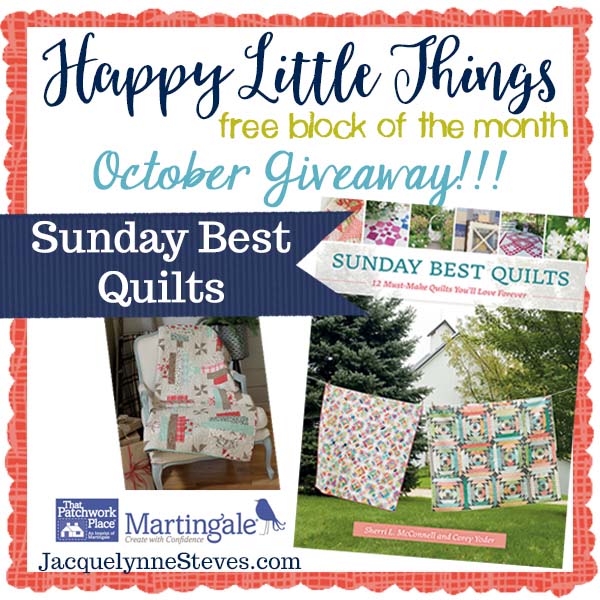 To enter the giveaway, please leave a comment telling me how many years you've been quilting. For me, the answer is 22 years! I started quilting as soon as my youngest child started preschool. I finally had some time to splurge on a new hobby!
NOTE: To leave a comment, make sure to scroll down to the bottom of this blog post (not from my home page), and look for the rectangle that says "Enter your comment here". On October 14, I'll randomly pick one winner!
Here are the giveaway rules:
To enter, leave a comment telling me how many years you've been quilting.
You must comment by 11:59 pm PST on October 13, 2019.
There is ONE prize per person per month (in other words, the same person cannot win two prizes within the same month.)
Giveaway is open to ALL. A print copy of the book will be given to US residents, a digital copy to international residents
Winner will be chosen at random.
Due to the high volume of comments, I won't be able to reply to you (unless there is a direct question), but I will read each and every one. Thank you in advance for your participation and for leaving a comment.
Participating Bloggers
Make sure to visit all of the participating bloggers to see their version of Happy Little Things! You can also enter the giveaway on each respective blog so you have more chances to win.
There is also a Facebook group where you can stay up to date and post photos:https://www.facebook.com/groups/SewQuiltyFriends.JacquelynneSteves/
If you use social media, please use the hashtags #HappyLittleThingsBOM and #HappyLittleThingsQuilt .