December UFO & WIP Link Up
It's the last day of the month and of 2019! The December UFO & WIP Link Up is way overdue – but it's here (I had technical difficulties while in Texas). So, I've extended the end date to January 7, 2020. For more information about the 2019 UFO & WIP Challenge, go here.
The prize package for December includes a Nifty Needles assortment pack by Lori Holt of Bee in my Bonnet, two mini charm packs of Walkabout by Sherri & Chelsi for Moda Fabrics, Pineapple Quilt Block Foundation Paper by Fat Quarter Shop, an Add-A-Quarter PLUS ruler, and my latest pattern, Lincoln Stars!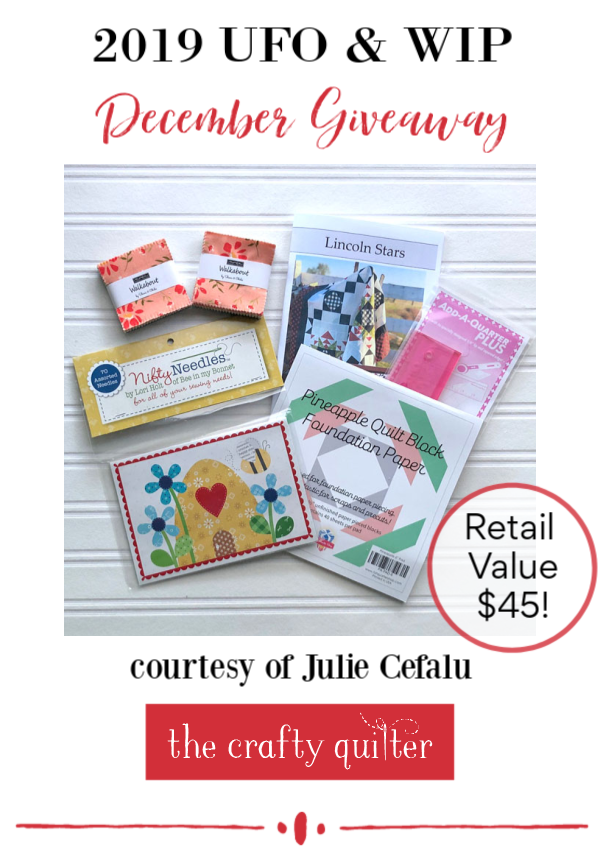 My December finish
I made pouches for all of my children and their significant others. Some were already made earlier in the year, but I did crank out four more this month. Most of these are from kits that I ordered from Sew Lux Fabric. They are my favorite place to go for pouch kits!
I made two placemats for my son and his girlfriend. These are super easy and I used my own tutorial here. I still have two more to make to complete the set.
I also made two travel-size pillow cases for my granddaughters and forgot to take a picture of them.
The biggest WIP that got completed in 2019 was the birth of our grandson, Benjamin Michael! He was one week overdue and we were hoping he would come while we were visiting post Christmas. On Sunday, 12/29, he decided it was time! Kelly made it look so easy (but we know it's not) and it was an all natural delivery. He's perfect!
December UFO & WIP Link Up
Now it's your turn! I hope you were successful in finishing a project or two this month. Add a photo to the link up below and in one week I'll randomly choose one winner to receive this month's prize!
Link-up Rules:
You may add up to 2 finished projects.
One image per finished project.
Project must be quilting, sewing or needlework related.
The link-up will be open until January 7, 2020, at midnight, PST.
This month's giveaway is open to US and Canada only.
Winner will be drawn at random on January 8, 2020.
Link-up Instructions:
Click on one of the blue "add link" buttons (below). Keep scrolling to the end. One section says that it's closed and the other is open until 1/7/20 at midnight (my own technical difficulty).
Enter the URL of your link.  If you don't have one, click on the blue "enter without link" button. The upload widget will activate.
Note: If your photo size is too large, it may not accept it. You'll have to re-size it to a smaller file size.
Enter a caption for your image.  This should describe your project and it can include your name if desired.
Enter your email address.  No one will be able to see this but me.
Agree to the InLinkz terms of service & privacy policy.
If you have any trouble, just leave a comment or send me an email with your photo attached.  I can add it for you.