My One Little Word and plans for 2020
Hi everyone! It's the beginning of a new decade, and this year I've decided to participate in the One Little Word workshop with Ali Edwards. I'm choosing one word to focus on and guide me throughout the year. The workshop will have monthly prompts to bring my word into my life in a creative way.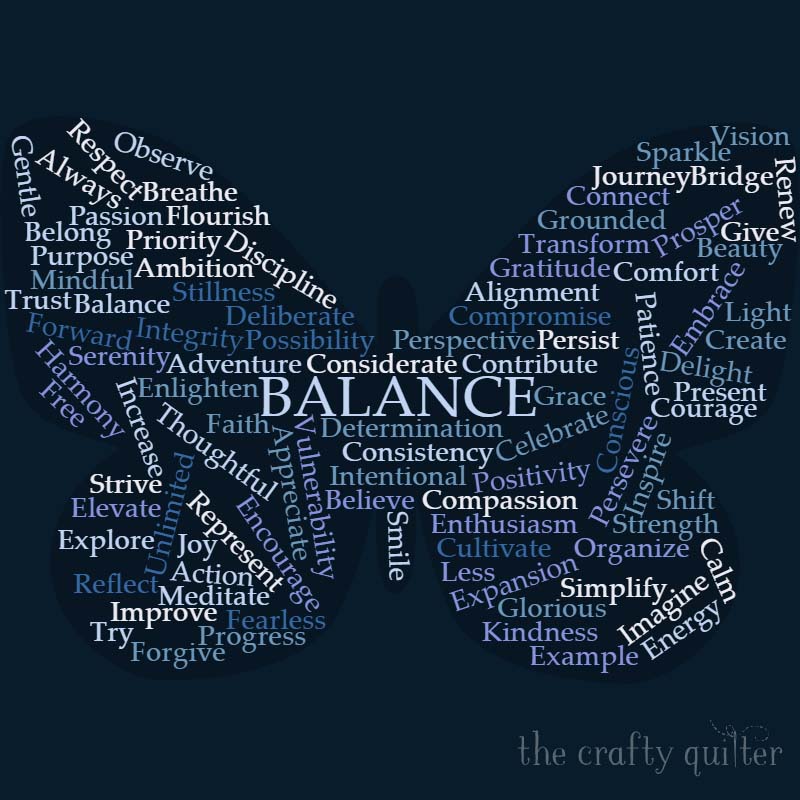 My word for this year is BALANCE. It was hard choosing just one word, but I think this one speaks to me in many ways. I need more balance in my physical body, in my day-to-day routines, in my personal life, in my creative pursuits, and in my blogging work. I felt like I was always chasing the clock last year (or it was chasing me), and I definitely didn't give myself much time to just pause and be still. I'm sure I will discover more ways to bring balance into my life throughout the year, and I already feel good about it.
One of the ways to bring your word into your life is to make it visible. I immediately thought of a quilted wall hanging with the word, BALANCE, free motion quilted in the center. That's my new project for January!
Plans for 2020
The beginning of the year is a perfect time to reflect on the past year and make plans for the new. (See how I stay organized with My Quilter's Planner here). As blogging has taken up more of my time over the past few years and has become more of a business for me, it's important that I focus on what my audience wants and still have time to satisfy my own need to create.
For the month of January, I'm going to concentrate on projects that I've wanted to do but haven't had time to do. Just for me. Just for fun. Yes, balance! But I'm going to share it all with you as I go along. I still want to inspire and motivate you along the way. I also have a book review that is way past due and needs my attention so that will be coming towards the end of the month.
I've been asked if I'll do a UFO challenge again this year. The answer is no. I still want to encourage you to tackle your UFO's and I want to keep working on my own. I will be following along with the American Patchwork & Quilting 2020 UFO Challenge. I'll start by making a list of 12 UFO projects; they pick a number from 1-12 each month which is the item number to work on. I love the surprise each month! This month is #2.
I've been looking for an easy way to use my scrap fabrics to make a quilt. My black and white fabric bin is overflowing! Pat Sloan is hosting a Scrappy Traffic Jam Sew Along and it's perfect for using up 2.5″ squares of fabric. I'm all in!
I just started cutting up my white fabric into 2.5″ squares. I'm using black fabric for the larger squares. I'm excited to get this going!
Something else fun that I saw on Instagram is a 30 Day Sketchbook Challenge. This might be a good way to increase your creativity in new way. Each day will have a new prompt. Day 1 was spots and dots. I'm still thinking about this one.
What do you have planned for 2020? Do you pick a word for the year or do you make resolutions? How about your quilting goals? I plan to continue to give you tips and tutorials for quilting and crafting. These usually come about fairly organically and spontaneously. I'm terrible at planning way in advance.
I would love your input on what you'd like to see more of and/or less of here at The Crafty Quilter. Are you interested in seasonal projects? Christmas ideas? Challenges? Small projects? Big quilts? Organization ideas? Scrap busting? Quilt alongs? Leave a comment and let me know. This will help me plan for the upcoming year, and I would greatly appreciate it!
Happy New Year and thank you so much for being a part of my online community!