Happy Little Things Border & Finishing Instructions
Well guys, we've made it to December and the Happy Little Things Border & Finishing Instructions from Jacquelynne Steves are here! If you've been following along, you should have four blocks made and ready to be assembled into a quilt top. You can find out more details about this free block of the month by visiting Jacquelynne's blog here, and you can still sign up here. This month we have another terrific giveaway, so keep reading to the end!
I'd like to thank Jacquelynne for another fabulous block of the month program. I know it takes a lot of work coordinating everything and everybody, and I appreciate it so much! It's been a privilege being a participating blogger again this year.
Happy Little Things Border & Finishing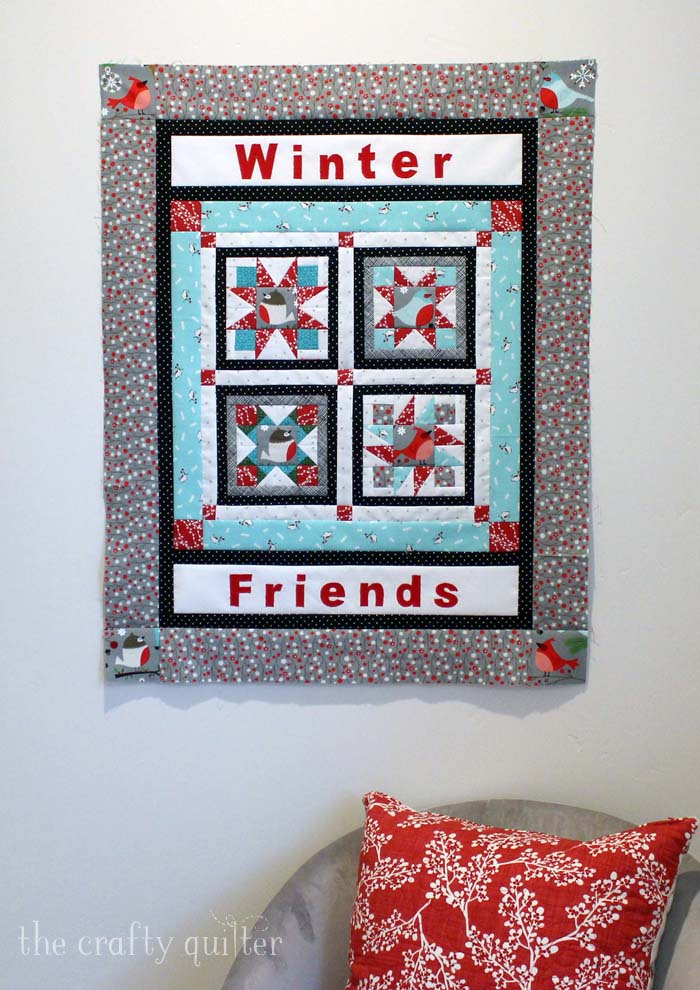 I have finished my mini version of Happy Little Things and renamed it "Winter Friends". My quilt blocks finish at 6″ square and the quilt top measures approximately 23″ x 30″. It's the perfect size for a wall hanging!
For my quilt, I'm using an older fabric collection titled Jingle Birds by Keiki for Moda Fabrics along with some of my own blenders. The main print is perfect for fussy cutting those little birds. I ran out of that fabric for the borders, so I had to substitute another. I ended up using cornerstones that I fussy cut from the main print.
FABRIC REQUIREMENTS FOR THE MINI VERSION. I was recently made aware that I never gave fabric requirements for the mini quilt. You'll need 1/8 yard (or large scraps) of most fabrics except: black (1/4 yard), white (1/4 yard) and border (3/8 – 1/2 yard if fussy cutting).
I used machine applique with Heat 'n Bond Lite (fusible web) for the letters. You can find a complete tutorial on my machine applique techniques here. I am providing the applique letter templates in my mini version cutting instructions (farther below in next section).
I always use a stabilizer on the back of my applique while stitching around the shapes. My favorite stabilizer is one that you can leave behind your applique shape such as Ricky Tims' Stable Stuff or Quilter's Select Print n Piece Fuse Lite. This makes your stitches even and gives your applique a slight lift. After you're done stitching, you tear the stabilizer away from the outside of the applique only.
Mini version cutting instructions & applique templates
All of the assembly instructions are the same as the original, except I have substituted appliqued letters for the top and bottom pieced borders. Remember, you still need to sign up for Jacquelynne Steves' block of the month here to get the complete directions.
You can download the finishing instructions and Winter Friends Applique templates here:
December Giveaway
This month's giveaway is generously sponsored by Thermoweb. I love using their Heat'nBond Lite for all of my applique projects. I used it for my Winter Friends letters and it worked perfectly as always. This giveaway will remain open until Sunday, December 8, at midnight (PST).
To enter the giveaway, please leave a comment telling me anything you'd like!
NOTE: To leave a comment, make sure to scroll down to the bottom of this blog post (not from my home page), and look for the rectangle that says "Enter your comment here". Please be sure that I can contact you immediately through your email. If I choose your name but cannot contact you immediately, I will choose another winner.
Here are the giveaway rules:
To enter, leave a comment telling me anything you'd like.
You must comment by 11:59 pm PST on Sunday, December 8, 2019.
There is ONE prize per person per month (in other words, the same person cannot win two prizes within the same month.)
Giveaway is open to ALL.
Winner will be chosen at random.
Due to the high volume of comments, I won't be able to reply to you (unless there is a direct question), but I will read each and every one. Thank you in advance for your participation and for leaving a comment.
Participating Bloggers
Make sure to visit all of the participating bloggers to see their version of Happy Little Things! You can also enter the giveaway on each respective blog so you have more chances to win.
There is also a Facebook group where you can stay up to date and post photos:https://www.facebook.com/groups/SewQuiltyFriends.JacquelynneSteves/
If you use social media, please use the hashtags #HappyLittleThingsBOM and #HappyLittleThingsQuilt .