December UFO & WIP Winner and my own WIP's
Hi everyone! It's been a crazy week of loved ones falling ill, but I think everyone's finally back on the healthy list. Without further delay, I have a winner for the December UFO & WIP Challenge. We had 60 entries last month and many Christmas projects and gifts made!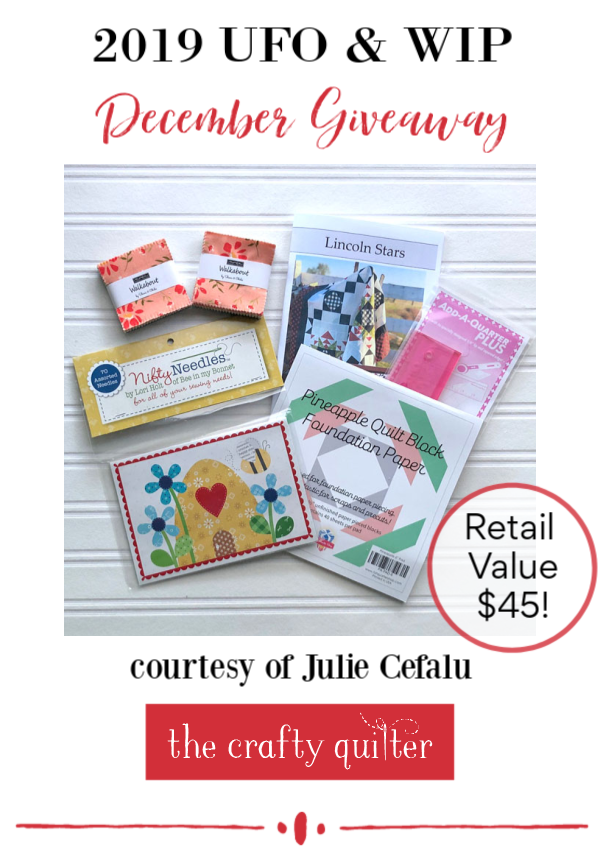 Entry number 46 was randomly chosen and that goes to Kathy J. for her quilt, "Peace On Earth". This is a beautiful combination of applique and piecing! Congratulations Kathy!
I really enjoyed seeing everyone's finished projects in 2019. I completed quite a few myself! As I mentioned before, I will not be hosting another UFO challenge this year. But I will be bringing more fresh content, tutorials, tips and quilt alongs in the months ahead.
I appreciate the feedback I received on my previous blog post about what you'd like to see more of. I have a running list so if you'd like to add any ideas to it, leave me a comment. It will get added to the list!
I've been working on bringing my Word of the year, Balance, into my life. I'm starting with this small wall hanging that will be completely covered with free motion quilting when it's done. More details to come when it's finished!
I'm co-teaching a block of the month at The Granary Quilt shop in California (there's still a few spots left if you're interested). I made the first 12″ block of the pattern, Timeless Tradition. It's so cute and fun! I'm in my happy place when I'm piecing quilt blocks like this one. The fabric is from a bundle I bought at a quilt show – it's a combination of different collections.
That all for now. I need to catch up on some emails, but I'll be back soon with some heart ideas. Have a great weekend!