Five favorite quilting tools
If I had to grab some supplies to take with me on a retreat or travel, these five favorite quilting tools would be on the top of my list! I'm not limiting myself to just five, mind you, but these are my go-to notions. Plus, I don't want to overwhelm you or anything!
Note: I'll be describing each notion and giving (affiliate) links for each, but my hope is that you'll purchase these from your favorite local quilt shop.
Creative Grids Ruler
8 1/2″ x 12 1/2″ Creative Grids Ruler. I am a big Creative Grids fan. I like the the frosted 1/4″ and 1/2″ edges and the numeric markings. All of those numbers can be confusing at first, but once you get the hang of it, you'll appreciate the versatility of this ruler. I also like that it doesn't slip while cutting because of the frosted grip dots on the back. And, it doesn't grip so much, that I have to lift it in order to nudge it into place.
I get the most use from the 8 1/2″ x 12 1/2″ size Creative Grids ruler, and if I could have only one size (heaven forbid), that's the size I'd pick. It's perfect for cutting strips from a fat quarter and I can square up blocks or squares easily. It's not too big and it's not too small.
The other size I use a lot is the larger 6 1/2″ x 24 1/2″ ruler. When I need to cut lots of long strips or clean up the edge of a quilt top, this size does the job perfectly. And then there are the many square Creative Grids rulers that I use and own along with some of their special technique rulers (which will require a separate blog post.)
Olfa Rotary Cutter
I have several rotary cutters, but the Olfa Splash 45mm Rotary Cutter is the one I use most. Olfa invented the rotary cutter in 1979 and they make a great product. The Splash series introduced their quick-change blade system, and it really is easy to change the blade on these. I like the 45mm size for its versatility, but I use the 60mm and 28mm when needed.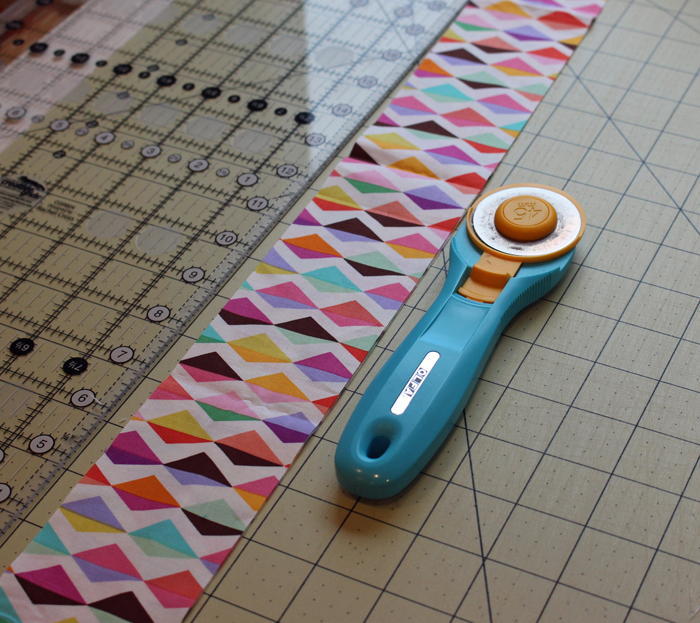 Clover Fine Patchwork Pins
I rely on pins to keep my fabric in position for stitching and my seams aligned. I've tried many and I have fallen in love with Clover Fine Patchwork Pins. They are thin, sharp and slide through quilting cotton with ease. The length is just right, too, so they don't get snagged or caught on anything. They just make my sewing life easier!
I'm also a huge fan of Clover Wonder Clips, but they serve a separate purpose. I'll save those for my next list of favorite tools.
Magnetic Pin Cushion
I don't know how I got by without a magnetic pin cushion. This is the trusty companion to my favorite pins (above) and they are always near my sewing machine. I like the Clover Magnetic Pin Caddy because it has a cover so I can easily pack it in my travel bag. I can toss a pin towards the magnetic pin cushion and it will catch it, and if I drop a pin on the floor, it will find it.
I still love to make and collect cute pin cushions. They will never become obsolete, I just don't actually use them. They are wonderful to decorate with, though!
Havel's Snip-Eze Embroidery Snips
The final item on my top 5 list is a good pair of thread snips. (I'll bet you thought I was going to say seam ripper.) Every time I sew something on my sewing machine, I use Havel's Snip-Eze Embroidery Snips to clip my threads. These snips are long and thin enough to reach around the back of my presser foot to clip my thread saver (leader/ender), and they have a curved tip that will fit under my presser foot if needed.
They have a squeeze handle that never misses and it's easy on my hands. Plus, I love how lightweight and sharp they are.
---
That's my go-to list of top 5 favorite quilting tools that I can't live without. Do you have a favorite brand or type of tool you use in the sewing room? I'll continue this series with more favorite quilting tools, because we quilters love our notions!
Looking for more favorites? Check out my 7 favorite hand embroidery tools and my favorite tools for machine applique.
Thanks for stopping by and have a wonderful weekend!