Stitch Pink and Sew Along for fire victims
Hi everyone. I want to update you on my progress for the Stitch Pink Sew Along and tell you about a new sew along for fire victims of the CZU Lightening Complex fires in California.
Sew Along for Fire Victims
I'm going to start with the new sew along, Jumpstart on Christmas 5-day Sew Along at Modern Handmade in Scotts Valley, CA. Sarah, the owner of Modern Handmade, knows first hand of the devastation the CZU Complex Lightening fires have brought to her customers. Her shop is located in the vicinity of these fires (it remains undamaged), and she wanted to do something to help. I think she came up with a fabulous idea!
The Jumpstart on Christmas 5-day Sew Along includes three downloadable patterns and video tutorials for a tote bag, a table runner and a quilt. The cost is only $10 for everything and 100% of your purchase will go towards getting a new, handmade quilt into the hands of these fire victims. The sew along starts today, October 8, but you can still join in the fun! It's a win/win deal, and I hope you are able to take advantage of it.
This has been a really tough fire season for so many. I have not heard of any other fundraisers or quilt donations for the many fires that have been plaguing California, Oregon and Washington. If you want to find more ways to help, I think the best thing to do is to reach out to local quilt guilds in the areas affected. I'll pass along anything I hear about, too.
---
Stitch Pink Sew Along
I have truly been enjoying Moda's Stitch Pink Sew Along. Every day for the month of October, Moda releases a quilt block pattern (for free) that will become a beautiful sampler quilt. A portion of Moda's proceeds from the Stitch Pink Grunge collection will go to the National Breast Cancer Organization –  perfectly timed for October's Breast Cancer Awareness campaign.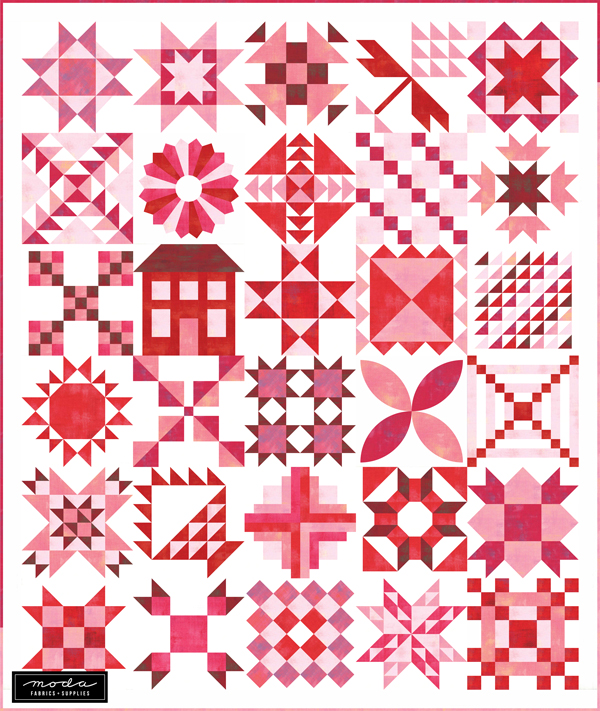 I have been staying "in the game" so far with my quilt blocks. There are eight now! I'm following Said With Love for their daily email notifications for the block patterns and any tips they have. The bonus of Said With Love is they're based in Australia, so the patterns arrive one day early for the Northern Hemisphere!
The first block is called Underdog and I could not decide if I wanted to use a navy background or a natural background. So, I made both! I've since decided to stick with the navy background.
Block 2, On The Rise, has a classic look and it was easy to make. I used the color, cheddar, for this one and it worked out well.
Block 3 is called Monkeying Around, and I changed it up a bit. The original pattern had two long, narrow strips on two sides. I just recalculated the main "monkey wrench" block so that it measured 12 1/2″ unfinished.
I love Block 4, Flower Power, but I had to keep my seam ripper handy. I had a hard time keeping my light and dark fabrics positioned correctly since mine are opposite the pattern. I made some spare parts along the way on this one.
I don't have a picture of Block 5, Baby Boom, so I'll show you the original pattern photo from Moda.
My favorite so far is Block 6, Best Friends. This one had a lot of points to match and seam allowances to wrangle, so when it turned out close to perfect, I was happily surprised (as in heart skipping, jump up and down happy). My tip is to over-size everything including the corner and side triangles. And press well.
With Block 7, Jersey Girl, it was time to add some more cheddar for this sunny Dresden block. I used my EZ Dresden ruler to cut the blades and made them slightly smaller (4″) than the pattern called for. The center circle is the perfect opportunity to fussy cut a favorite print.
Here are what four of the blocks look like together. It's very traditional, and I'm loving it.
---
I'm working on Block 8 today, and I am in "piecing heaven" with all of these blocks so far. This is my sweet spot for quilting. I'm also going to start my Market Tote Bag which is the first pattern released in the Jumpstart on Christmas Sew Along. Another fun project to look forward to and a great opportunity to sew along for fire victims!
Thanks for visiting and happy quilting!