Adding a flange to your quilt
When I want just an accent of color without adding another border, I like to add a flange to my quilt top.  In the table runner above, I wanted to add a little more red around the outside and the flange was just what I needed.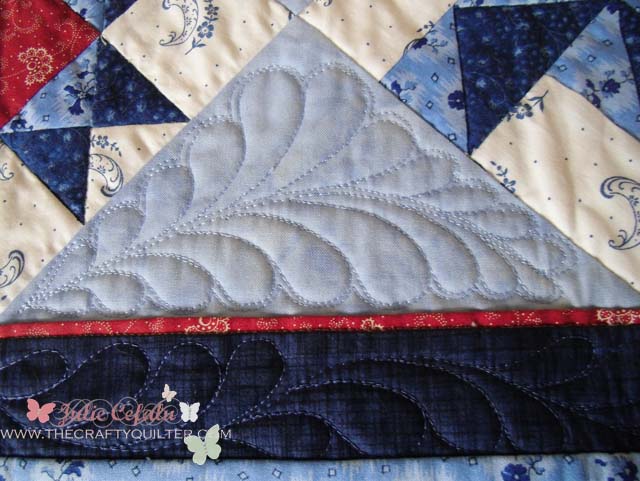 Adding a flange is really easy. I like to start with a strip of fabric that is 3/4″ to 7/8″ wide. I used 7/8″ in this example.  Make it as long as needed, piecing together strips if necessary to get the correct length. You will fold the strip in half along the length with wrong sides together. Press.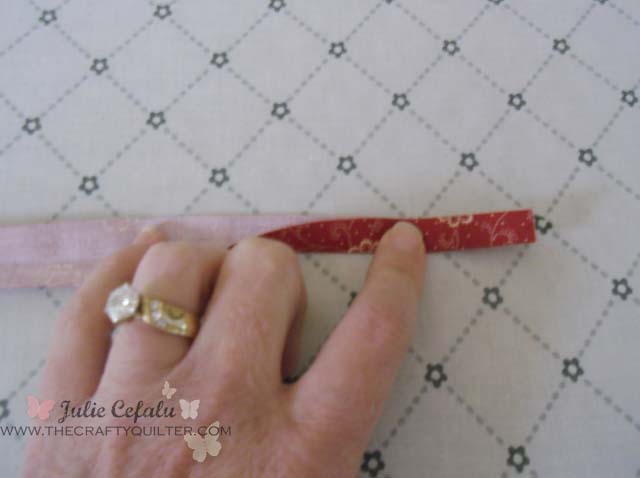 Next, you will pin this to the edge of you quilt top with raw edges even and the fold facing the middle of the quilt. Using a basting stitch (long stitch length of 4.0 – 5.0) sew a very scant 1/4″ seam as shown below.
Repeat this on the opposite side. Next you will do the same thing for the top and bottom, overlapping the flange at the corners.
Now you add the next border as you normally would, matching raw edges and stitch using a 1/4″ seam. You might want to use a walking foot for this step since you're sewing through so many layers. (I didn't use one in this picture, but I often do).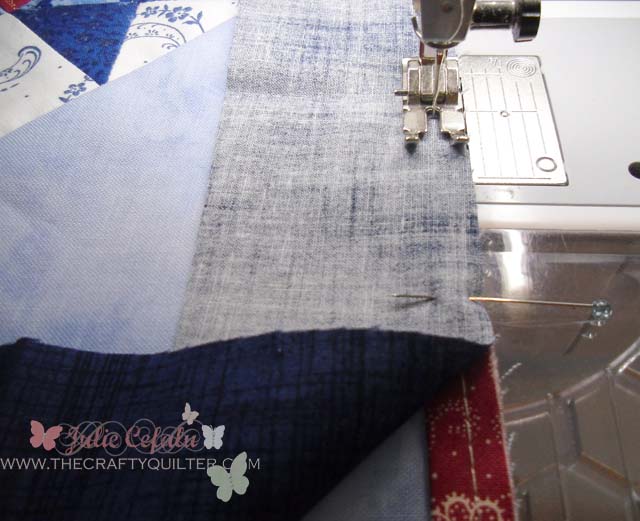 Press the border strip towards the border, making sure that the flange remains flat.
To make your flange really effective, it's important that you have good contrast between the flange and both sides of the quilt that it touches. I will often use a flange as a bridge between two borders that need the extra pop of color to make them stand out. It's also a nice way to add a "border" without growing your quilt – it doesn't add any width or length to the finished size.
Here, I have added a small (I started with a 3/4″ wide strip) flange between two grey toned borders and I wanted just a bit of pink to show up.
Flange is very similar to piping, but much easier.  With piping, you enclose cording in the center of your strip of fabric to make it rounder and fuller. It has a very tailored look to it, but it does involve an additional step that requires more time.  I typically don't have the extra time – I'm ready to move on to the next project!
You can also use a flange between your border and binding. In the following picture I have added a flange (piping actually!) between both: two borders and the border/binding.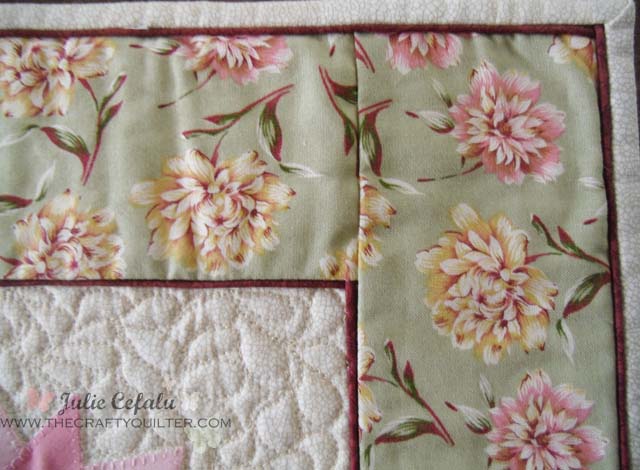 Next time you're wanting to add a little "pop" to your quilt, think about adding a flange!