Bowtie Quilt – Just One Charm Pack Quilts Book Hop
Hi everyone! I am super happy to share my Bowtie Quilt as part of the Just One Charm Pack Quilts Book Hop. The author, Cheryl Brickey of Meadow Mist Designs, is a talented quilter, designer and teacher who I met at Quilt Con in Austin, Texas, six years ago. We've stayed in touch ever since, and I'm so happy to see her success as the author of Just One Charm Pack Quilts.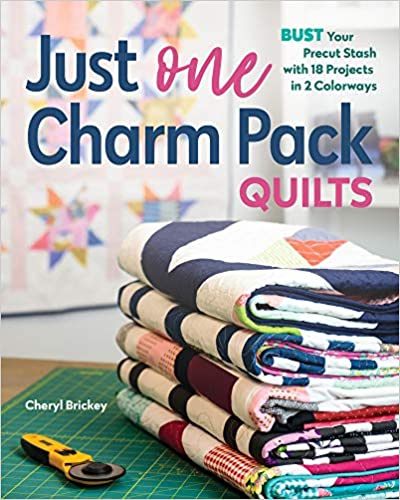 Just One Charm Pack Quilts
I love pre-cuts, from mini-charm packs to fat quarter bundles. They contain a snapshot of the entire collection of a fabric line in one tiny package. Like Cheryl, my favorite of those pre-cuts is the charm pack. Those 5″ squares are not so small that they're unusable, but just big enough to play with and make a small project. Plus, the price is just right and you get a good picture of what each fabric looks like in the collection. Charm packs are my weakness!
This book, Just One Charm Pack Quilts, gives you plenty of ideas to use just one charm pack to make quilts in a variety of sizes. Each quilt requires one extra fabric and a background fabric. You'll find projects that are perfect for a baby or child and also great for home décor such as table toppers and wall hangings.
Bowtie Quilt
The project I chose to make from the book is the Bowtie Quilt. It measures 40″ x 48″ and it's the perfect size for a small child or toddler. I love designs that have a strong diagonal element that can be rotated and played with to create a whole new look. The Bowtie Quilt is perfectly suited for this, and I had so many options to explore.
For my version, I used a charm pack of On The Go by Stacy Iest Hsu for Moda Fabrics, Moda Grunge (30150-101) for the background and Kona solid in gray for the accent. The On The Go fabric line includes a playmat panel that is laid out like a play city for little cars and trucks to travel on. The bold primary colors and cute transportation graphics are perfects for any young child who loves to play with cars, trucks and airplanes.
You might notice that my quilt does not have binding on it – yet. Time constraints were such that I didn't get to the binding by the time I needed to take photos. For that same reason, I chose to quilt straight lines that followed the diagonal pattern of the blocks. It's simple but effective, and sometimes that's all you need.
---
The original Bowtie pattern from the book places the blocks so the diagonal chain squares are running parallel to each other. This is a very classic and easy way to lay out the blocks. I also love that Cheryl shows each quilt made in two different color ways.
I used EQ8 to mock-up several layout options for the blocks. It's always fun to see the how the quilt changes just by a simple rotation of blocks. Below, you'll see a few of the quilt layouts that I came up with (there are four more). A few of them have an extra column of blocks to complete the pattern I was trying to achieve. I used just three colors in the pinwheel version to make the pinwheels really stand out.
You can purchase a signed copy of Just One Charm Pack Quilts at Cheryl's website here. Make sure to visit Meadow Mist Designs to see the other book hop participants and be inspired by more versions of these beautiful quilt designs.
As you can see, there are so many possibilities with the Bowtie Quilt. I really loved making it, and I hope you enjoyed my stop on the Just One Charm Pack Quilts Book Hop! If this is your first time here, you might want to check out my free tutorials page and subscribe to my blog so you don't miss out on future tips and tutorials. Thanks for visiting!
Subscribe to Blog via Email