A patchwork ball and a little embroidery
I've been working on little projects among the larger ones.  It's good to have both going on at the same time so I feel like I'm completing something on occasion.  Usually I balance machine work with some handwork so that I've got something to sew at all times.
Today, I have a little handwork to share.  I just finished a patchwork ball that is for my granddaughter's 1st birthday.  It's the perfect size for her little hands and it's full of fun fabric that she can play "eye spy" with.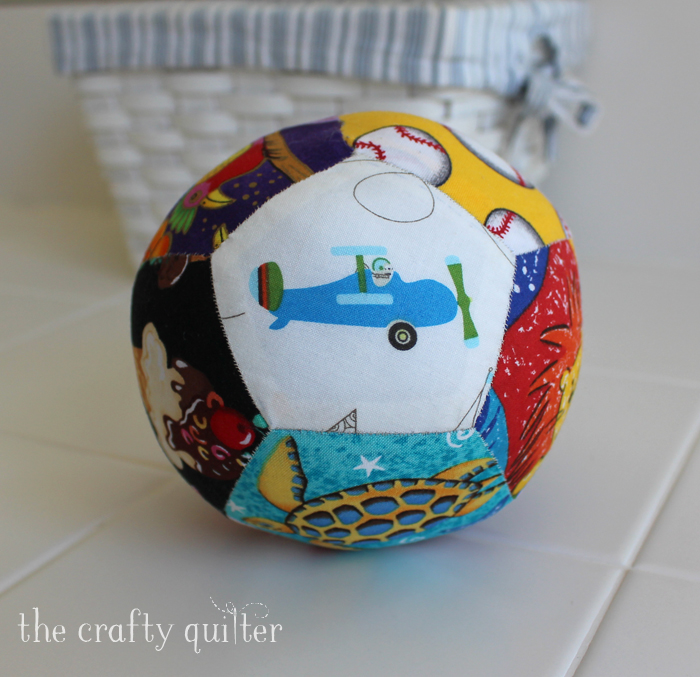 I used a wonderful tutorial from Abby Glassenberg at While She Naps.  She uses English paper piecing to make a patchwork play ball from pentagons.  It's a nice way to utilize some of those novelty fabrics that you may be collecting.
This is a great project to try if you're new to English paper piecing.  You just need to print out the paper templates (available at While She Naps), grab some thread and a needle, cut your fabric and start stitching.  I fussy cut all of my shapes so that each pentagon has a character centered on it, but you could also use bright colored fabric as Abby did in her tutorial.
You could also make this ball using a sewing machine.  There will be "Y" seams to deal with, but it's not bad.  The nice thing is this project doesn't have to lie flat.  It's round!! So there's a little more room for error.  You just don't want any holes or gaps at the intersections.
The other handwork I've been sewing is Block 31 of The Splendid Sampler, Blossoming.  I love this embroidery design by Jenny Reynolds.  Jenny has a lovely website, Jenny of Elefantz, that is full of beautiful stitchery, tips and patterns for hand embroidery.  I'm hooked!
It's taking me a little longer than I expected, but I enjoy working on this block, and I'm getting good practice with my backstitch.  I keep my trusty Embroidery Pocket Guide
close by because it has great visual guides for lots of different stitches.
I printed the embroidery design onto Pellon Stick-N-Washaway Stabilizer
which is a water soluble stabilizer with pressure sensitive adhesive.  It eliminates the need for marking my fabric and it dissolves with water when I'm finished embroidering.   This is my first time using it, and the only downside that I can find (so far) is that it makes it a little more difficult to pull the needle through the fabric.  I think it's used more often to stabilize machine embroidery than for hand embroidery.  You can read more about it here.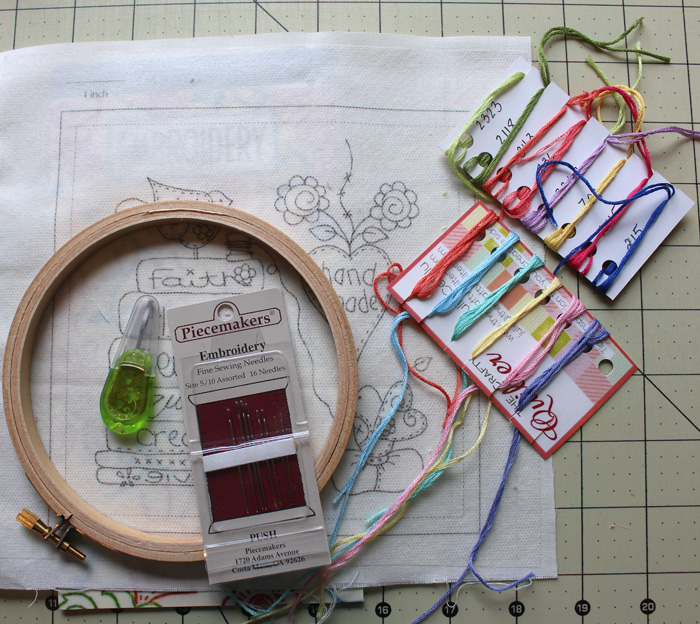 I needed to organize the embroidery floss that I was using so I could take it on the go, so I used a business card which I punched some holes into.  I wrapped the floss through the holes and cut a slit in the opposite side of the business card to guide the floss around.  I also labeled each one on the backside with its color number.  I'm sure there's a better way to do this, but I thought I was a little bit clever for being such a novice.
I'm taking this project with me to Austin, Texas this weekend where we will be celebrating Amelia's one year birthday and my daughter's 30 year birthday.  I can't wait to see them both, and I'll have some pictures to share when I return.  Have a great week, y'all!