Giveaway winner and Christmas sewing ideas
Hi everyone!  I want to announce the winner of this month's Save The Bee's giveaway (in a minute).  And I want to give you a few links for Christmas sewing ideas.  Lastly, I want to welcome the new followers of my blog.  Since posting the 8 Tips to create a perfect quilt block, I've gotten quite a few new readers and I'm really glad to have you all!
The winner of the Save The Bee's Giveaway is comment #219, Esther C.   In response to the question of whether you have taken an online quilting class or not, she said, "I have never taken an online class.  The sound is out on my laptop so until I get a new one it is hard to do! I have watched some tutorials on my phone but I'd rather have a larger screen for a class. I have learned a lot/gotten a lot of ideas from blogs."  Congratulations, Esther!  You'll be receiving a prize package from Olfa soon.
Christmas Sewing Ideas
I know that in the United States, we're busy getting ready for the Thanksgiving holiday.  At the same time, many of us are preparing for the Christmas holidays too.  I wanted to give you a few places to visit online that might help inspire you.
I'm so glad to see that Sew Mama Sew is once again hosting their Handmade Holidays series.  They do a wonderful job of curating free patterns and tutorials for you, and they do it by categories.  So far, you'll find gifts for babies (and their parents), gifts for girlfriends and gifts for organizers.
If your gift list includes sewists, you'll love these 10 Gifts to Make for Sewists at A Spoonful of Sugar.  These are quick and easy gifts to make for your crafty friends (or yourself)!
There's nothing like a handmade stocking, and this Christmas Stocking Sewing Pattern Roundup by Nancy Zieman Productions will give you lots of ideas to choose from.
Last year, I did a blog post with Gift Ideas to Make and Give From Your Sewing Room.  You'll find plenty of free tutorials from years past that are still perfect for today.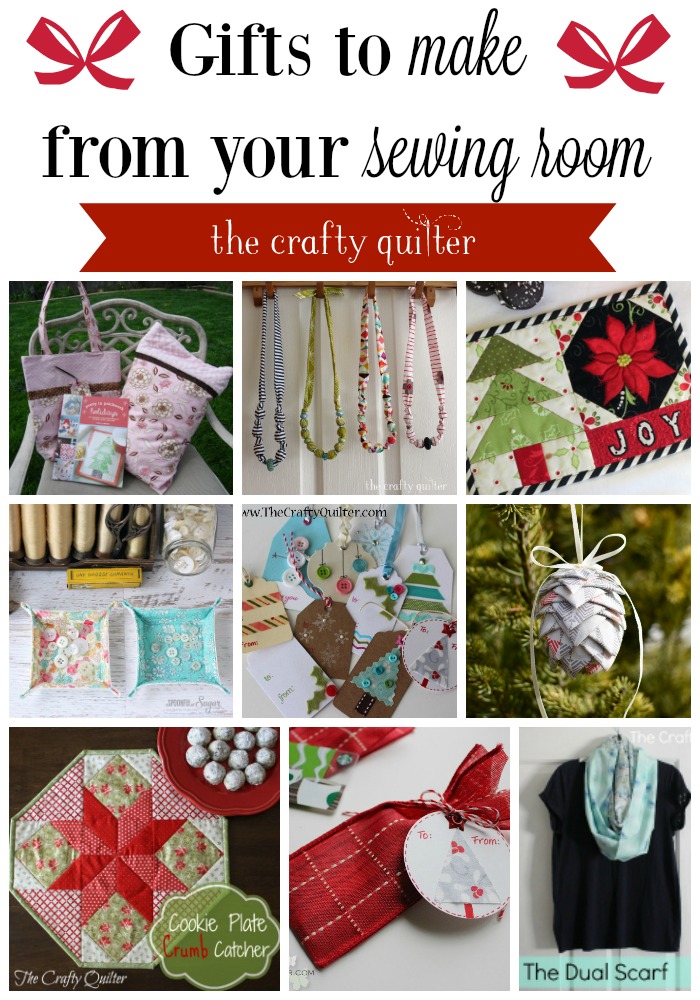 On a more personal note, I will not be doing any sewing for the holidays.  We are about to undertake a remodel of all our bedrooms and bathrooms, so I'll be living in a state of chaos for several months.  I'm cleaning and purging everything – including my sewing room.  It's something that will pay off in the long run, but this is a painful process as many of you know.  I am very thankful that we're able to undertake this, but I'll be moaning and groaning along the way!
Tomorrow, we leave for Mexico to celebrate a good friend's wedding.  We return the day before Thanksgiving, which I'm hosting (but it's small and just family).  I'd like to wish you an early Happy Thanksgiving and a heartfelt "thank you" for being a part of my online community!