Wildfires, summer update and projects
While I usually blog about quilting and crafting, I also give updates on what's happening in my community and my family. Most of the time it's good news and fun stuff (which I do have some of that to share in a bit), but my top story today is about the wildfires in California.
Wildfires
I have lived in Northern California my whole life, and I have never experienced such terrible wildfires as we have seen in the past several years. The Dixie fire has been challenging fire fighters for one month now while it continues to burn in remote areas with limited access. It is just one of 11 fires burning in California right now. We used to take our family to a group of cabins along the Feather River Canyon every year and it breaks my heart to know that this area is not far from the Dixie fire. And it's not just California; Oregon, Washington, Western Canada, Colorado and Montana all have active fires going on. Last week, Sicily had the hottest day ever recorded in Europe (48.8 C / 119.8 F).
These fires have also been affecting the whole country because of the smoke that has traveled across the states. I've been fortunate that the air quality has not been bad in our area. Last Saturday, we flew to Denver, Colorado for a short vacation (and to see a concert at Red Rocks Amphitheater.) Our flight was delayed due to smoke that had traveled to Colorado from the west. They said it was the worst air quality in the world at that moment. We didn't get to experience the beautiful Colorado blue skies and starry nights, but had hazy days and poor air quality the entire time.
I met several people who thought our fires were due to California not keeping up with clearing dead trees and undergrowth. In actuality, the federal government manages 57% of the forest land in California (39% is privately owned), and we've been in a drought for most of the past ten years along with elevating temperatures due to climate change.
WE CARE
As you may remember from several years ago, I wrote of an organization, WE CARE, that provides quilts to those that have been displaced by wildfires. Kathy Biggi has been leading this effort and she is busy at it once again – even though she lives close to the River Fire and is in an evacuation-ready area. I am glad to share her most recent email update:
Our house and the WE CARE quilts are safe. We were evacuated Wednesday afternoon as the River Fire came within two miles of our home. After six years of witnessing what wildfires can do to communities in a matter of minutes, we were very prepared to evacuate.  We had the items we wanted and were in our RV and truck before the evacuation order arrived.

I encourage you too to get prepared before you start your next quilt.  Prepare a "go bag" with important papers, medications, irreplaceable items, etc. and have an evacuation plan in place.  This preparedness is not specific to fires.  Some of you live in areas with potential earthquakes, flooding or tornadoes.  Take the time and get prepared. 

WE CARE will be coordinating with organizations from Placer and Nevada Counties to provide quilts for the 142 homes destroyed by the River Fire in my neighborhood.

My plan from there is to provide as many quilts as possible for students and staff impacted by so many fires in Northern California this summer.  In most cases, school resumes at the end of August.  Fortunately or unfortunately, depending on how you look at it, I've been in contact with most of the school districts in prior years, so they are aware of who we are and what we do.

The current data I have is the number of structures destroyed.  It does not indicate homes vrs. out buildings.
The areas I'm hoping we can help include:

SALT FIRE    (Shasta County)    41 structures 

TAMARACK FIRE   (Alpine County)      25 structures

RIVER FIRE    (Nevada and Placer Counties)   88 structures

DIXIE/FLY FIRE      (Butte, Lassen, Plumas, Tehama Counties)     545 structures      21% contained

BECKWOURTH COMPLEX FIRE      (Plumas County)      148 structures 

The 500+ quilts I have ready to go look like a small number when put in perspective.

Please, once again, one completed quilt is more helpful than several tops.  A good size is 42ish x 52ish, but any size will work.

Thank you for your continued support.  Please forward this email to members of your organization.

Stay safe and feel free to contact me with any questions.  I always enjoy hearing from you.

Kathy
I know that Kathy is extremely grateful to the support she has received from the quilting community. Many of my readers sent quilts in 2018-19 in response to a blog post I published at the time. If you have questions, you can contact Kathy at [email protected]. You can send finished quilts to:
WE CARE
c/o Kathy Biggi
14280 Bar Ela Ranch Rd
Grass Valley, CA.  95945
As a quilter, I am appreciative of the quilting community's efforts. I also know there are many relief efforts that will have a more direct impact on fire victims. If you're looking for other ways to donate, the American Red Cross Wildfire Relief provides, shelter, food and financial assistance to those in need. The California Fire Foundation's Supplying Aid to Victims of Emergency (SAVE) program brings immediate, short-term relief to victims of fire and other natural disasters throughout California. These are just a few of the organizations that are providing aid. You can always check with your local community and go online for more information and resources in your area.
Summer update
Now for some more uplifting news. I feel like I've been playing hooky this summer and just enjoying family and short vacations here and there. As I mentioned, we just returned from a fun trip to Colorado. We stayed in three different towns and ended in a small cabin along Bear Creek in Evergreen which was gorgeous. I wish we had more time to explore that area, but hopefully we'll be able to visit again.
---
In July, we visited our grandkids in Austin. I don't think I ever shared pictures of that trip. We went to Amelia's t-ball game and managed a picture of us together. The first one is as good as we could get. The second one is from "the blooper reel" and worth a little laugh.
Projects
I just finished two more blocks from the Red at Night 2 BOM that I'm co-teaching with Dianne at The Granary. I'm using a fat quarter bundle of Kismet fabric by Sharon Holland for Art Gallery Fabrics. Block 9 has lots of pieces and took some concentration to get it just right. Block 10 was a piece of cake in comparison.
---
I'm so tempted by all of the quilt alongs and BOM's that are going on right now. I can barely keep up with the one I'm teaching. I'm participating in the Strawberry Garden Mystery BOM from Fig Tree Quilts. I've completed the first two months but I've got 3 thru 5 to catch up on. I'm excited to get moving again on this one. The fabric and blocks are so sweet!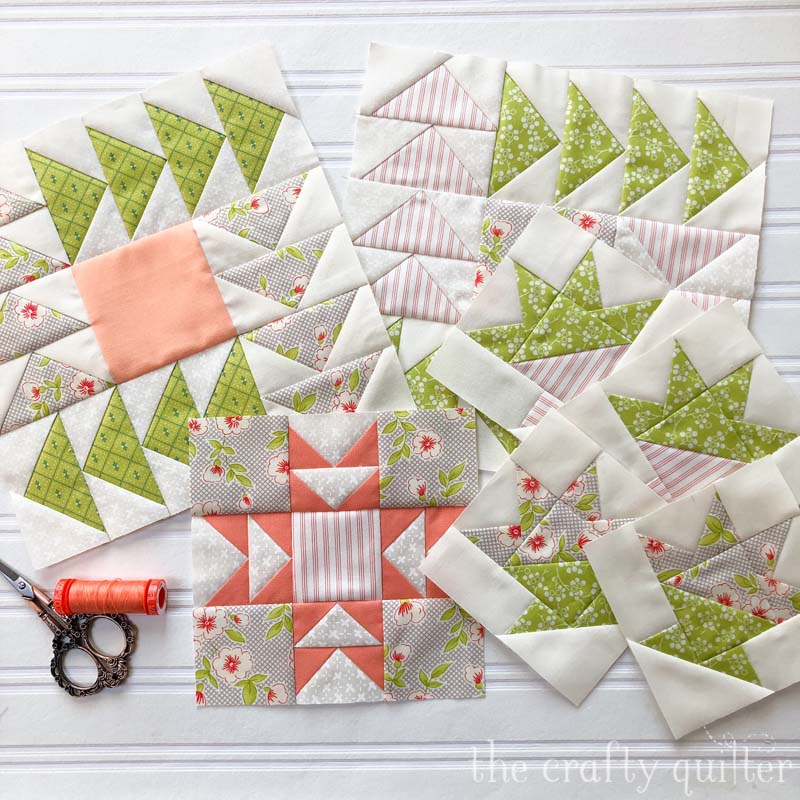 ---
And finally, I'm still working on a Nordic Star block tutorial. This will be a free quilt block pattern that you can use to make a table runner or an entire quilt. Here is a mock-up of a table runner in EQ8. My goal is to have the tutorial ready by the end of August!
---
Thanks for visiting today. I hope you have a great weekend!