All the Trimmings Sew Along & a great tip
I couldn't help myself. I joined in with Fat Quarter Shop's All The Trimmings Mystery Sew Along. It looks like it's going to be so cute! Plus I have a fat 1/8 bundle of Christmas Morning by Lella Boutique for Moda Fabrics just calling my name. This is a free sew along that is being released on Tuesdays. It started on September 7 and ends on October 8. You can find the pdf patterns (two so far) here.
I have some catching up to do, but row 1 is finished. These Christmas berries are adorable and easy to make. The background fabric I'm using is 1473/59 (charcoal) Linen Texture by The Henley Studio for Makoweruk. It makes a beautiful contrast to the Christmas Morning fabrics.
Stich & flip corner tips
All of the units for these blocks have stitch and flip corners. That means you place a small square in the corner of a larger unit and stitch from corner to corner of the smaller square. Then you press (flip) it to create a diagonal seam. I love this technique and I have a few tips to share with you that makes it really effective.
First, use a water soluble glue pen to hold the small squares in place instead of pins. This holds them in place securely without any distortion and you don't have to remove any pins (often too soon) while stitching. Make sure you place the glue in the corner only that will be cut away. I often use a Sewline Glue Pen which is slim and easy to apply.
When you have a lot of stitch and flip corners to make, it's very time consuming to draw all of those diagonal stitching lines. I have two ways of avoiding that. The first is to use Diagonal Seam Tape which guides you as you stitch from corner to corner without the need of a drawn line. I have a great blog post on tips for using Diagonal Seam Tape that shows exactly how it works. It also explains why, in the photo below, you see Diagonal Seam Tape on each side of the center one.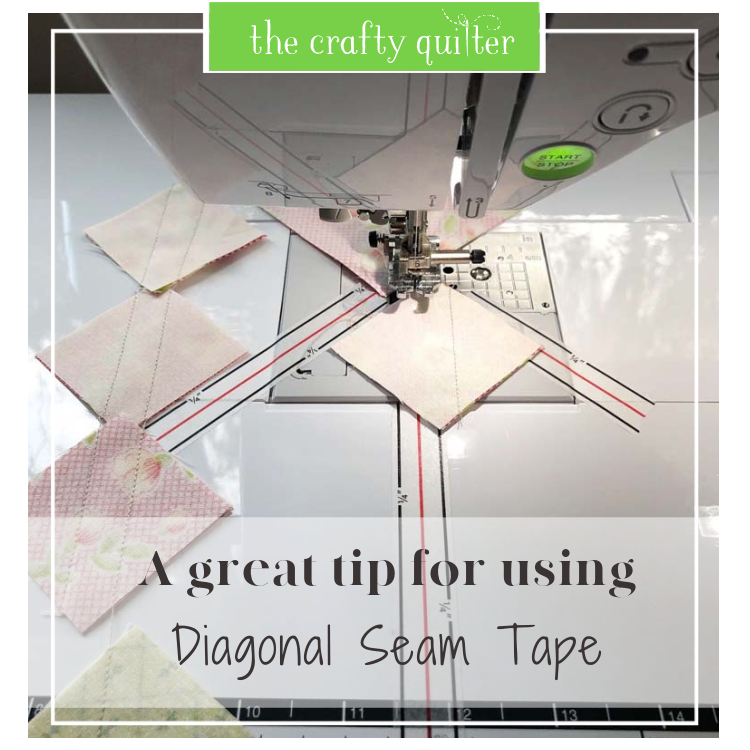 I also own a Baby Lock Crescendo sewing machine that has a laser guide beam built into it. This guide beam creates a stitching line for me to follow as I sew my seam. It's very handy! You can find laser guide beams that attach to most sewing machines, but I find that they're not very stable. I've tried this one and the slightest movement or bump would throw it off and I would have to adjust it back to position. I personally don't think it's worth the money, but some people have had success with it.
Another helpful tip is to use an open toe applique (or embroidery) foot. This foot gives you complete visibility in front of the needle so you can see exactly where to start your line of stitching. It has been a game changer for me.
With all of these "systems" in place, I was able to make these cute Christmas berry blocks quickly and accurately. I think you can create something similar to Diagonal Seam Tape by drawing a straight line down the middle of a piece of painter's tape or Washi tape. Then position that in front of your presser foot so it's tracking the center needle position of your sewing machine. I don't have photos to show you, but in my mind it seems like to would work just fine!
Below are the finished Christmas berry blocks before sewing them into a row. I just needed to do a tiny bit of trimming around each block to get them perfect. I always trim units as I go along, even if it's just a few threads. It's good to catch inaccuracies sooner rather than later.
It's time to get to work on the next row of All The Trimmings Mystery Quilt before the next one releases tomorrow. This row is made up of Christmas stockings and they are so cute! Thanks for visiting today and I hope you found these tips helpful.
Disclosure: Some of the links in this blog post are affiliate links (at no additional cost to you). I may earn a small compensation when you make a purchase by clicking on one of those links. Your support allows me to maintain the content of this blog.