Stripology Ruler product review
I'm excited to share my Stripology Ruler product review with you today! I had heard such great things about this new Creative Grids ruler from customers and my co-workers, that I had to try it out for myself. And it did not disappoint. I'll share what I like most about it and why I think it's a great tool to consider purchasing (or adding to your Christmas list).
Note: This is not a sponsored blog post, but any Amazon links are affiliate links. If you have a local quilt shop near you or a favorite online quilt shop, please support them by purchasing these products there.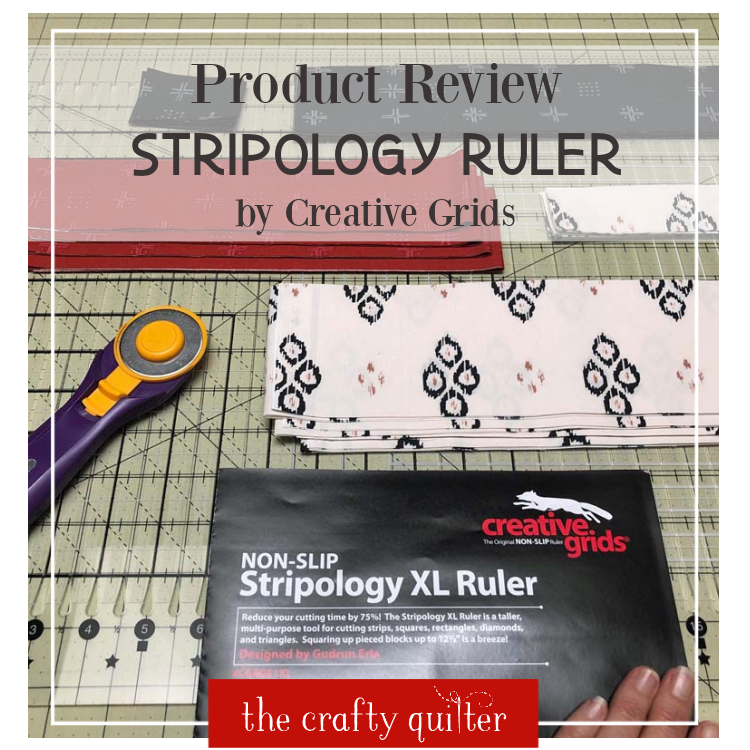 The Stripology Ruler is a slotted ruler that was developed by Gudrun Erla for Creative Grids. It comes in three different sizes: XL, Squared, and Mini. They all have a similar function and that is to make cutting fabric more fast and efficient. I own the XL and the Mini, so my review will be focused on those two.
Stripology XL Ruler
The Stripology XL Ruler is designed large enough for cutting yardage, but can also be used with fat quarters or scraps. For yardage, you just need to fold the fabric so that you have four layers. After lining up the folded edges on the "0" line, you make your first cut and then choose the width for the next cut. This design makes the cutting process more accurate because you're less likely to mis-cut and your strips are exact every time.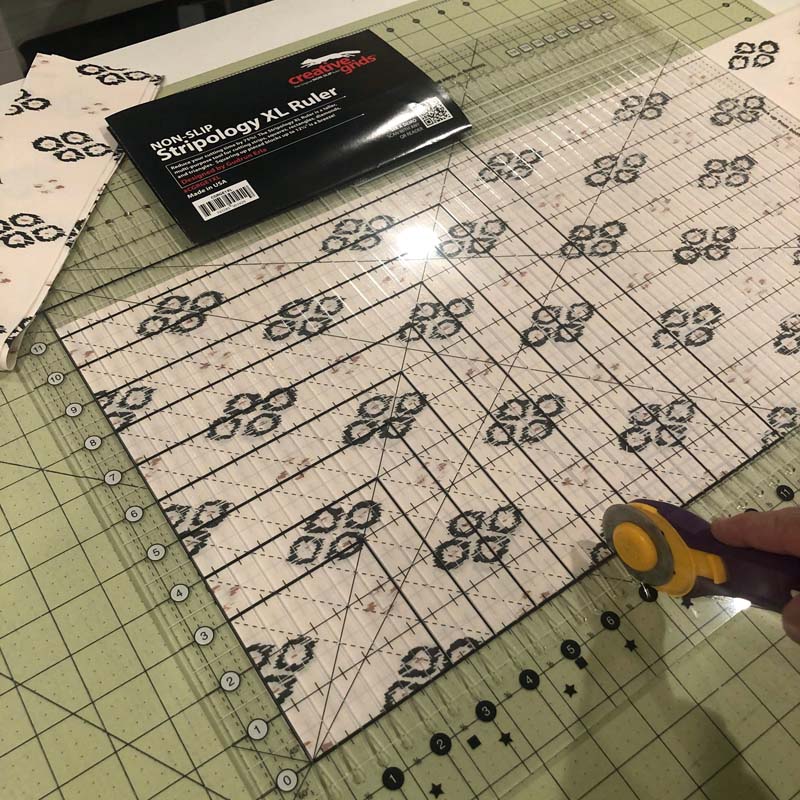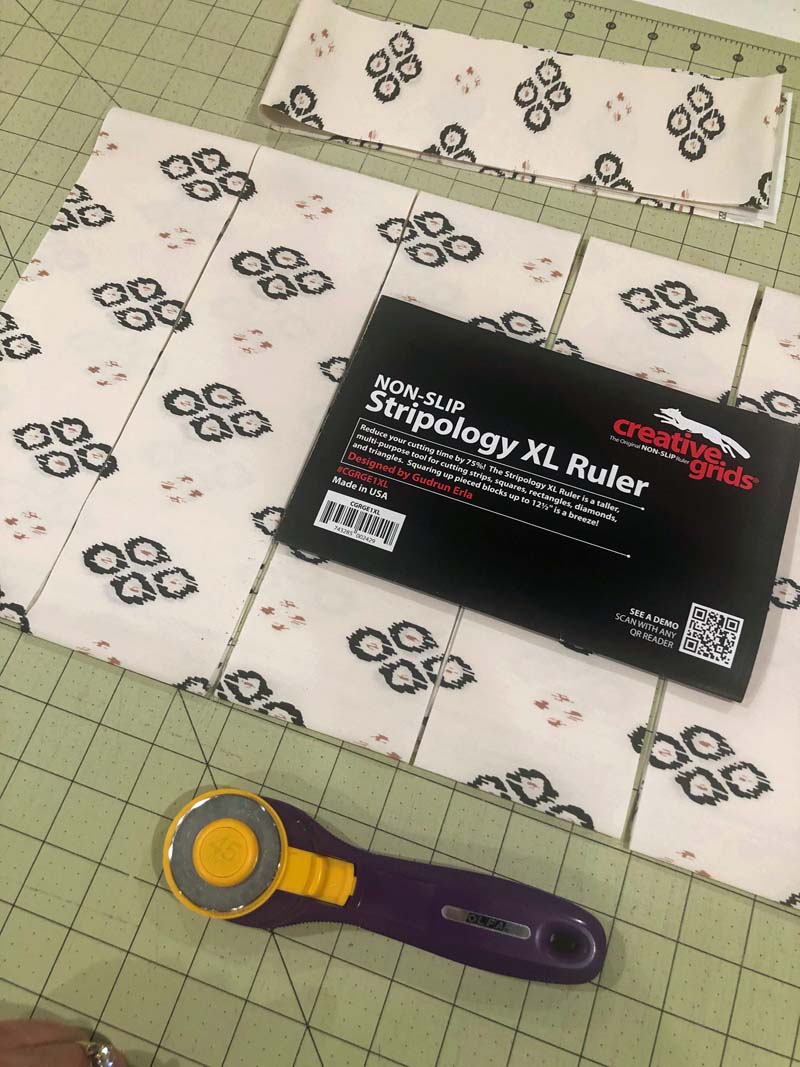 Once you have your strips cut, you can easily layer the strips and then subcut them into rectangles or squares. There are also 45 degree and 60 degree markings so that you can cut angles.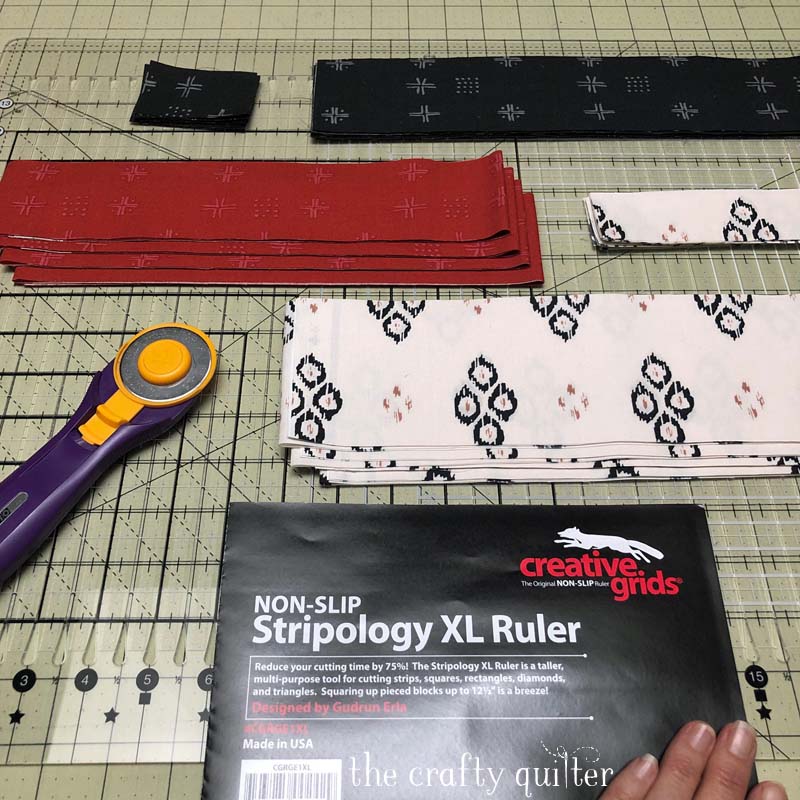 The Stripology XL Ruler is easy to position on top of the fabric and it stays put when you need it to. There are markings on the ruler for two of the most popular strip cuts: 2 1/2″ and 1 1/2″. It makes it easy to find the slot for your next cut. You can also cut 1/4″ increments and the instructions include a handy chart which makes that so easy. The other thing you can do with this ruler is square up blocks. I'll give you more information on that when I talk about the mini version.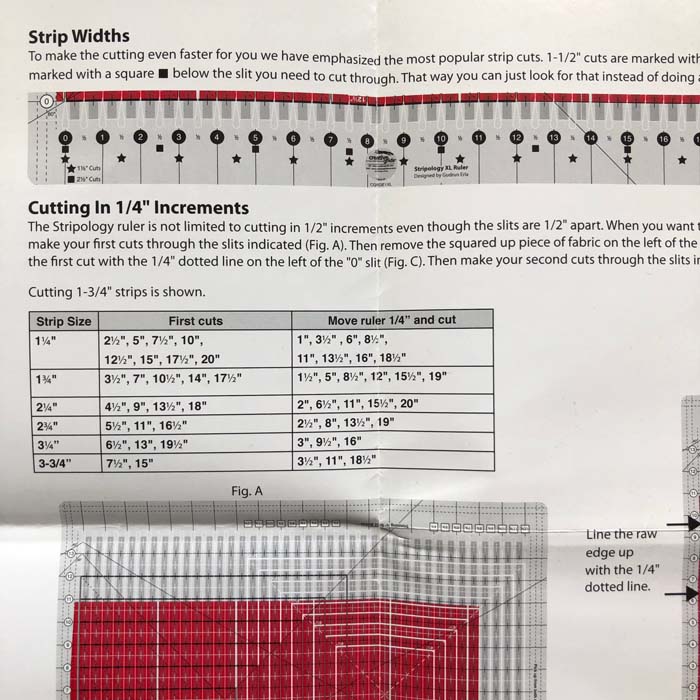 Stripology Squared Mini Ruler
The Stripology Squared Mini Ruler is perfect if you often work with fat quarters or scraps. It can square up blocks up to 6 1/2″ and there are markings for 1/8″ cuts as well as 1/4″ and 1/2″.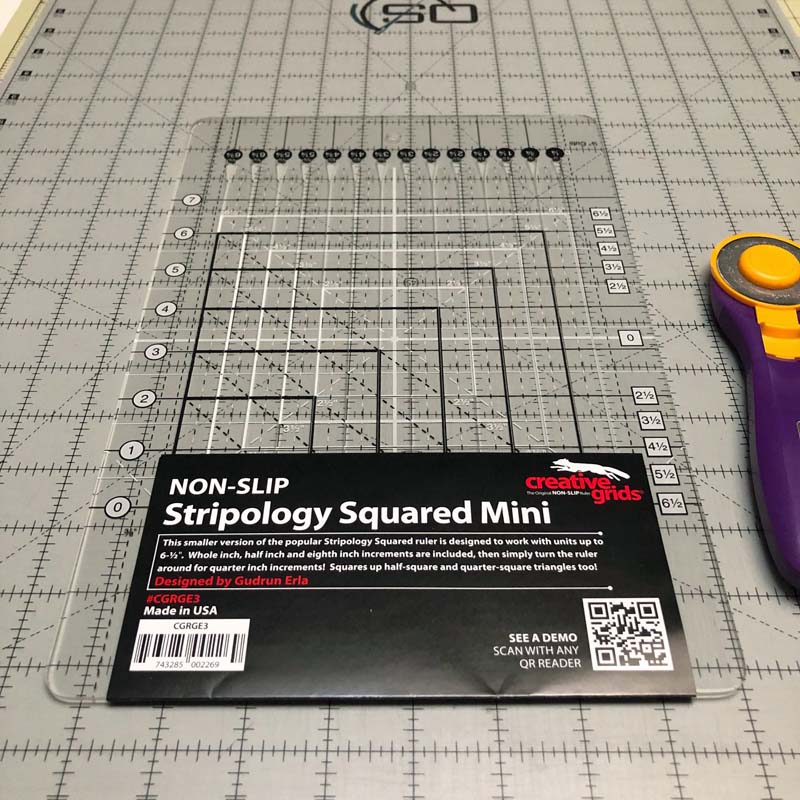 This ruler is not as versatile as the XL or the regular Squared, but it's great for smaller pieces of fabric and blocks. I have a lot of small scraps of fabric that I'd like to cut into squares and strips. This will be the perfect ruler for that.

The Mini Stripology ruler has different markings on the two ends; one with 1/2″ increments and the other with 1/4″ increments. It's just a matter of lining up the fabric at the leading left edge with the correct mark.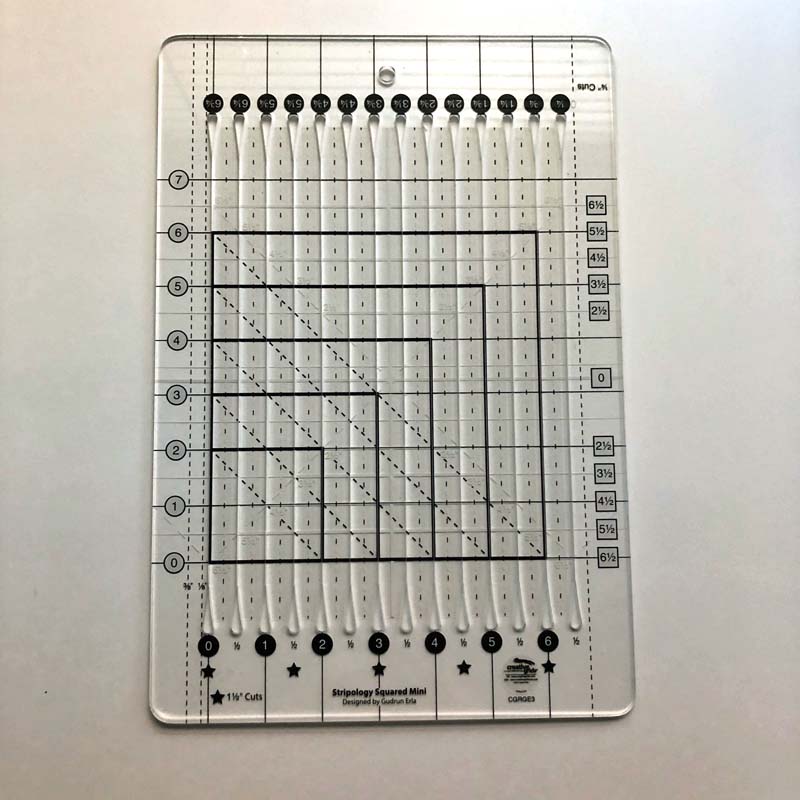 One of the things the Stripology Rulers can do is square up blocks. You can see in the image above, the darker lines that denote squares in different sizes. The image below shows some thick white lines as well. This would be great for fussy cutting a motif.
I tested a half-square triangle that I wanted to trim to 2 1/2″ square. It was very easy to place the diagonal seam of the HST along the white dashed diagonal line of the ruler. I then cut at the "0" slot and the 2 1/2″ slot. Then I rotated the HST and cut the other two sides to get my perfect square. Was this any easier than using a square ruler? Definitely NOT. The Stripology Ruler would not be my first choice for squaring up blocks.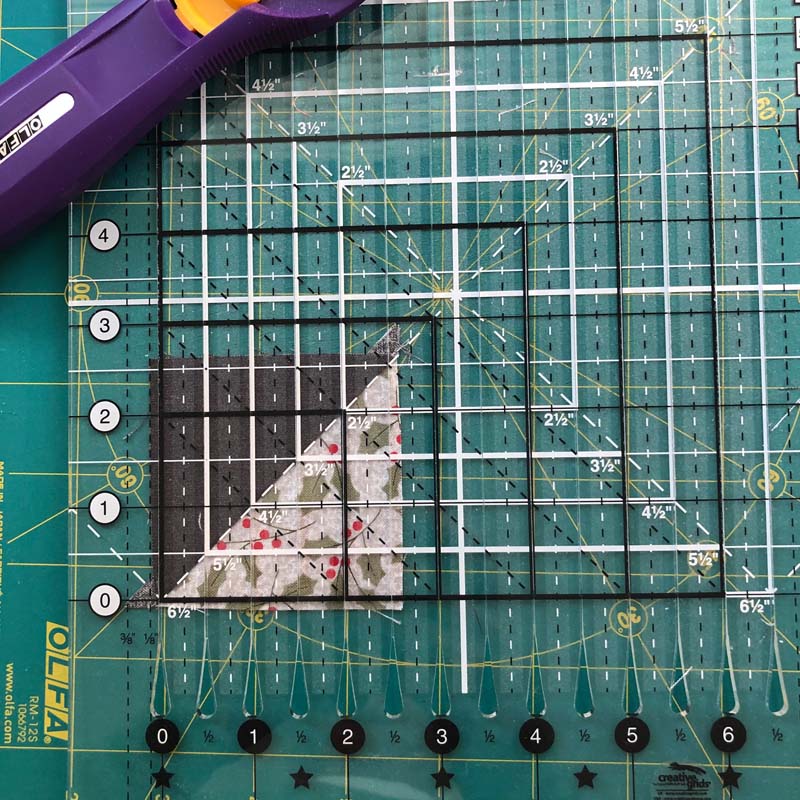 Then I tried a pinwheel block and that was a little better. I could easily see all the diagonal seams and the outside edges and the center of the pinwheel before trimming anything. The only thing I don't like, is how thick the white (and black) lines are. I understand they need to be thicker to stand apart from the other lines, but they cover the seam and the edges too much. So it's okay, but not great.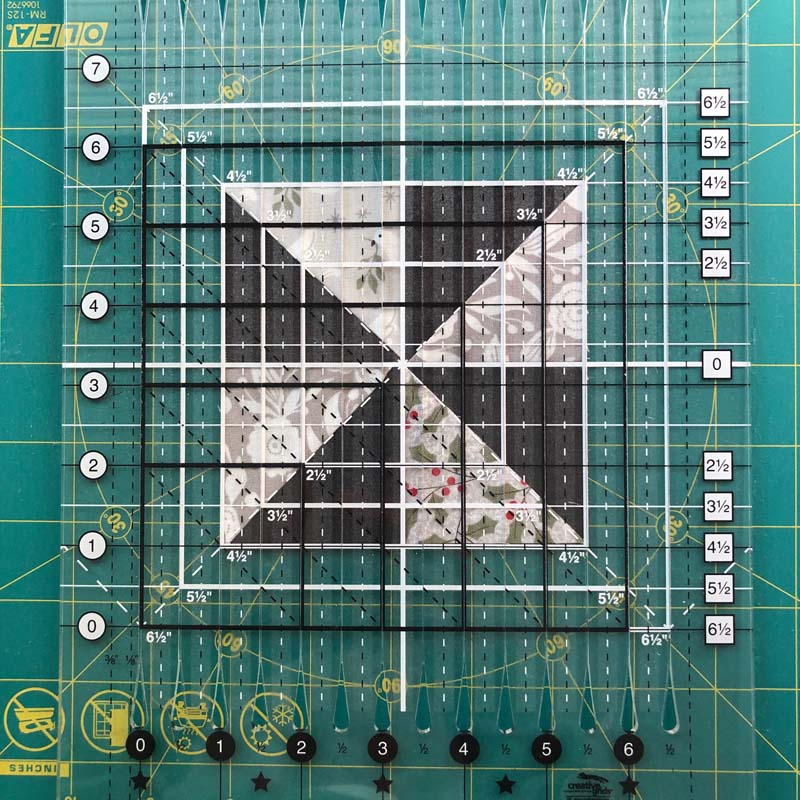 My final thoughts on the Stripology Rulers by Creative Grids is that I would definitely recommend them for cutting strips, squares, rectangles and for cutting scraps. They are truly great for making this a fast process. If you have a pattern that calls for lots of strips with subcuts, this is the ruler to use.
I don't think they're the best tool for squaring up blocks. They don't beat the accuracy and ease of any square ruler for trimming units and blocks. I love Creative Grids square rulers in all sizes (6 1/2″ is my most used). They have great markings that make it easy to see 1/4″ seam allowances and diagonal seams.
I do think the Stripology Squared rulers are wonderful for fussy cutting, though. And if you have lots of scraps leftover from previous projects that you want to turn into useable precut pieces (2 1/2″ strips or squares of any size), any of the Stripology Rulers would be great for that.
---
I hope you enjoyed this product review. I am always curious about new tools for quilters and I love trying new things!
We will be flying to Austin, Texas, tomorrow to babysit our grandkids for the weekend. I'm really excited to see them and I'll have pictures to share when I return next week. I don't think I'll have the December Sew Thankful blog post ready by Sunday, but I will have it posted by Monday night.
Thanks for reading and happy quilting!